Summary of Recent Events and Results
Bazaarvoice (NASDAQ:BV) went public in early 2012 with a promising set of products in the social e-commerce market. Bazaarvoice's primary products are focused on ratings & review capabilities, as well as allowing customers to ask questions and interact with others to make informed consumer decisions. The graphic below explains what their main products cover: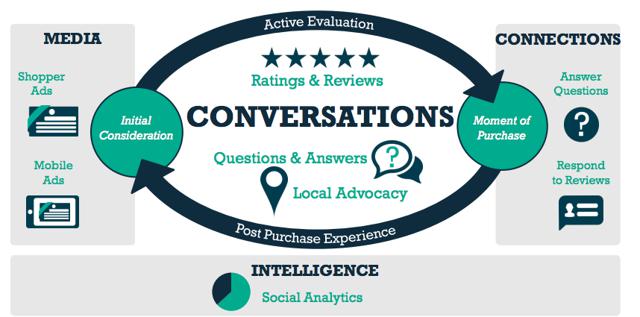 The conversations suite facilitates ratings & reviews, and this is supplemented with some other capabilities such as allowing customers and companies to respond to questions and reviews. Bazaarvoice has also made some acquisitions, such as Longboard Media, which has allowed it to provide display and mobile ads and integrate them into the platform. This still provides a fairly small portion of revenues (5-10%), but is another market that is showing long-term growth as more and more advertising spend moves to the internet.
Overall, the market opportunity is largely untapped, as Bazaarvoice serves more than 70k unique parent companies and nearly 130k brands, where as it currently only serves about 5% of this market. The company does have a lot of Fortune 500 customers already, including giants such as Wal-Mart (NYSE:WMT) Target (NYSE:TGT) Costco (NASDAQ:COST), Best Buy (NYSE:BBY), and many others.
Now after going public to much fanfare and promise, the SaaS company briefly peaked around $20 per share and then quickly began to fall. On June 2012, the company acquired PowerReviews, which was largely seen as its closest competitor in the rating & review market. Being a smaller acquisition in the small cap arena, the company did not believe they had any potential anti-trust issues with this deal. Unfortunately, this was a big miscalculation, as the Department of Justice (DOJ) announced shortly afterwards they were beginning an investigation. Since that time, the stock struggled mightily, as operating expenses continued to increase through 2013, sales growth stalled, significant management turnover occurred, and the stock bottomed out at about $6/share in early 2014. Also earlier this year the DOJ ruled against Bazaarvoice, and ordered the company to divest the PowerReviews unit. After these difficulties, many investors ran from the stock, and it became very cheap on an EV/Revenue basis or other similar metrics in comparison to other high growth, high potential SaaS type companies.
Now in June 2014, it appears like the stock is ready for a rebound. A number of catalysts exist now which I believe will bring the shares at least 50% higher in the coming year. The biggest being that the DOJ suit is now settled and the company has signed an agreement to sell PowerReviews, and it appears revenue growth is returning to double-digit rates in the next few quarters. As this agreement has been approved by the DOJ just this week, look for the stock now to begin its climb from the basement.
Catalyst #1: On June 26th, the DOJ has Approved the Divestiture of PowerReviews. Free of this long standing trouble, Now look for Partnerships and Business Growth to Accelerate
Just in the past few days, the company has released its FY2014 annual report, and has confirmed that on June 26th the Department of Justice has approved the sale of the remaining PowerReviews assets to Wavetable. I believe that this will prove to be a very big catalyst for the company. Some positive implications of this are as follows:
1) The company is receiving $30m in cash for the sale. Although this seems like a far cry from the $150m they paid for the company, not counting the messy anti-trust suit and tens of millions in legal fees paid, this money will help the company now in FY2015 for further growth without taking on more debt.
2) The purchase and re-sale of PowerReviews for a much lower price only 2 years later shows that in effect this competitor has been eliminated. Remember that the whole reason this DOJ suit came up was because it was perceived that Bazaar would have a near monopoly on the Ratings & Reviews product segment in this market. Bazaarvoice bought the company at the time to try and remove a strong price-competitive #2 player in the market. Now that it appears that the PowerReviews company has been largely stripped of its key capabilities, we can conclude that Bazaarvoice has in a sense won this battle, and at least in the near future is not going to need to worry too much about a resurgence from PowerReviews.
3) This will now pave the way for further strategic acquisitions, and possibly Bazaarvoice being a target of a larger IT company. Clearly bigger companies were not going to want to purchase Bazaarvoice until they had this cloud removed, not knowing what kind of penalties or fines might have to be paid.
4) As I'll describe below in more detail the social CRM market is growing at double-digit rates, and many organizations now do not see this as distinct from CRM itself. Bazaarvoice is well positioned not only for M&A activity, but also for further partnership deals where they integrate their software as a module in bigger enterprise packaged suites. Evidence of this is that Gartner has retired its magic quadrant for social CRM vendors in 2013, seeing the bigger trend that companies don't want to work with lots of small vendors to meet these needs, they want to have a focused set of larger suites, which can meet all of their customer management and marketing needs. So what this means in effect is that big vendors like SAP (NYSE:SAP) and Salesforce.com (NYSE:CRM) are looking to expand capabilities of their key platforms in order to stay as market leaders as social media and mobile continue to expand and change the way people do business.
5) Closure of this lawsuit will now allow the company to internally focus as well. In the past 2 years, they have had 2 CEOs leave and a lot of management upheaval. Clearly, this has impacted execution and has hurt sales. Now that they have a fresh slate to work with and a set of strong products, they should be able to move forward quickly.
Catalyst #2: Insiders have been Buying
Between June 9th and June 11th shortly after earnings were released, 3 insiders purchased 40k shares for about $280k collectively. This I believe is noteworthy, as it could be a clear sign that those close to the company are excited about the prospects for FY2015.
These are the first open market purchases of the stock in more than 2 years, so this clearly is not a regular pattern of buying, and the fact that it was multiple insiders including the CFO is definitely a sign of good times to come. Up only about 8% since the purchases, I believe that there is still plenty of time to get in at these prices.
One cause for concern that some have mentioned is on the sell side, is that the former CEO and founder Brett Hurt has been selling large parts of his stake ever since he resigned. He still is a director on the board, but has had a 105b-1 plan in place for some time and has sold precipitously since Sept 2013. Although this could give some cause for concern in that it could be dragging down the stock, the avg. daily volume is over 500k shares, and in most cases he was selling about 40k shares per week in the last 6 months. This amounts to less than 2% of shares traded, so I don't think it's as big as an issue as it may appear on the surface. Also curiously, after the company announced earnings with a positive forecast for FY2015, the 105b-1 selling abruptly stopped. It was at this point that the insiders purchased their shares. As the selling timeline for these plans is not filed with the SEC, we don't know for sure if the selling stopping was a coincidence or not, but it again seems to indicate that those close to the company seem to feel the stock is heading up near-term.
Catalyst #3: Social CRM Market Showing Strong Growth and Acquisitions - Bazaarvoice Could now be a Target
In the latest Social CRM Vendor Guide released by Gartner earlier in 2014, the IT analyst listed 139 vendors, which are involved in this space. Noteworthy is that Garner indicates there is a strong wave of consolidation happening now, as many vendors have increased their revenues by 50% or more in 2013 by acquiring competitors. The category encompasses a broad range of product capabilities, where some of the core business of Bazaarvoice such as Ratings & Reviews (R&R) is only a small piece. Indeed Bazaarvoice lists only 7 main competitors in its annual report who all compete in the 3rd party social e-commerce solutions market, which could be considered a sub-segment of the broader social CRM space. Prior to the PowerReviews acquisition, these two companies were widely seen as #1 and #2 and dominating the R&R market (which led to the DOJ antitrust investigation). What's most interesting here is that most of these are very small niche companies, and as very frequently occurs in new big promising IT growth markets, there is a lot of consolidation within a few years. With Social CRM licenses growing more than 20% per annum, and many market researchers predicting outsized growth of more than 30% CAGR in the coming 5 years, look for the bigger giants in IT such as Oracle (NYSE:ORCL), SAP, Salesforce.com, Amazon (NASDAQ:AMZN) or even Google (GOOG, GOOGL) to make further acquisitions in this space.
One particularly interesting one here could be SAP. Recently in May, Bazaarvoice announced an integration module with Hybris, the largest e-commerce software package which was bought by SAP in 2013. Clearly, in the past few years SAP, Oracle, and Salesforce are rapidly working to build out capabilities to extend their core CRM competencies in order to tap into the fast growing social market, which is seen as a real value driver to increase customer relationships amidst the rapid rise of social media and mobile devices. On the most recent conference call, management was also asked about whether this might lead to a more "strategic relationship" with SAP going forward, given that the company has been working already for some time with Hybris and this is an evolution of formalizing that relationship. Management did not provide any further detail saying they couldn't speculate on this at this point in time. It does however seem that this could be a likely scenario going forward.
Also it's noteworthy that Oracle doesn't have any product review application software in house as of now, according to the Gartner vendor guide mentioned above. It is in my view very likely that these ultra-competitive IT giants will look to scoop up the top vendors in this space in the near term, Bazaarvoice certainly being one of them, and with its $600m market cap this could be achieved easily by these multi-billion dollar IT firms.
Catalyst #4: Stock is Undervalued Compared to SaaS Peers, Valuation Should be Re-Factored as Growth is Accelerating
Below I have given my forecasted revenues and diluted EPS for fiscal FY2015 and Q1 2015.
Q4 2014

Q1 2015E

FY 2014

FY 2015E

Revenues

$43m

$46.8m

$168.1m

$193.2m

COGS

$14.5m

$14.6m

$52.9m

$60.2m

Gross Margin

66.2%

68.8%

68.5%

69%

SG&A

$30.3m

$30m

$112.7m

$115.8m

R&D

$9.8m

$10m

$37.5m

$38m

Other Operating Expenses

$0.5m

$1m

$17.5m

$5m

Operating Loss

($12.1m)

($8.8m)

($53.3m)

($25.8m)

Net Income from Continuing Operations

($12.2m)

($8.5m)

($52.8m)

($25.5m)

Net Income per Share

(Diluted)

($0.16)

($0.11)

($0.70)

($0.31)
In my estimates I have excluded discontinued operations, as now the sale of PowerReviews has been approved. My estimate is that for the entire FY2015, EPS losses will be cut in half, as the company gains a few hundred basis points of leverage on operating expenses. As revenue growth continues to trend upward at double-digit rates and the company has wound down their DOJ lawsuit, operating expenses should now be set to decrease as a percentage of sales. In 2014 and 2013, the company spent between $10-$16m annually on "Acquisition-related and other" expenses, the majority of which we can assume was related to the anti-trust lawsuit. A small amount would have been related to the Longboard Media acquisition as well. With both of these events now in the past, we can immediately assume about a 10% reduction in operating expenses.
I project revenue growth will be in the 13-15% range, accelerating through the year as momentum is gained as the company gets farther removed from the PowerReviews issue, supported by additional revenue growth from their rapidly increasing customer base.
The company has given guidance for FY2015 annual revenues to be about 12% higher than FY2014, a bit below this rate for the first half (~9% range) and picking up to the mid teens in Q3 and Q4. I think this growth is increasingly likely and probably a bit conservative, looking at key trends, indicating in my view that the company should have outsized growth ahead of it. For example:
1) Customers will no longer be hesitant now that DOJ suit is settled.
2) New client launches were 122 last quarter vs. 72 the previous, and this was the highest level in several years. At a growth rate of 69%, this could be a precursor to much higher revenue growth rates.
3) Monthly unique visitors to the company's network was up 50% YOY, with 2600 freemium customers, double from the year before. Typically the network effects of these kind of organizations have a lot of value, and over time this could accelerate revenue at much higher rates. With 473m unique monthly visitors, this is substantial. For example Facebook (NASDAQ:FB) has 1.2B monthly users, and we all know how much value this has brought Facebook as a company. So the potential marketing value of Bazaarvoice's services is quite large and is being discounted too much by the current valuation.
4) The entire CRM market remains robust, and is the fastest growing segment of Enterprise Software, according to Gartner from a recent report in June. Growth rates are projected at 15% per annum through 2017, and many sub-segments such as social CRM and social e-commerce could grow much faster.
So what then is Bazaarvoice worth, taking into account all these factors? For sure its share price has declined over the past few years as quarterly year over year revenue growth has slowed: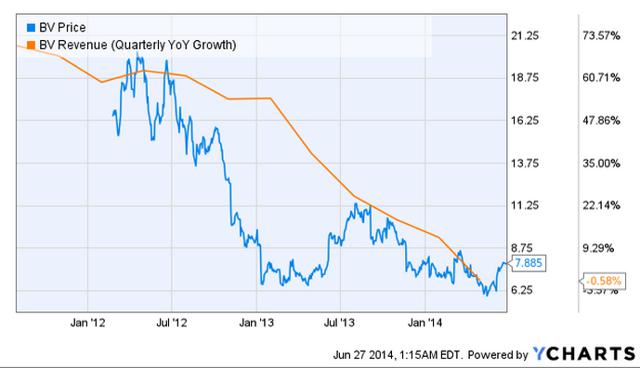 But as discussed, the company now seems to be at a likely revenue growth inflection point. Q4 of fiscal 2014 announced a few weeks ago actually saw growth of +9% compared to a year ago, which when plotted in the graph above represents a sharp reversal upwards of the orange line, inline with the recent price increase from about $6/share to $7.88.
If we look at some comparable companies with similar SaaS models, most trade for much higher EV/Revenue multiples. Generally the EV/Revenue multiple is in line with the current annual YOY growth rates - for example Yelp (NYSE:YELP) trades at a lofty 19x, but has outsized revenue growth of 69%/year. Others like Salesforce.com is in between, with growth at about 30% and an EV/Rev. multiple of 8x. Splunk (NASDAQ:SPLK) is growing at 50% and trades at 16x. I like the below chart with Yelp, which illustrates how much Bazaarvoice could be worth were it to accelerate top line growth. Notice that a few years ago in mid 2012, Bazaarvoice had a growth trajectory much more similar to YELP, and consequently their EV/Revenue multiples were much closer: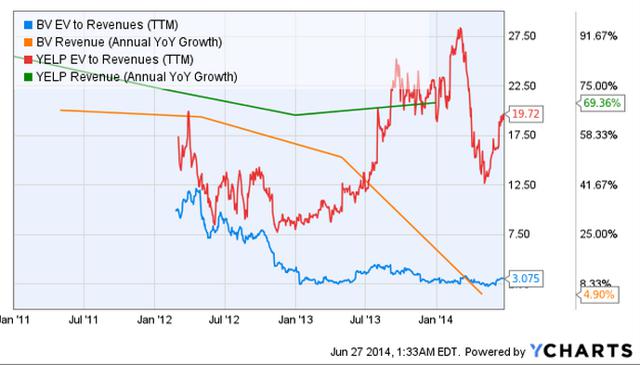 At that time, Bazaarvoice had revenue growth over 50%, and it was priced at an EV/Rev multiple over 10x. Notice how Yelp has maintained this outsized rate of growth, and it has maintained a multiple that is on average well over 10x. Today, Bazaarvoice sits only at about 3x, as its growth slowed and expenses increased during 2013. However, I think now that DOJ issues are behind it, the stock can easily get back to the 4-5x range in the coming year as an initial target, as this will be more in-line with its new upswing to low double digit growth.
At 4.5x my projected FY2015 revenues, This gives an enterprise value of about $870m, a market cap of $914m and a price target of $11.72/share, or 50% upside from today's price. This forecast could indeed prove to be conservative, as the market is always forward looking and will likely assign a much higher multiple if revenue growth is accelerating even further by this point next year. Note that the 6 Wall Street analysts who follow the stock have price targets around $10/share, with a few of them at $12+, so in general they are in line with my estimate. The company has beat on earnings 3 out of the last 4 quarters, with the one miss only coming in at $0.01 below, so it is unlikely that they will miss their own projected targets by much.
A Great Opportunity, But Not Without Risks
While I am bullish on the turnaround prospects for this company, there are risks. For one the market is very competitive and is rapidly changing, as is typical with the high growth internet arena. You definitely cannot buy these stocks and forget about them for a few years, even if it appears that high growth is assured. There are too many factors with shifting technologies and trends which could impact a company in the near term. In addition to the competitive landscape, another risk factor is the general immaturity of the market that Bazaarvoice operates in. There are only a few years of experience with SaaS type business models, and it remains to be seen how much leverage the company will truly be able to generate. They target that over time they can increase gross margins another 500 basis points or so, which presumably they could simply by price increases once their customer base is further solidified. Also they expect to lower sales and marketing as a percentage of revenues over time as well, as they are currently overweight on the operating line trying to rapidly expand the customer base. The question of course will be how quickly and efficient this leverage can be obtained, as if the industry remains ultra-competitive they may need to continue to increase their sales force and the model just may not be profitable long term. This risk however I think will be mitigated by the takeover potential, as they will likely seek an acquirer if the march to profitability is not coming quick enough.
Probably the biggest near-term threat to Bazaarvoice would come if a major internet company such as Google or Amazon were to announce they are going to further develop directly competitive social commerce offerings and start aggressively selling it to other enterprises. When owning this stock it is important to pay attention to market developments which could truly threaten their market position.
Despite these risks, I think Bazaarvoice is a good bet for the coming year. Its relative valuation is very depressed, and the company is definitely out of favor with the market due to its legal troubles in the past year. This creates investment opportunity, as the stock should bounce back nicely in the coming quarters as the company reports revenue growth and narrowing losses.
The Bottom Line
Bazaarvoice is at a turning point, where it is now showing signs of revenue growth and has its major legal troubles behind it. With insiders buying, positive business prospects in FY2015, and lower expenses, the stock price should begin to re-factor towards a valuation which is more indicative of the potential it has in the exciting growth market of social commerce solutions. Before the market starts to catch on further, now is a good time to enter a long position, as I still expect 50% upside in the coming year.
Disclosure: The author has no positions in any stocks mentioned, but may initiate a long position in BV over the next 72 hours. The author wrote this article themselves, and it expresses their own opinions. The author is not receiving compensation for it (other than from Seeking Alpha). The author has no business relationship with any company whose stock is mentioned in this article.