If you don't live in Israel, or work in the medical robotics industry, chances are you have never heard of Mazor Robotics (NASDAQ:MZOR) (OTCPK:MZRTF). It is one of the fastest growing companies in the medical robotics sector, with a huge addressable market.
Mazor did gain some notoriety early last year when Fast Company named it to the list of the 50 most innovative companies in the world. Then again, after that brief encounter with fame it quickly disappeared from investors radars once more.
Company snapshot
Mazor is the only company with a clinically validated and FDA approved robotic system for spine surgery (can also be used for brain surgery). The company is based in Israel and has 120 full time employees and presence in 16 countries (cleared for clinical use in 8, there are also 2 countries pending regulatory approval). The company currently has 8 granted patents protecting its technology and 12 FDA Clearances.
The value proposition of the system is based on the following key aspects:
Approximately 99% accuracy (currently around 10% of screws are misplaced).
Huge reduction in complication rates and re-operations.
Reduces length of stay in the hospital, and patients recover faster from the operations.
Produces better patient outcomes with less risk.
This way doctors don't have to run sequences of X-rays to confirm the position of their old tools, but instead the robot maps a 3-D model of the patient's spine.
Attractive business model
There is much to like in Mazor's business model. Gross margins are very high (above 70%) for both the system and the disposables used in each operation. Recurring revenues will be very high as long as there is a high utilization of the systems. This is similar to the razor and blades model that worked so well for Gillette. There is also a 10% recurring service agreement fee (based on the robotic system cost) starting the second year.
The list price for the system is $849 K USD, the disposables price is 1.5 K USD, and the typical system will perform somewhere between 50 and 100 operations per year. That means that between the 10% recurring service fee and the disposables revenue, Mazor will tend to generate with very little effort recurring revenue of between 20-30% of its total commercial installed base. There are very few businesses where you get to earn so much money every year from all your cumulative past sales.
With the installed base approaching 70 systems, Mazor should be able to generate more than ten million USD this year in recurring revenue. This should continue to grow as more systems are sold and the average utilization rate of the robotic systems continues to increase.
For the last few years recurring revenue has been about 1/3 of the revenue for the company. If this trend continues we should be looking at about 30 M USD total revenue for 2014.
Growth opportunities
One key question when analyzing Mazor is the size of the market opportunity. A simple way of analyzing this is by filtering the number of hospitals and clinical centers that perform enough spine operations to justify purchasing a system. From a recent investor presentation of the company by CFO Sharon Levita, this would result in about 1,200 out of approximately 5,000 hospitals, plus about 1,000 clinical centers. The opportunity is therefore for about 2,200 systems in the USA. Since the USA has represented about half of the installed base, it is reasonable to peg the global opportunity at around 4,400 systems. This is less than 2% market penetration, showing that the company still has significant room to grow.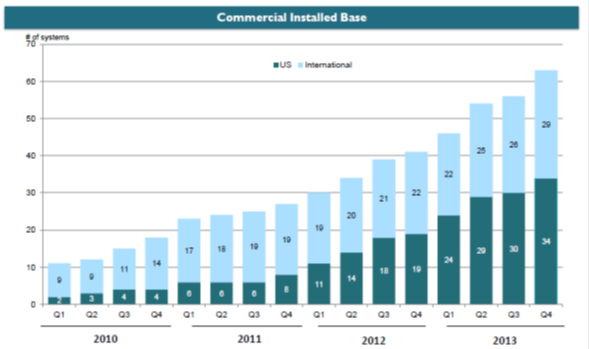 From the company's investor presentation
Further enhancing the growth opportunity, some sites have reached such high utilization rates that they have ordered a second system. This has been the case so far with three hospitals.
There is also the international expansion, which should accelerate significantly once China and Japan receive regulatory approval.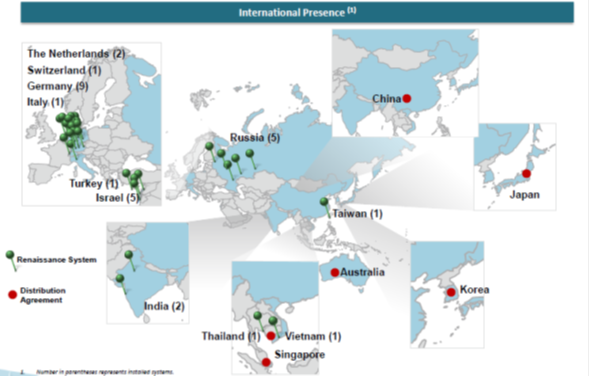 From the company's investor presentation
Valuation
Below you will find an estimated valuation together with the assumptions that were used. Even after using an aggressive discount rate of 17%, shares of Mazor appear to be somewhat undervalued (recent price of $16.30 vs. $20.73 estimated value, a margin of safety of ~ 20%).
Assumptions:

Estimate in 5 years:

Total addressable market in # of systems:

4,400

Total systems commercial installed base:

300

Price per system:

$849,000

Systems sold per year:

103

Avg. # of procedures per year per system:

80

Yearly recurring revenue:

$61,558,156

Disposables price:

$1,500

Systems sales per year:

$87,559,721

Discount rate:

17%

Total revenue per year:

$149,117,877

Commercial installed base growth rate:

35%

Net profit per year:

$47,717,721

Net profit margin:

32%

Market Cap:

$954,354,414

P/E in 5 years:

20

Share price (in five years):

$45.45

# of shares outstanding

21,000,000

Net present value for the share price:

$20.73
Risks
There are some risks that have to be evaluated before making an investment in Mazor. Two of the most significant are:
Potential legal liabilities: So far Mazor has a very clean history in this respect. Some medical robotic companies like Intuitive Surgical have experienced some issues that resulted in legal claims. This could potentially be an issue in the future, so it should be added in the risk equation.
Competition: Mazor has a great head start against the competition; however there are other companies working on competing robotic surgical systems. One of the most direct competitors was Excelsius Surgical which was bought by Globus Medical (NYSE:GMED) earlier this year. They expect start commercializing their system in 2016.
Conclusion
Mazor is an outstanding company trading at a reasonable margin of safety. The company should experience significant growth in the coming years, is very well capitalized, and has a fantastic business model. For investors having a medium to high tolerance to risk this is an opportunity worth considering.
Disclosure: The author is long MZRTF. The author wrote this article themselves, and it expresses their own opinions. The author is not receiving compensation for it (other than from Seeking Alpha). The author has no business relationship with any company whose stock is mentioned in this article.