Increasing natural gas production a tailwind for long-term growth
With its active and successful acquisition approach, Vanguard Natural Resources (NYSE:VNR) continues to acquire mature fields, increasing its total reserve base. Major oil and gas producing companies such as Encana (NYSE:ECA) and Apache (NYSE:APA) are focusing more on increasing oil production by selling natural gas assets. However Vanguard remains focused on acquiring matured natural gas assets.
During the first quarter of 2014, the company entered into an agreement with Anadarko Petroleum (NYSE:APC) to acquire its natural gas and oil properties in the Pinedale and Jonah fields of Southwestern Wyoming. The $581 million deal has increased Vanguard's enterprise size by 20%. The properties being sold consist of 14,000 net acres, which are currently producing nearly 18,900 barrels of oil equivalents per day, or boepd with 80% being natural gas, 4% oil and 16% natural gas liquids. This asset has 2,000 wells and 970 low-risk drilling sites, providing an opportunity for organic growth. For 2014, the company aims to spend from $105 to $110 million, with about 71% of that money being spent on the Pinedale assets.
Proved reserves are divided geographically and by commodity mix as follows:
Field

Natural Gas
(BCF)

Oil
(MMBl)

NGL
(MMBl)

Total
(Bcfe)

% Proved
Developed

Jonah

17.7

0.2

0.6

22.3

49

Pinedale

654.5

5.5

22.9

825

43

Total

672.2

5.7

23.5

847.3

43
Source: Yahoo Finance
Current net production of 113.4 mmcfepd is divided geographically and by commodity as follows:
Field

Natural Gas
(mmcfpd)

Oil
(MBblpd

NGL
(MBblpd)

Total
(mmcfepd)

% Natural Gas

Jonah

2

0

0.1

2.5

79

Pinedale

88.7

0.7

3

110.9

80

Total

90.7

0.7

3.1

113.4

80
Source: Yahoo Finance
This asset purchase shows a major shift in strategy for Vanguard Natural Resources, which has completed 19 asset acquisitions since its IPO in October 2007. Unlike previous deals that focused on producing assets, this acquisition indicates the company's focus on acquiring matured and long-lived natural gas assets.
Apart from that, Vanguard also signed an asset exchange deal with Marathon Oil (NYSE:MRO). In that deal, the company will acquire natural gas and natural gas liquids or NGL properties in the Wamsutter field in Wyoming from Marathon Oil. In exchange for 75% of the company's working interests in the Gooseberry Field properties in Wyoming. Additionally, Vanguard will pay Marathon Oil $12 million to balance out the value of the asset exchange. This is an attractive exchange because Gooseberry is mainly an oil field, and indicates that Vanguard Natural Resources being one of the few companies not scared to invest in natural gas while everyone else is focused on oil.
These types of matured fields have a long production life and are less volatile in terms of production stability, which in turn helped the company to achieve strong first quarter earnings for 2014. The increase in total production was primarily attributed to the higher natural gas production yield of 16,040 million cubic feet or mmcf of natural gas, an increase of 34% from the 11,990 mmcf of natural gas produced in the year-ago quarter and 572 MBbls of NGLs, an increase of 123% from the 257 MBbls of NGLs produced in the year-ago quarter.
The company's natural gas-focused approach has helped it create a total reserve base of around 1.8 trillion cubic feet of natural gas equivalent, or around 300 million barrels of oil equivalent, or mmboe. The total reserve includes 66% natural gas and 34% of liquids. With this huge natural gas reserve base, I believe Vanguard will continue increasing its total natural gas production. Although oil provides a higher margin realization opportunity, the increasing popularity of using natural gas will be beneficial for the company's long-term perspective.
While the price of natural gas continues to be on the lower side, the increasing demand and consumption by different sectors is raising the expectation of near-term price growth. Because of the extreme cold weather in the U.S. during January and February of this year, the net withdrawal of the natural gas stock from the storage inventory was very high. As a result, the total remaining inventory was 1,499 billion cubic feet or bcf at the end of May 2014. EIA projects that during the injection period, which is from 1st April to 31st October, the natural gas inventory will ramp up to around 3,424 bcf, and I expect this will provide an upside to the company due to its increasing natural gas production. Moreover, due to the lower price of natural gas compared to coal, consumption of natural gas in power generation has increased by an average rate of 1.6% per year from 2012 and will continue the same until 2040.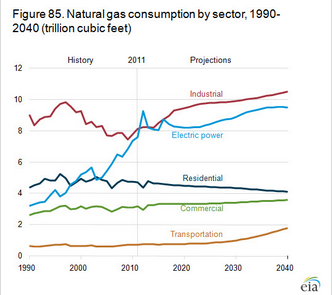 Source: EIA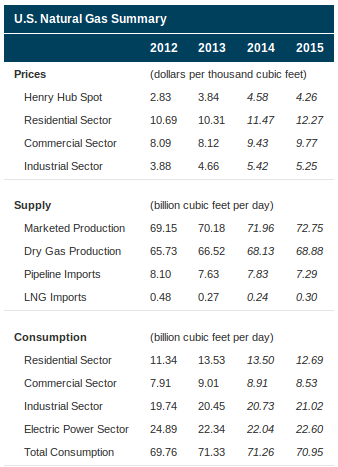 Source: EIA
Along with the growing demand, the price of natural gas also is expected to increase. This year it is projected that the Henry Hub spot price will be around $4.58 per thousand cubic feet, which is higher than the $3.39 hedged natural gas price realized by the company during last year. I expect the incremental price of natural gas coupled with the higher demand will enable Vanguard to witness improved earnings going forward.
More opportunities with natural gas:
Along with other sectors, the transportation sector has also shown interest in using natural gas as the primary source of fuel. For example, rail companies in the U.S. decided to redesign locomotive engines to be capable of burning both diesel and liquefied natural gas. This initiative will help cut the price of fuel by as much as 50% and reduce the volume of carbon emissions. Major locomotive manufacturing companies such as General Electric and Caterpillar have developed the prototypes already, while Union Pacific, CSX and Canadian National Railroad will test this year.
Natural gas also has proved to be a better and efficient transportation fuel for trucks, buses and taxis as it is $1 cheaper than regular gasoline. Carmakers are focusing more on fuel efficiency and reducing emissions to be environmentally friendly. Natural gas results in lower emissions due to its lower carbon content. As a result, the natural gas-enabled vehicle market has grown. The natural gas truck and bus markets are expected to continue this growth at a CAGR of 12.6% and 6.4%, respectively, from 2013 to 2022. Also, North America is projected to buy 12.7% of 400,000 natural-gas medium- and heavy-duty trucks and buses.
So, with the increasing demand and significant adoption of natural gas in different sectors, increasing natural gas production will provide more opportunities in the coming years. As Vanguard is focusing more on natural gas production, I expect Vanguard to report strong quarterly results ahead while continuing to increase its total natural gas production.
Active hedging and increasing distribution
Vanguard Natural Resources uses a hedging strategy to lessen its coverage to commodity prices. This permits Vanguard to enjoy much more stable cash flows than it would were the company exposed to commodity price fluctuations. Vanguard has actively hedged the majority (85%) of its projected natural gas production through the first half of 2017 at a price of $4.61 per million British thermal unit. Vanguard realized a natural gas price of around $3.39 per million cubic feet during the last year, which is lower than the hedged price this year.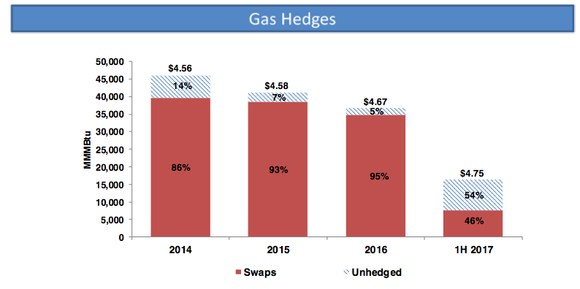 Source: Company data
As 14% of this year's natural gas production is unhedged, Vanguard will see an increase in its cash flows. Therefore, I expect the company will achieve increased returns and could strengthen its monthly distribution to its unit-holders.
Vanguard has shown continuous growth in its distribution behavior. Since 2007, it has increased its distribution by 48% and currently has an attractive distribution yield of 7.89%. Recently, it announced an ex-dividend of $0.21 per share to its shareholders that is scheduled to be paid on July 15, 2014.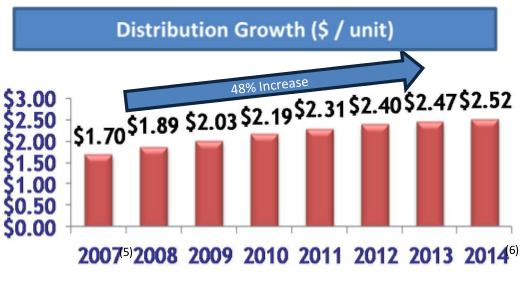 Source: Company presentation
Conclusion
With its strong focus on natural gas asset acquisition, Vanguard has provided a long-term growth perspective. Increasing natural gas production along with its improving price is expected to strengthen Vanguard's bottom line and will ensure increasing distribution going forward. Therefore, going long on this stock will boost investors' returns.
Disclosure: The author has no positions in any stocks mentioned, and no plans to initiate any positions within the next 72 hours. The author wrote this article themselves, and it expresses their own opinions. The author is not receiving compensation for it (other than from Seeking Alpha). The author has no business relationship with any company whose stock is mentioned in this article.