What a time to be a BlackBerry (NASDAQ:BBRY) believer. Following a much-better-than-expected quarterly report outlining the company's successful cost-cutting in recent months, the stock has seen a sharp 30% rise in price. With the launch of the Z3 in Indonesia and recent partnership with Amazon (NASDAQ:AMZN), the company's unlikely turnaround is becoming more and more believable with each passing day. Under the inspired leadership of John Chen, it is hard to imagine this momentum stopping anytime soon.
Q2 Indications
In their latest quarterly report, BlackBerry has seen increases in cash-at-hand and decreases in long-term debt, with total cash, cash equivalents, and investments up over $400M from the prior quarter. Gross margin is now sitting at 48% (up from 43% last quarter) while net income is at a positive for the first time in years. On the other hand, this apparent positivity is due in large part to sales of PP&E in the past three months. Revenues were also down on a quarter-to-quarter basis despite an increase in quantity of smartphones sold.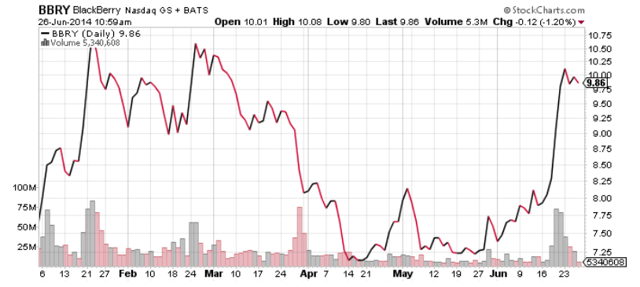 Source: Stockcharts.com.
Also concerning is the ever-decreasing expenditures in R&D -- at $237M, the figure has been slowly declining ever since BlackBerry's fall from grace. Competition from international rivals, such as Samsung (OTC:SSNLF) and Apple (NASDAQ:AAPL), is also worth noting as they prepare for the launch of their next generation smartphones. At the same time, phones like the Galaxy S5 and BlackBerry Z3 are competing on slightly different price points, suggesting that direct competition between the two mobile devices may be unlikely.
But, with average income steadily rising in Southeast Asia, companies may be surprised to find local consumers willing to dish out more cash than usual for the latest and greatest device. According to a recent Nielsen report, nearly 90% of the Chinese population are now owners of cellular devices, roughly two-thirds of which are smartphones. While countries such as China and South Korea are certainly ahead of the curve in comparison to the rest of Southeast Asia, it serves as an indicator of what's to come for the remaining developing countries in the area.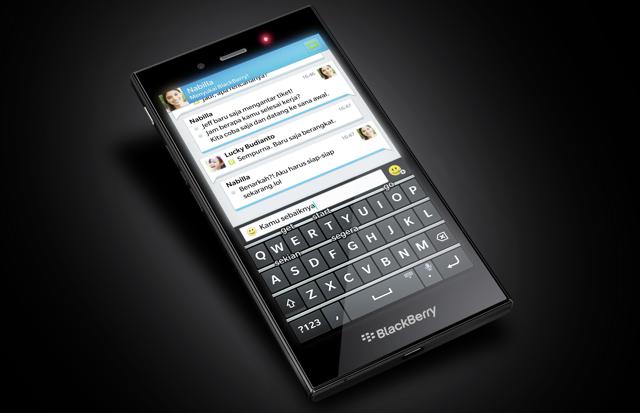 Source: Technobuffalo.com.
E-Z Pass and Amazon
While the coming quarter may serve as a strong testament to BlackBerry's ability to remain relevant in the hardware industry, many investors, myself included, are more concerned with their activities on the software side. After all, Chen himself has stated that he aims to make the company non-reliant on hardware sales. "I don't have a plan to get rid of handsets, I have a plan to not be dependent on handsets. All I need to do is replace the handset revenue, and this company will be very different," he stated at Bloomberg's headquarters earlier this year. The recent launch of the E-Z Pass program, a program that, "...provides free migration for customers to move from BES and other MDM platforms to BES10 as well as a new pricing structure," seems to do just that. It has led to over a million additional license purchases for BES10.
BlackBerry's recent partnership with Amazon will also provide a stronger foundation for their mobile device offerings. While this move may have been a little late to the game, it will serve as a new incentive for consumer purchases once the Z3 undergoes the rest of its launch across southeast Asia.
Taking a Step Back
Despite the promising outlook, it is important to realize that the inherent risks the company faces are more than enough to validate skeptics. This is not the first time BlackBerry has rebounded following its crash a couple of years ago. Earlier this year, the stock experienced an almost identical jump in price following the successful launch of BlackBerry's BBM service and the acquisition of Snapchat by Facebook (NASDAQ:FB). The opportune timing launched the stock up 30%, only for it to fall back down to late-2013 levels following unfavorable financial reports.
However, this upturn spells a different story. Rather than movement based on speculative valuation, BlackBerry's surge is backed by financial improvement and integrity. Prospects on both the hardware and software ends are looking up, and validation of new ventures will arrive by Q2. With quarterly losses slowly grinding to a halt, BlackBerry will soon be in a position to start focusing on revenue growth, rather than expense minimilization.
Conclusion
From a more speculative perspective, the potential upsides seem to far outweigh the downsides. At $10 a share, there is little room for drastic percentage-based decreases, and, for lack of a better phrase, the sky is the limit. While BlackBerry skeptics may harp on the company's lack of market share and uncertain software endeavors, BlackBerry bulls realize that the company has more valuable assets than could ever be recorded on a quarterly report.
John Chen has already proven his ability to stop monetary bleeding and, more importantly, get people talking about the company. By trimming the fat and bolstering the high-margin ventures of the company, Chen is ensuring that BlackBerry has as good a chance as anyone in completing their turn-around and returning to technological relevance.
Disclosure: The author has no positions in any stocks mentioned, and no plans to initiate any positions within the next 72 hours. The author wrote this article themselves, and it expresses their own opinions. The author is not receiving compensation for it (other than from Seeking Alpha). The author has no business relationship with any company whose stock is mentioned in this article.