by Jack Sparrow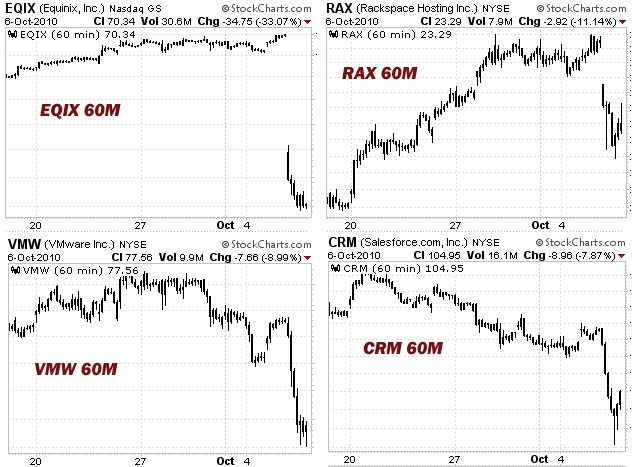 So cloud computing names took a frying pan to the face on Wednesday…
The catalyst was apparently a modest earnings miss for Equinix (NASDAQ:EQIX), resulting in a horrific 30% drop. As the inestimable Josh Brown over at TRB points out,
Had the company beaten by 2.2%, I doubt we'd be looking at a 30% rally. The term for this type of action is Asymmetrical Risk. Even a stop loss can't protect you when a stock gaps down 28 points before the market even opens. You're getting executed wherever, Pancho.

EQIX was one of the momentum leaders in the cloud group, along with Citrix (NASDAQ:CTXS), Rackspace (NYSE:RAX) and VMWare (NYSE:VMW). Going into their earnings report last night, the stock was trading at 90 times trailing earnings and 41 times next year's. The tightrope act you're faced with at that kind of multiple is such that the company cannot even afford to hiccup.
Asymmetrical Risk is right! That's why we were on the other side of the cloud trade…
CRM and VMW have been on our target list for some time, for just the reasons pointed out. We were recently short CRM, but got nicked out at breakeven for a wash. VMW didn't get away from us though. We got our claws in that one just as the cloud carnage started. (All these trades will be telegraphed, documented and time-stamped in the Mercenary Live Feed once we're rolling.)
The thing about these invincible and/or bullet proof growth stocks is that they often wind up being a devil's bargain for investors. One small misstep and your little slice of heaven goes to hell…
While it takes dexterity and guts to establish a short position in an overhyped, overbought, overbullish name, the potential results can be well worth it.
Why? Because when traders are scared out of their wits to go bearish on a so-called invincible stock, a sudden absence of buyers can lead to a Wile E. Coyote style air pocket (as we have just seen in the cloud).
And then, after the "spell" is broken, that's when things can get REALLY interesting.
When the aura is gone, the chart is trashed and the momo guys have raised their hands and backed away, it can be the growth investor's equivalent of waking up sober after a beer-goggle fling. What you're left with looks pretty harsh in the piercing light of morning…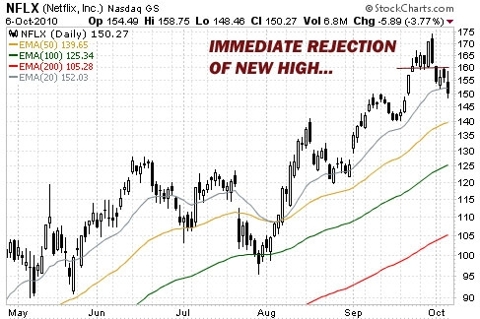 Take NFLX, for example, another overhyped name we are opportunistically short.
We were attracted to NFLX by a combination of nosebleed earnings multiple, overdone sentiment, and — most importantly, from a timing perspective — the immediate rejection of recent new highs.
NFLX is trading at more than sixty times earnings. How far could it fall? Only the shadow knows.
But what WE know is that NFLX was at $100 barely two months or so ago, and the multiple is high enough the stock could fall by a third — to 40x earnings — and still be considered pricey.
So what happens next? Dunno… but you don't have to know, because good trading is about constantly putting the odds in your favor, seeking out situations with positively skewed reward to risk. And you don't need a crystal ball to do that.
As a rule, we are generally pretty pleased with trading ideas where the downside risk is small (thanks to nimble execution and closely managed stops) while the potential upside (including pyramid opportunity) is on the order of 10 to 1 or better.
Sometimes, the real risk is in embracing the conventional view…
Disclosure: As active traders, authors may have positions long or short in any securities mentioned. Full disclaimer can be found here.