The Alerian MLP index gained 2.54% this week, extending the AMZ YTD total return to 15.61%. The S&P 500 finished the week down 1.91 and 6.09% YTD. The number of new 52-week highs for MLPs and related companies climbed to 29 for the week. There were no new 52-week lows.
This week's Department of Commerce decision to allow Pioneer (NYSE:PXD) and Enterprise (NYSE:EPD) to export condensates provided the market with uncertainty related to refiners and whether the classification reflects any real change in policy or is a precursor to oil exports. Commodity and rates were relatively unchanged and the market continued to bid up for transparent yield growth.
Unit Value Winners and Losers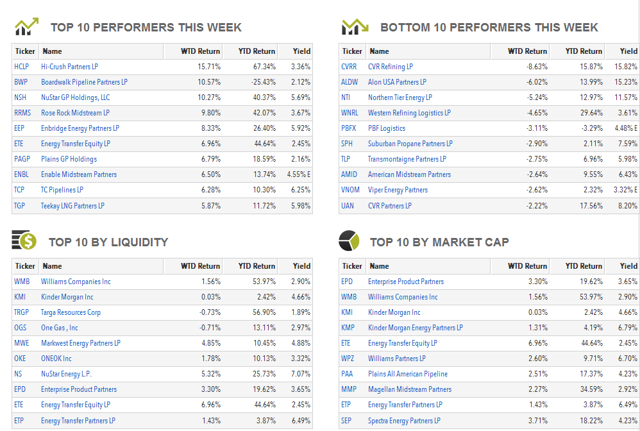 Hi-Crush Partners (NYSE:HCLP) was the week's best performer on the announcement of a long-term frac sand purchase agreement with Halliburton (NYSE:HAL), now trading at 107bps lower yield to Emerge Energy Services (NYSE:EMES). Also, up double digits, the only news on Boardwalk Pipeline Partners (BWP) covered the 60% increase in short interest in May. 10-day and 90-day average trading volumes of 1.1 million and 1.7 million units may be a viable short squeeze set up.
With the week's biggest decline, CVR Partners (NYSE:CVRR) made an equity offering of 6.5 million units or 4% increase in units outstanding. The units were from the 71% LP interest in CVRR held by CVR Refining Holdings LLCs. The proceeds will not be retained by CVRR. Also dropping, Alon USA Partners (NYSE:ALDW) and Northern Tier Energy (NYSE:NTI) are variable distribution crude refining MLPs, the same as CVRR. DCF and distributions for the refiners are based on the spread between refined product prices and crude oil purchases. The market believes that WTI spreads will narrow due to an increase in condensate exports.
Distribution Rate Changes
Upstream, monthly distribution MLPs, QR Energy (NYSE:QRE) and Vanguard Natural Resources (NYSE:VNR) announced that the current monthly distribution rates would continue through the third quarter.
Insider Trading
All of the highest value insider trades this week were sales, possibly reflecting some taking advantage of units hitting 52-week highs, week after week. Sales by John Sherman, former CEO of Inergy, which merged into the Crestwood MLPs, have been covered on previous weekly reports.

Share Issuance News
Three MLP IPOs were announced, VTII, Shell Midstream Partners and Transocean Partners, and a fourth speculated, Scorpio. In secondary offerings, CVR Refining and a 4.6 million unit offering by Knot Offshore Partners (NYSE:KNOP) were the primary equity capital raises.
Get the details of any offer of interest by clicking on the specific issue on the Issuance page of the MLPData Dashboard.




ETF, CEF and Mutual Fund Money Flows
MLP focused fund flows took in a surprise $631 million and $230 million of new money going into MLP ETFs.
In addition, the IPO of the closed-end Duff & Phelps Select Energy MLP Fund Inc. (NYSE:DSE) raised $485 million, up to $555 million if the full over allotment is taken.
New Issuance Cost of Capital
This week we introduce a new table that provides daily Cost of Capital, inclusive of Incentive Distribution Rights, for the universe of MLPs. Kinder Morgan Energy Partners (KMP) continues to have the highest equity issuance costs within the peer midstream group. With units reaching new 52 week highs, acquisitions look more accretive if EBITDA multiples are unchanged.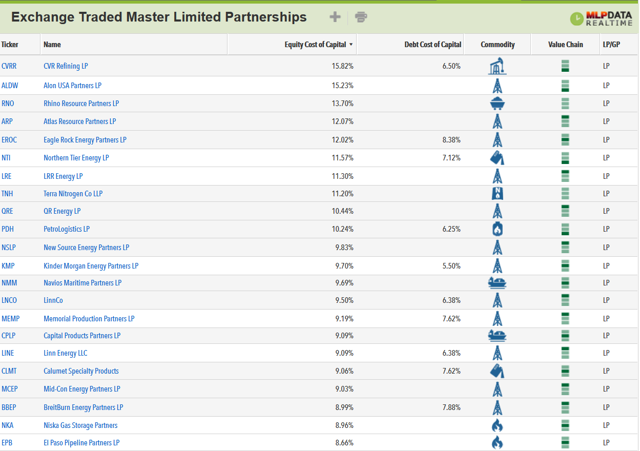 Next Week's Earnings Calendar
The 2014 Q2 earnings season starts afresh on July 17 with the Kinder Morgan companies scheduled to report. The July earnings calendar is starting to fill up as companies make their release dates official.
To make sure you get this round-up each week, make sure you are Following MLPData here on Seeking Alpha.
All charts and tables provided by MLPData.com
Disclosure: The author has no positions in any stocks mentioned, and no plans to initiate any positions within the next 72 hours. The author wrote this article themselves, and it expresses their own opinions. The author is not receiving compensation for it. The author has no business relationship with any company whose stock is mentioned in this article.