This article is intended to provide an overview of the demand drivers in the liquid natural gas (LNG) market and then quantify the unrealized revenues in GasLog's unutilized new fleet days.
Market Overview
The demand for LNG is likely to continue to rise as a result of continued Asian economic growth and a switch to cleaner energy from countries like China that are plagued with deadly pollution that has forced its government to declare a war on smog.
Currently, China is the world's largest carbon emitter with nearly 67% of its energy output derived from burning coal. LNG has a much lower carbon intensity compared to coal.
The U.S. Energy Information Administration expects the global natural gas demand to grow by 64% from 113 trillion cubic feet in 2010 to 185 trillion cubic feet by 2040. That represents a 1.6% yoy increase over a 30 year period. Currently LNG represents 31.5% of the global natural gas trade, up from 28% in 2008.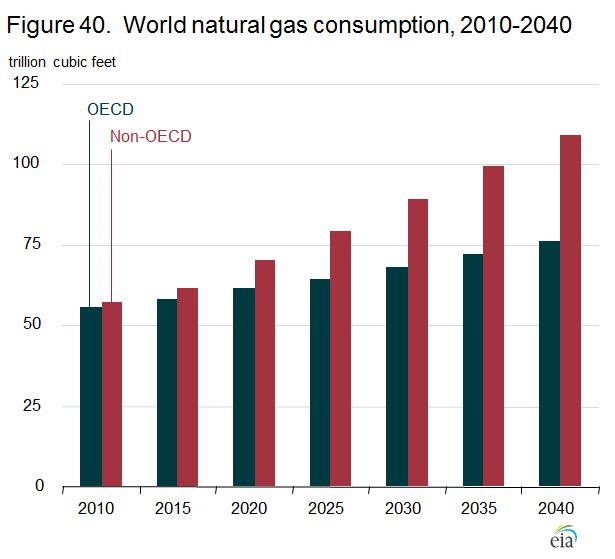 Source: US Energy Information Administration (EIA)
Among all the regions in the world, the fastest growth in natural gas consumption is estimated to occur in non-OECD Asia and nearly two-thirds (61%) of that growth is to occur in China. China's central government has set an ambitious target to increase the share of natural gas in its overall energy mix to 10% (or roughly 8.8 trillion cubic feet) by 2020. An example of that commitment came when China most recently signed a $400 billion deal with Russia to provide 38bn cubic feet a year of pipeline gas over the next 30 years. This increase in its overall energy mix over the next 6 years supports estimates that the most expansive growth in China's natural gas consumption is going to occur between 2010 and 2020, averaging 7.5% yoy growth before slowing to 4.2% yoy growth in 2020 to 2040.
Other Asian countries are also poised to continue to drive the demand for LNG. From 2010 to 2020, natural gas consumption in Japan is estimated to rise at a 1.8% annual rate, the highest rate in OECD Asia. Most recently Japan has been importing large amounts of LNG to offset the loss of its nuclear energy after it turned off its nuclear reactors in reaction to the Fukushima disaster. Japan has roughly 32 LNG import terminals.
South Korea also just recently registered its largest increase in LNG demand. South Korea's natural gas consumption is estimated to grow by 0.8% per year from 2010 to 2020, after which it is estimated to rapidly accelerate to 2.1% yoy through 2040.
Japan and South Korea together account for only 5% of the global natural gas consumption. However, they import more than 50% of the total LNG traded worldwide. This is largely because of an insufficient domestic supply.
It's important to understand the demand for natural gas in the Asia-Pacific region. The EIA estimates that the industrial and utilities sectors will account for nearly 77% of the projected increase in global natural gas consumption and that most of the growth in those sectors is expected to come from emerging markets in the Asia-Pacific region, which holds just around 8% of the global proved natural gas reserves but accounts for nearly 20% of the global natural gas consumption. This leaves for a rather large gap that requires countries like Japan, South Korea and China to import large amounts of natural gas.
The graph below illustrates the supply flow of pipeline gas and LNG in 2013. As you can see roughly 240 million tons of LNG was shipped around the globe with roughly 76% of that being shipped to Asian-Pacific countries.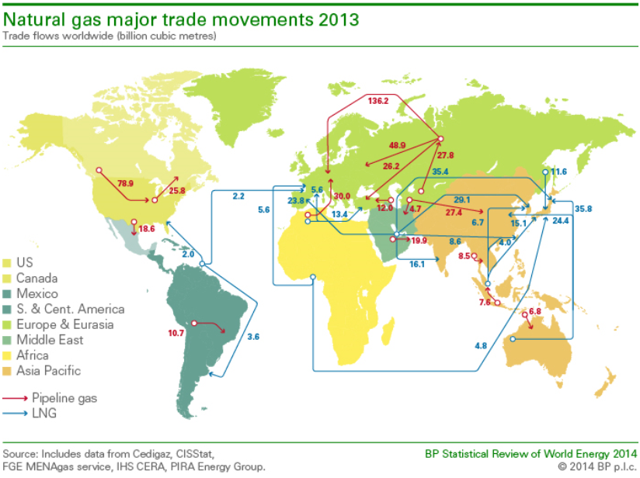 Source: BP Statistical Review of World Energy 2014
However, despite this increase in worldwide demand, the amount of LNG supply has remained roughly the same over the last three years.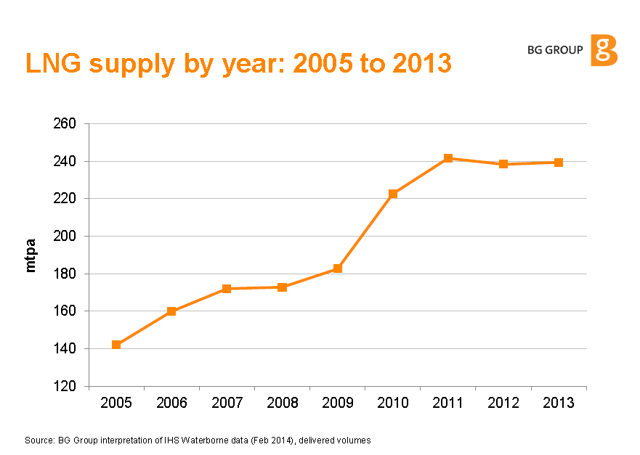 Source: BG Group Investor Presentation
This is because the supply has remained roughly flat as the LNG market has been squeezed as Asian demand outpaces supply. The two new trains that came online did little to impact the overall demand growth. However, much of the supply squeeze was offset by European countries continuing to use less and less LNG yoy. But for how long can this "European balancing effect" last?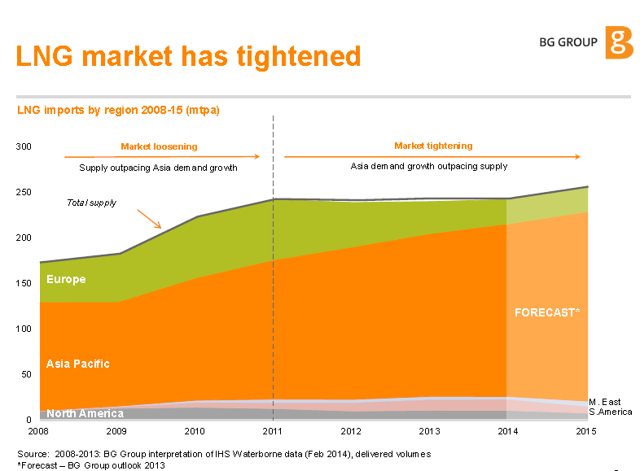 Source: BG Group Investor Presentation
Europe has been slowly moving away from its dependency on natural gas. This has been driven by multiple factors. First, demand from countries like China, Japan and South Korea have created intense competition for LNG exports with the latter two traditionally paying higher prices. This has driven up LNG prices in Europe as natural gas exporters diversify their portfolios. Also the price structure and non-uniform pricing for natural gas coming out of Russia makes natural gas even less attractive as an import for Europeans. Nearly 80% of the natural gas coming from Russia is still priced based on oil prices and quite often natural gas companies charge different prices for different European customers. Third, the availability of cheap natural gas in the US has made coal a less competitive fuel source leading to favorable exports prices of coal for Europeans.
In the short-term, three new LNG trains in Algeria, Australia and Papua New Guinea are expected to start production in 2014. This is likely to add roughly 10 million tons to the global LNG production which represents a 4.2% increase.
In the medium term, Australia and Papua New Guinea plan on increasing production by roughly 67 million tons by 2020 which would put global exports of LNG around 307 million tons. That's roughly a 4.2% yoy increase in LNG global exports. However, this still may pose a problem on the demand side. According to some estimates global demand for LNG is expected to grow by 5-7% yoy until 2020. This makes it unlikely that the demand for LNG will be met in full in the near-term until more sources of LNG emerge.
Investment Thesis
As both the supply and demand for LNG continue to grow, especially in countries that must import, companies in the marine transport business will also continue to benefit from this growth. One such company positioned to reap these rewards is GasLog Ltd. (NYSE: GLOG).
GasLog Ltd. is an owner, operator and manager of liquid natural gas carriers. It provides support to international energy companies as part of their LNG logistics chains. Through its wholly owned subsidiary it operates 22 LNG carriers, which includes 11 ships currently on the water and 11 ships on order set to be delivered at dates through 2017.
With GasLog set to double its fleet over the next 3 years this will position it to continue to take advantage of the growing demand for LNG, giving it the ability to log more chartered hours, which will continue to grow revenues year after year.
To better understand how this increase in fleet size will translate into shareholder wealth I will use the total available fleet days to quantify the unrealized revenues created by the increase in fleet size and then combine that with the existing contracted days revenues to estimate future earnings per share. I will then use the EPS estimates and the appropriate discount rate to determine the fair value of GasLog's stock.
First I used the data provided in GLOG's most recent quarterly report to determine the current fleet utilization and contracted revenues. I then used that data to determine the average revenues per chartered day by dividing the contacted time charter revenues by the total contracted days for that applicable year. I was then able to determine the unrealized revenues by multiplying the average revenues per day by the total unfixed days for that applicable year.

Once I was able to determine the total possible revenues based off of a 100% fleet utilization rate, I then estimated the earnings per share (NYSEARCA:EPS). The profit margins were estimated based off of my analysis of the estimated increase in revenues vs. the estimated increase in operating expenses (minus interest expense) as the fleet expands. I then used four likely scenarios of fleet utilization rates and took the average of those four to determine my EPS. Take note that while even though GasLog is currently operating at a 100% fleet utilization rate, this would be an optimistic figure to base an EPS estimate. I then used a dividend payout rate of 49% to determine the dividend per share. Also take note GasLog's most recent dividend pay rate was 49.69% which I believe to be a sustainable rate that can meet both its dividend payout policy while leaving ample cash flows for its debt obligations and ongoing operations.

Once I was able to estimate shareholder cash flows, I then estimated the appropriate discount rate to determine the present value of those cash flows. For the cost of debt I used the data provided by GLOG's most recent annual report. For the cost of equity I used a stock price of $31.50, current shares outstanding of 72.87 million (Yahoo Finance), a risk free rate of 2.52% (10yr Treasury), historical market return of 10.6% and a Beta of .85 (Yahoo Finance).

Now that I had both the estimated cash flows and appropriate discount rate I was able to discount those cash flows to their present value. For this estimate I used a 5% growth rate in perpetuity. I was able to estimate the fair value of GLOG's stock at $40.15. This would suggest its stock price is undervalued by roughly 26%.

Risks
While this model does suggest that GLOG's stock is currently undervalued by roughly 26%, keep in mind the risks associated with investing in GLOG. In this estimate management must maintain an average fleet utilization rate of roughly 97%, a dividend payout rate of 49% and require no large issuances of new stock for future financing needs. It is also important to note the timing of new ships produced throughout the industry vs. the overall world supply of LNG. The supply of LNG is inelastic to the demand as it requires large capital expenditures for new facilities, lengthy build out times of those facilities and long logistics chains. An excessive supply of new LNG ships with not enough new supply of LNG may drive down both the average shipping rate per day and fleet utilization rate as competition increases.
Disclosure: The author has no positions in any stocks mentioned, and no plans to initiate any positions within the next 72 hours. The author wrote this article themselves, and it expresses their own opinions. The author is not receiving compensation for it (other than from Seeking Alpha). The author has no business relationship with any company whose stock is mentioned in this article.