Shares of solar companies are back in vogue on Wall Street. The two largest solar companies, based on market cap, are First Solar (NASDAQ:FSLR) and Solar City (SCTY). As shown by the chart below, both FSLR and SCTY are off to a strong start in 2014.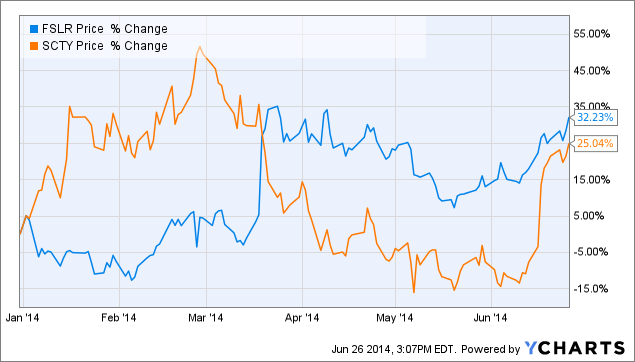 FSLR data by YCharts
SolarCity
Despite the fact that the company has only been around since 2006 and is not profitable, SCTY is the second most valuable solar company with a market capitalization of over $6.5 billion. Of course, much of the hype surrounding SCTY has to do with its chairman, Elon Musk, who is also the CEO and co-founder of SpaceX and Tesla Motors (NASDAQ:TSLA). So far, SCTY has focused its business primarily on selling rooftop solar panel systems to residential customers. SCTY also has a smaller commercial and government business. The key to SCTY's success so far has been the company's ability to provide homeowners with long-term financing options. SCTY offers both $0 down solar lease option and a system purchase option. In the past, SCTY has not manufactured most of its solar panels. SCTY has used imported solar panels from third party solar companies based mainly in China. This strategy has worked very well for the company, as prices have declined sharply and U.S. solar companies have argued that Chinese firms are selling below market rates. At the beginning of June, the U.S. imposed steep tariffs on solar imports from China. This was seen as a major negative for SCTY but the company quickly responded by acquiring solar panel producer Silevo. The move has been seen as a sign that SCTY is looking to become a fully integrated solar provider.
First Solar
FSLR is the market leader in the solar industry and has a market capitalization of more than $7 billion. FSLR is a fully integrated solar company. FSLR manufactures its own solar panels in Malaysia and the U.S. Additionally, FSLR develops, finances, constructs, and operates solar power plants. FSLR has focused mostly on commercial accounts and has completed a number of high profile projects for utilities including the Topaz Solar Farm which was sold to Berkshire Hathaway's MidAmerican Energy Holdings for $2 billion in 2011. FSLR recently announced a deal to build Latin America's largest solar plant in northern Chile. In late 2013, FSLR announced that it was entering the residential rooftop solar market. FSLR has also increased its focus on building rooftop solar systems for industrial sites and warehouses as demand from utilities has slowed in recent years. While FSLR has been very successful so far with its core utility business, expansion into residential and commercial buildings is key if the company hopes to dominate the future of the solar industry.
Valuation
Since SCTY is not yet profitable, traditional measures such as PE ratio cannot be used. However, other metrics such as price to book value and price to sales can be used. As shown by the charts below, based on both metrics, FSLR is considerably cheaper than SCTY. Additionally, it should be noted that FSLR trades at about 15 times forward earnings.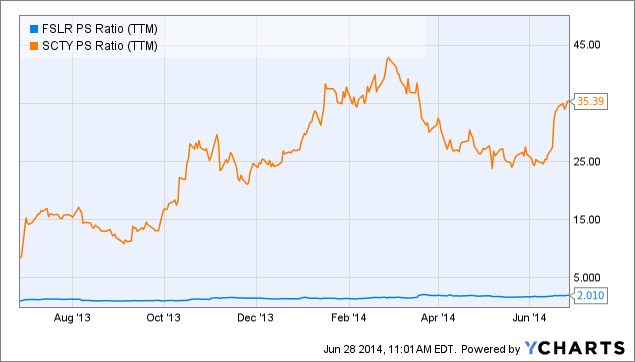 FSLR PS Ratio (NYSE:TTM) data by YCharts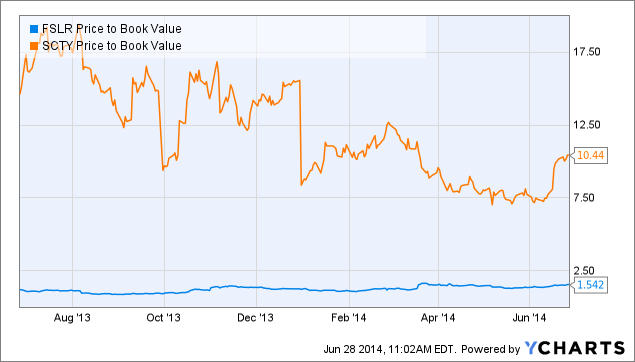 FSLR Price to Book Value data by YCharts
While SCTY is clearly more expensive, it must be noted that, of late, SCTY has been growing revenue much faster than FSLR. Furthermore, SCTY's business model is based on the long-term idea that the company will become profitable as customers make continued payments on long-term financing arrangements. In other words, SCTY is forced to spend money up-front to finance the solar system installations but in the long-run the company should become very profitable. Some analysts have used "retained value" estimates to help forecast future earnings for the company. However, the assumptions embedded within the reported retained value make this a difficult metric to use.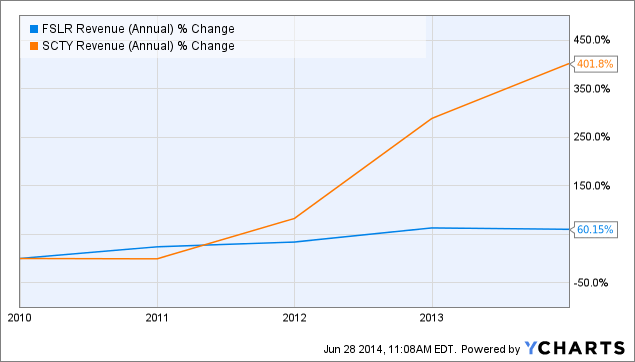 FSLR Revenue (Annual) data by YCharts
Why I Prefer First Solar
While valuation is certainly one of the main reasons why I prefer FSLR to SCTY, it is not the sole basis for me favoring FSLR. After all, given SCTY rapidly growing revenue and prospects for quickly increasing profitability in the future it is difficult to simply say SCTY is too expensive. One of the main reasons why I am skeptical of SCTY is that the company does not appear to have any proprietary technology that separates it from other industry players. Unlike Elon Musk's Tesla (TSLA), which produces a unique product, SCTY does not produce a product that is extremely differentiated from other potential suppliers. Throughout its history, SCTY has relied exclusively on imported solar panels from third parties. Going forward, with its recent acquisition of Silevo, SCTY will become a more fully integrated solar company. However, I have questions as to whether SCTY will be able to succeed with a different business model given the company's limited experience manufacturing solar panels. On the other hand, FSLR's move into the residential market seems like it has a good chance of succeeding. FSLR already has experience doing everything necessary to succeed in the residential market. I believe FSLR is a real threat to SCTY's business down the road, but I do not believe SCTY is a threat to FSLR's traditional utility based business. Due to FSLR's experience as a fully integrated solar company and more reasonable valuation, I believe FSLR is a better investment than SCTY.
Disclosure: The author has no positions in any stocks mentioned, and no plans to initiate any positions within the next 72 hours. The author wrote this article themselves, and it expresses their own opinions. The author is not receiving compensation for it (other than from Seeking Alpha). The author has no business relationship with any company whose stock is mentioned in this article.