Exchange Traded Funds (ETFs) are a great financial product for investors because they trade very similar to equities. They allow investors to diversify their portfolio with a single investment. Further some ETFs give traders the ability to leverage potential strategies. The ability to short or go long on a particular index, industry, or commodity with leverage attracts many investors to the lucrative returns. We will look at the different classes of ETFs that have had the best performance over the past year, challenges that some are facing, and how investors should view possible entry points.
Large-Cap Exchange Traded Funds
These ETFs track the performance of large cap companies - those with a market cap of at least $10 billion.
SPDR Russell 3000 (THRK) - The fund has an attractive return of 6.33% year-to-date (YTD), but more impressively has had a strong performance of 23.7% over the past twelve months. The SPDR Russell 3000 tracks the performance of the Russell 3000 Index that measures the performance of the largest 3,000 U.S. Companies. This ETF invests in upwards of 80% of the companies in the index, and its top holdings include Apple, Exxon Mobil, Microsoft, and General Electric. The portfolio's largest two sectors are Information Technology and Financials, representing 18.1% and 17.3%, respectively.
iShares Core S&P Total U.S. Stock Market (NYSEARCA:ITOT) - This large cap ETF has had an excellent return over the past six-months of 6.52% and a return of 23.5% over the past year. The iShares ETF invests over 90% of its assets in companies represented by the S&P Composite 1500. The performance of the fund has been dependent on investments in Financial, Healthcare, and Information Technology Sectors. Its top holdings include Apple, Johnson & Johnson, Wells Fargo and Berkshire Hathaway B-Class. These large cap holdings are very dependent on macroeconomic metrics, and will move in tandem with the overall markets.
Considering that most of these companies are delivering solid earnings and forward outlooks, investors should feel confident in each fund. However, P/Es are on the rise and economists believe that the U.S Economy is not as strong as predicted. The latest data shows stronger contractions in the economy than previously forecasted. All eyes will be on Non-farm Payrolls for the month of June. The report will be released this coming Thursday along with jobless claims. (Friday is July 4th and markets are closed). If a market correction ensues any time in the near future, these two ETFs, which have identical asset allocations, are prone to considerable downside. Investors may want to wait things out, but with that said, the underlying companies are still solid investments. Waiting for a better price point for entry may pay off in the long term only marginally.
Commodities Exchange Traded Funds
The ETFs that track the performance of commodities and investment products such as bonds, treasuries, and mortgage products of both mature and emerging markets. An investor can find broad diversification in categories that invest in currencies, domestic and foreign-debt products, real-estate, and natural resources.
PowerShares Emerging Market Sovereign Debt Portfolio (NYSEARCA:PCY) - This ETF tracks the price and yield of the DB Emerging Market USD Liquid Balanced Index, investing over 80% of the fund's total assets in U.S. dollar denominated government bonds from emerging market countries. Top holdings include Romania Medium Term, Korea Rep, Republic of Venezuela, and Brazil.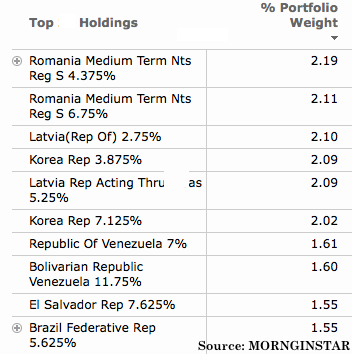 The opportunity to invest in emerging markets is something that many investors are funneling their money into as these countries continue to expand and build infrastructure to become more like the developed nations. The performance YTD has been a stunning 10.42%, with a twelve-month return of over 11%. Since the Euro crisis settled, this ETF has started to do extremely well, and considering the Federal Reserve and the International Monetary Fund will continue with monetary stimulus, these types of investments have become much less volatile.
Vanguard Energy Index Fund (NYSEARCA:VDE) - Considering the global energy boom from increased technology for petroleum and natural gas production, it is no wonder that energy companies have been the top performers of the past few years. VDE has performed extremely well in 2014 and over the past twelve months with returns of 13.69% and 29.6% respectively. Its top 10 holdings make up almost 60% of the entire portfolio, with 20.19% of the assets invested in Exxon Mobil. Other top holdings include other oil and gas operation and production companies such as Chevron, Schlumberger, Occidental, and Anadarko Petroleum.
One issue with VDE would be the impact of the unrest in Iraq on VDE's large holding in Exxon, which makes up a fifth of the portfolio's assets. According to the International Energy Agency, Iraq pulls up 3 million barrels of oil per day and Baghdad alone is sitting on 143 million barrels of oil that are accessible with current technologies. This highlights the major risks to the entire world if that oil production is interrupted significantly. According to RT.com, Exxon Mobil (NYSE:XOM) has already pulled 20% of its operations staff out of the West Qurna 1 field in the south and BP (NYSE:BP) has ordered all "non-essential" staff to leave the country's Rumaila field. Schlumberger (NYSE:SLB) and Baker Hughes (BHI) are all reportedly weighing exiting the country as well. This is cause for concern for this Energy fund, so investors should look to see how these companies report or if VDE is currently diluting the holdings that will have a negative impact on future performance.
Fixed Income Exchange Traded Funds
A fixed-income ETF invests in investment products like bonds, treasuries, corporate bonds, mortgages, preferred equities, and other banking instruments and products. Some of the ETFs have had the best performance out of the entire ETF marketplace as the financial industry has started to see strength and an increase in investments throughout the global economy.
SPDR S&P Regional Banking ETF (NYSEARCA:KRE) - This fund has had returns of upwards of 20% over the past year through tracking the performance of the S&P Regional Banks Select Industry index. Top financial holdings include the Bank of the Ozarks, First Republic Bank, San Francisco, California, and Glacier Bancorp, among other regional banks. An interesting investment to add to your portfolio as the ETF does not invest primarily in the large cap banks, and because of that, this allows for a more diversified region based addition. If the Fed starts to raise interest rates, this fund would see overall margin expansions and increases to the bottom line. New investors would drive this ETF higher in the case of higher rates as they would recognize the overall expansion in margins for banks and lenders throughout the U.S.
PowerShares Golden Dragon China Portfolio (NASDAQ:PGJ) - When it comes right down to it, this China invested ETF has been the literal "GET RICH" ETF. With a jaw-dropping return of 46.9% over the past twelve months, anyone that owned this ETF has a reason to be proud. Tracking the NASDAQ Golden Dragon China Index this fund has invested over 90% of its assets in companies that derive a majority of its revenue from the People's Republic of China. The top holdings include China Mobile, which is the world's largest telecommunications provider with over 750 million subscribers. Another top holder is Baidu, search engine provider for over a billion users. The sector breakdown is primarily Information Technology, making up 52.9% of the portfolio's total assets, followed by Consumer Discretionary at 23.8%. This ETF is a strong play on China and provides diversification within the world's largest economy. The only issue here is investors have to keep an eye on the performance of the Chinese government and the stimulus measures to help improve industrial production. Data released several weeks ago show that the biggest issue is the real-estate market, causing contractions in construction, steel and other industries if the trend continues. Forecasters believe this alone could shave off 50 to 75 basis points off the economic growth rate if real-estate stays weak for the next 12 months. Considering that Consumer Discretionary makes up 23.8% of the fund's portfolio, investors do have some cause for concern as this weakness in housing will affect discretionary spending throughout the economy.
Disclosure: The author is long AAPL. The author wrote this article themselves, and it expresses their own opinions. The author is not receiving compensation for it (other than from Seeking Alpha). The author has no business relationship with any company whose stock is mentioned in this article.