Investors receive virtually no direct reward for holding cash in the current market environment. Thanks to the Fed's zero interest rate policy that has been in place since December 2008, the interest earned for holding cash has fallen to effectively nothing even on the largest of balances. And with the stock market soaring to record highs in recent years during a time when annualized inflation has been running anywhere between +1% to +4%, the opportunity cost associated with holding cash has been dear to say the least. But despite all of these challenges, the case for holding cash may be growing stronger with each and every point that is added to the S&P 500 Index.
"Let's talk about the future now we've put the past away"
--Elvis Costello, Less Than Zero, 1977
Let's get a few things out of the way before going any further with this discussion. First, this is not an article suggesting that one should move their entire portfolio allocation to cash. Instead, it is a discussion designed to explore why an allocation to cash within a broader portfolio allocation that includes stocks, bonds and other asset classes may be becoming increasingly desirable. Second, we can all agree that holding cash over the last several years was a less than ideal strategy since one would have missed out on all of the robust returns the stock market has provided to investors. But today is not March 2009. It is June 2014 with more than five years of robust bull market returns now behind us. What matters now is what the markets stand to offer investors from July 2014 and forward into the future. In short, our focus should be on the future now that we have put the past away. Lastly, just because one may be holding cash today, it does not mean that they will be holding cash permanently. The beauty of cash is that it can be deployed at any time and hopefully when the time is right.
"And later when we got into the car, he took a turn down a street that I was pretty sure was a dead end. "Where are we going?" I asked. "I don't know" he said "just driving". "But this road doesn't go anywhere" I told him. "That doesn't matter." "What does?" I asked, after a little while. "Just that we're on it, dude." He said."
--Bret Easton Ellis, Less Than Zero, 1985
So why then would investors even want to consider holding cash in the current environment? After all, we are now in the sixth year of a virtually uninterrupted bull market that has seen the stock market explode higher and reward investors who have stuck with it all along the way. Should we not instead be fully invested in stocks? Perhaps, but such a strategy would assume that the bull market is stocks is set to continue without interruption for the foreseeable future. What is the likelihood of this happening? Well, the current bull market is already the third longest in stock market history on an inflation adjusted basis. And the fuel that has propelled the stock market higher from its March 2009 bottom in the form of stimulus from the U.S. Federal Reserve is now in the process of being taken away. Moreover, unlike previous stints where the Fed tried to remove stimulus, it appears increasingly likely that the Fed is working its way out of the quantitative easing game with the intent of moving on to other policy solutions to support the economy that may be far less attentive to stocks. As for the economy that without the continuous flow of monetary juice is otherwise a key determinant of corporate earnings and stock market returns, it continues to sputter badly more than five years removed from the supposed "end" of the financial crisis.
All of these forces suggest that today's stock market may represent a road for investors that at best may not be going anywhere over the next several years and worse may end up being a dead end. Why exactly might this be the case? Because stock valuations are becoming increasingly rich relative to their long history.
Sure, higher valuations right now may be supported by the fact that interest rates are so low. But these low interest rates are not a permanent condition. They will be rising at some point either voluntarily as part of policy action or by force from the market. And with this rise in interest rates will come an increasing headwind for stock valuations.
So what are the implications of today's increasingly rich stock valuations? In short, they constrain the ability of stock prices to continue rising in the future. When one reflects back on market history, stocks have seen valuations this high on a 10-year cyclically adjusted price-to-earnings ratio basis (NYSEARCA:CAPE) only four other times in the last 140 years. These past instances took place in 1901, 1929, 1966 and 2000. How did the market fare in the years that followed in each of these past instances? Not well, as shown below (for those that dismiss the CAPE as bunk, it is worth noting that a analysis based on a trailing 12-month price-to-earnings ratio basis yields similar results):
1901 - Investors that owned stocks in June 1901 would go on to experience a sideways moving market over the next two decades that included five major price declines along the way. And investors would still have the opportunity to purchase the stock market for less in May 1924 on a nominal basis than what they would have paid to purchase it 23 years earlier in 1901.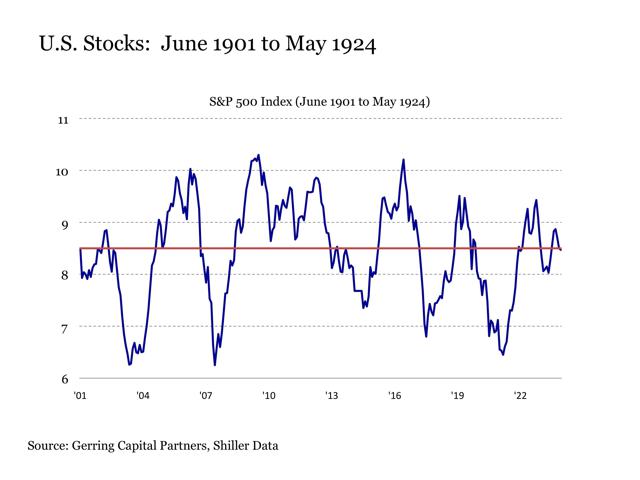 1929 - Investors that owned stocks in September 1929 would endure a most devastating bear market that saw the overall stock market lose more than -80% of its value in the process. And they would have the opportunity to purchase the stock market for less in August 1954 on a nominal basis than what they would have paid to purchase it 25 years earlier in 1929.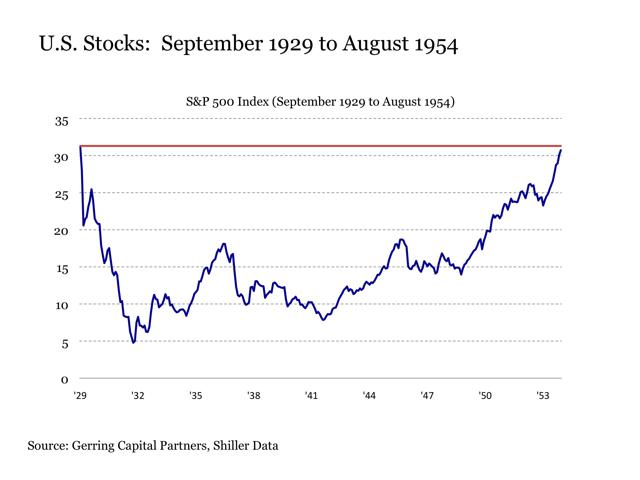 1966 - Investors that owned stocks in January 1966 would experience a choppy market over the next decade that included two major market sell offs along the way. And they would have the opportunity to purchase the stock market for less in April 1978 on a nominal basis than what they would have paid to purchase it more than 12 years earlier in 1966. At first glance, this episode at 12 years does not seem so bad. But it is important to remember that this was taking place during a period of massive price inflation. When considering this market cycle on an inflation adjusted real basis, investors would have had the opportunity to buy back into the market at a lower price as far out as 26 years later in January 1992.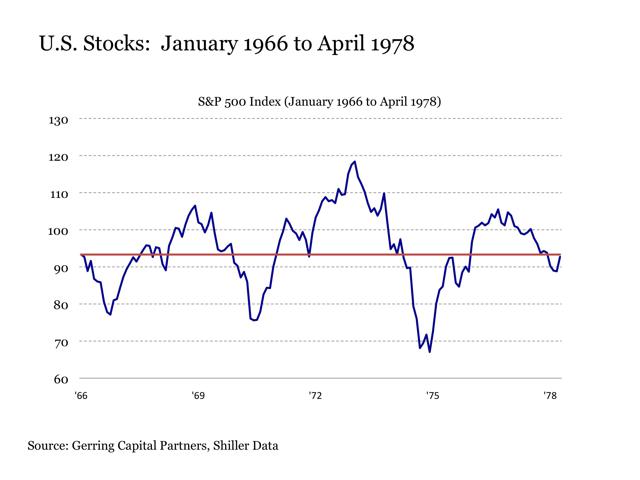 2000 - The tech bubble of the late 1990s sent the stock market into unprecedentedly bizarre territory in terms of valuation. And investors that owned stocks in April 2000 would go on to experience two major bear markets and would have the opportunity to buy back into stocks in December 2012 at prices that were still below what they were trading at 12 years earlier (note that these dates are based on the Shiller data construct for stocks, as this time period would actually be a bit longer if one were basing the analysis on the daily high on the S&P 500 (NYSEARCA:SPY) from late March 2000). And cutting the time period at 12 years in this 2000 circumstance requires the assumption that stocks will not find themselves back below their 2000 highs at some point in the coming years before it is all said and done. In other words, perhaps today is not the fifth such instance of peak valuations in history but instead a continuation of the fourth still in the process of washing itself out. Such an outcome would not be a surprise given how extreme valuations had become in the 2000 episode.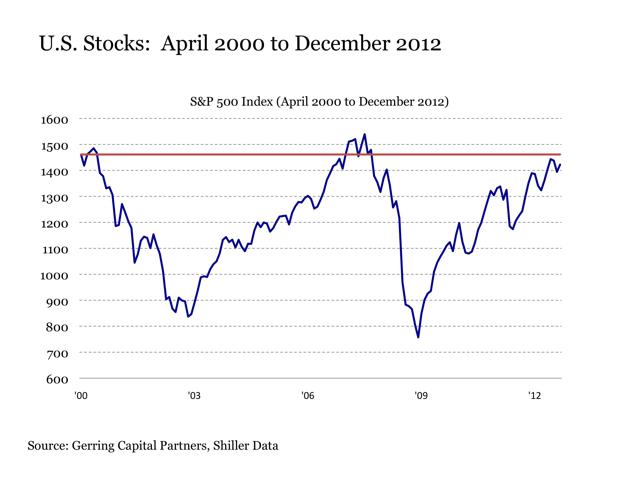 The key takeaway from all of these past episodes when valuations were at comparable levels is that stocks went on to experience a sustained decline in prices over the course of many years. And returning to the principles learned in Economics 101, if your expectations about prices is that they are going to be less at some point in the future than they are today, it would reduce your demand to purchase the item in question today, as you would instead be inclined to wait for the lower price in the future before making the purchase. In other words, if you think stock prices are going down in the future, you would be best served to keep your cash today with the intent of purchasing stocks in the future at these anticipated lower prices.
Thus, the rate of return on cash at roughly zero percent suddenly appears quite attractive when the rate of return on stocks is less than zero percent. For the investor that decided to hold cash instead of stocks in June 1901, September 1929, January 1966 and April 2000 would have been far better served by waiting to deploy this cash into stocks in October 1903, June 1932, October 1966 and October 2002, respectively, once these lower stock prices had become available.
"Fear never shows up and the party ends early."
--Bret Easton Ellis, Less Than Zero, 1985
But given that the market remains in a sustained uptrend, why should we hold cash now? Can't we simply as investors maintain a fully dedicated allocation to stocks and just move at least a portion of our portfolio to cash once the market finally starts to show signs of breaking down? If only it were that simple. Yes, stocks remain in a sustained uptrend with little indication that it is poised to break any time soon. And markets are notably absent of any signs of fear as indicated by the VIX (NYSEARCA:VXX) having fallen to historical lows in recent months. But just as it is unwise to fully allocate to cash in a stock market that is sustainably rising, so too is it unwise to fully allocate to stocks and hold no cash in a market that still has the unpredictable potential to break suddenly, sharply and sustainably lower on the next trading day. For it was not all that long ago in early 2007 that fear was completely absent in the stock market when the party suddenly came to an abrupt end.
What of the alternatives to cash? Could we not safely hold something else in protecting against a stock market decline? In most normal market environments, this would be the case. But one of the fallout effects of the Fed's extraordinarily aggressive monetary policy over the last several years is that it has introduced the same premium valuation dilemma to so many other asset classes. For while Treasuries (NYSEARCA:TLT) continue to offer an ideal hedge against the stock market, the fact cannot be denied that yields remain at historic lows on an absolute basis. The same can be said for Investment Grade Corporate Bonds (NYSEARCA:LQD) as well as stock like High Yield Bonds (NYSEARCA:HYG) and its related brethren. As for the classic inflation hedge in Gold (NYSEARCA:GLD), this is a category that has taken investors to the woodshed with a -32% decline from its mid-September 2011 peaks despite all of the forces working in its favor in recent years. The upside potential is huge from current prices, but exactly when this upside is finally unleashed remains most elusive and further price declines cannot yet be ruled out. Thus, the effective zero percent return on cash has a comparable appeal at least at the margins in an asset allocation strategy relative to the potential for a return that is less than zero percent across any of these major asset classes.
"I think we've all lost some sort of feeling."
--Bret Easton Ellis, Less Than Zero, 1985
Given the potential risks at current price levels, now is not the time to be complacent and simply allocate fully to stocks just because it has been the right road to be on over the last several years. For while the stimulus induced carpet ride in stocks may have caused the market to lose some sort of feeling to this point, the road ahead may become increasingly bumpy once the asset purchase narcotics increasingly wear off. Sure, stocks may continue to rise in the months if not years ahead, which supports the idea of maintaining an allocation to stocks, but current valuations suggest that it will become increasingly challenging for stocks to hold these higher elevations over the coming years once the tide finally turns. And those that are at the ready with a cash reserve to buy at these lower prices if they were to indeed become available provide themselves with the opportunity to capture meaningful upside in the process that would more than protect the purchasing power of this cash in the long-run.
Disclosure: This article is for information purposes only. There are risks involved with investing including loss of principal. Gerring Capital Partners makes no explicit or implicit guarantee with respect to performance or the outcome of any investment or projections made. There is no guarantee that the goals of the strategies discussed by Gerring Capital Partners will be met.
Disclosure: The author is long TLT. The author wrote this article themselves, and it expresses their own opinions. The author is not receiving compensation for it (other than from Seeking Alpha). The author has no business relationship with any company whose stock is mentioned in this article.
Additional disclosure: I am long stocks via the SPLV and XLU as well as selected individual names. I also hold a meaningful allocation to cash at the present time.