The US Stock Market is expensive.
Long only, Dividend Growth investors have a dilemma. Most experienced market observers agree that the market is over-priced. Over the last two years most of the price appreciation of the market has come from P/E expansion rather than earnings growth.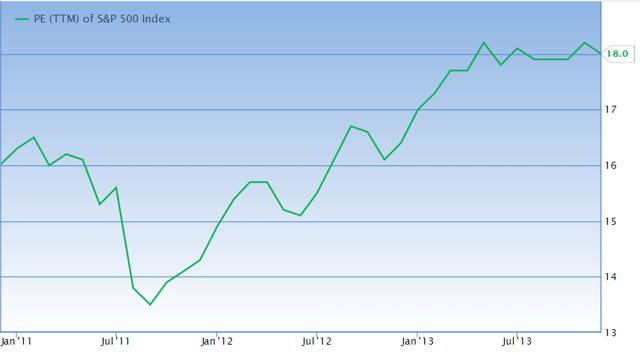 While S&P 500 yield has gone down to below 2%.

P/E RATIO

DIV YIELD

6/27/2014†

Year ago†

2015 Estimate

6/27/2014†

Year ago†

S&P 500

19.32

18.41

16.58

1.91

2.14
Source: Barron's
Going forward the high P/E ratio's are going to be a head-wind for stocks rather a tail-wind even if earning growth continues as P/E ratio's are unlikely to increase but may recede. Increase in long term interest rates will tend to pull P/E ratio's down.
The Procter & Gamble Company (PG)
However even in this expensive market there is value hiding in plain sight, ignored by this crazy market mesmerized by IPO's, tech and takeovers.
The Procter & Gamble Company is no stranger to investors on Seeking Alpha. However take another look at this old dowager. No surprise but there have been a plethora of recent articles on SA on P&G. What can I say, but great minds think alike. P&G in my opinion is like a beach ball being pushed by the rising market under water. When the tide recedes the beach ball is going to spring back up (relatively speaking of course).
P&G has bought back the former CEO A.J. Lafley to revive shareholder return. For example, recently P&G reversed its earlier decision to get into the Pet Food market by selling its IAMs brand and other pet food brands to Mars. Lafley has said that about 10% of P&G business is underperforming and will be divested in the near future. This should improve Return on Equity for the shareholders, going forward and greater stock appreciation.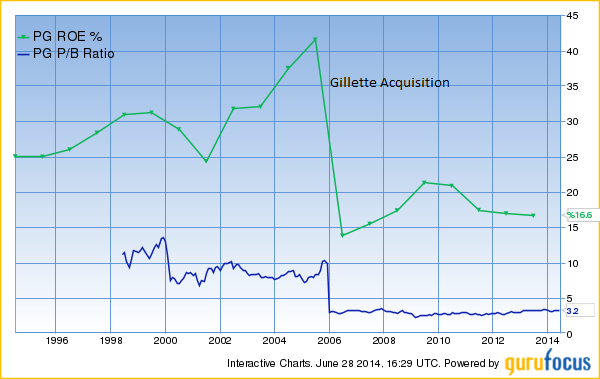 As you can see from the chart above P&G's ROE dropped dramatically in 2006 following its $57 Billion acquisition of Gillette. The price to book value dropped because the book value went up due to the acquisition. The Gillette acquisition was ill timed as the financial crisis and the Great Recession hit in 2008 when P&G's brand loyal customers became increasingly strapped and begin to gravitate towards cheaper alternatives. Interestingly while P&G's ROE has dropped its return on assets has not dropped as much. Clearly P&G's ROE is being weighed down by the massive goodwill the company is carrying following its Gillette acquisition which is yet to fully pay off. Since ROE is a big driver of share holder returns its imperative that P&G increases its ROE back above 20%.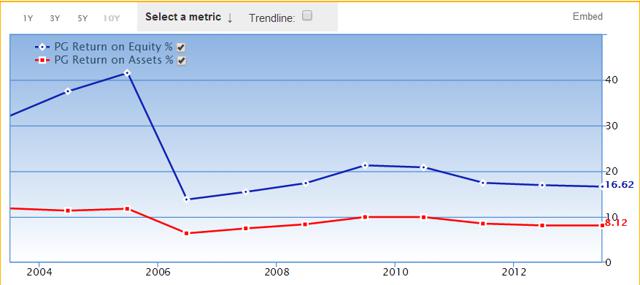 Cash Return
My favorite yield based metrics is Cash Return as it is capital structure agnostic. We can calculate cash return by adding free cash flow (cash from operations minus capital expenditures) to net interest expense (interest expense minus interest income), and then dividing the sum by enterprise value (market cap plus long-term debt, minus cash). We add back interest expense to free cash flow so that capital structure doesn't impact cash return. Therefore, cash Return = (Free Cash Flow + Net Interest Expense) / (Enterprise Value).
Year

Enterprise value

$ Millions

Interest expense

free cash flow

cash return

2004

156,418

-629

7,338

5.09%

2005

149,262

-834

6,541

4.94%

2006

214,179

-1,119

8,708

4.59%

2007

222,223

-1,304

10,490

5.31%

2008

220,142

-1,467

12,768

6.47%

2009

182,857

-1,358

11,681

7.13%

2010

199,107

-946

13,005

7.01%

2011

206,657

-831

10,024

5.25%

2012

195,448

-769

9,320

5.16%

2013

238,508

-667

10,865

4.84%

Current

242,313

-694

9,655

4.27%
P&G's Cash Return is OK but not spectacular and in recent years stock price appreciation and moderating free cash flow has reduced Cash Return.
Dividends
P&G pays out a healthy dividend and is currently yielding 3.1%. Therefore it is a great stock for an income investor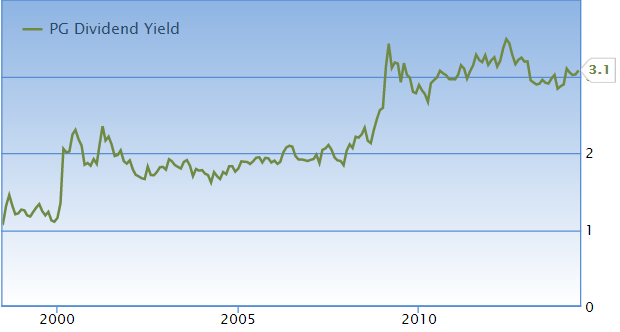 P&G has being growing its dividend at the rate of 8% per year over the last 5 years. Assuming (reasonably) this growth continues in the future the yield on cost in 5 years would be 4.55%.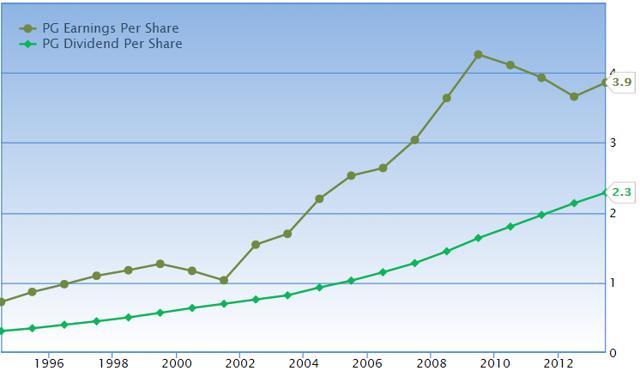 Conclusion
Even in the current over-valued market you can find blue chips like P&G trading a decent valuation. P&G's main attraction is the steadily growing dividend. As P&G improves its Return of Equity, its stock price should increase further. Meanwhile you get to clip its substantial dividend. P&G is a giant company with operations all over the globe and can allocate capital for greater return. P&G is a undervalued pick in an over-valued market. It's a stock you can confidently buy now and look back in 5 years and say to yourself that you made a wise decision. I have now owned P&G stock for close to 24 years and have continued to add to it in time of weakness. I am now doing so again.
Disclosure: The author is long PG. The author wrote this article themselves, and it expresses their own opinions. The author is not receiving compensation for it (other than from Seeking Alpha). The author has no business relationship with any company whose stock is mentioned in this article.