Companies are like investors; they are always looking for a place to put their money where they are likely to get the best return on investment. These places could include certain projects, assets or entire companies. Last week, Alcoa (NYSE:AA) acquired Firth Rixson which fits with the company's recent strategy of focusing on high-margin items with high growth potential.
A recent shift in Alcoa's strategy justifies this acquisition
In the last few years, all kinds of raw material producers suffered weak operating results. Producers of many raw materials, such as gold, silver, iron, aluminum, coal and other similar commodities either suffered large losses or posted weak earnings as the commodity prices did not keep up with their operating expenses.
As a result of this, companies like Alcoa decided to change their strategy, and focus on products and services that are likely to result in higher margins. Lately, Alcoa's focus has been shifting towards the car industry and the aerospace industry where there is increasing demand on aluminum products, as companies like Ford (NYSE:F) are looking to increase their vehicles' fuel-efficiency by replacing steel with aluminum. The acquisition of Firth Rixson fits this team perfectly. Firth Rixson goes beyond producing raw materials and focuses on engineered products that come with much higher margins. The company is actively involved in the aerospace industry and its products can be found in many different items from military planes aircraft to civilian helicopters. The company serves more than 20 industries, such as mining and oil, in 40 countries and its patent portfolio is one of the richest in the industry both in terms of quantity and quality.
Alcoa will be paying $2.85 billion to Oak Hill Capital Partners, who acquired Firth Rixson in 2007 for $1.61 billion. Last year, Alcoa generated $4.0 billion of revenues from its aerospace segment, which made up a little more than a quarter of the company's overall revenues, which stood at $13 billion. The acquisition of Firth Rixson will immediately add $800 million or 20% to Alcoa's aerospace revenues, with more growth to come in the following years. In 2013, Firth Rixson's revenue was $1 billion and most but not all of this revenue came from the aerospace industry. By 2016, Alcoa expects Firth Rixson generate $1.6 billion in revenues and earn $350 million annually before interest, taxes, depreciation and amortization. If this comes true, Alcoa will be buying this company for 8 times its forward EBITDA and 1.78 times its forward revenues.
This may be all about product integration
According to the investor presentation of Alcoa, this acquisition's rewards to the company are not limited to direct financial benefits. This acquisition will also serve Alcoa in other ways. For example, Firth Rixson's products will complement Alcoa's existing products, which should help the company obtain and retain more clients. The graphic below was taken directly from the company's presentation and it shows how Alcoa's products fit with Firth Rixson's products to build an aircraft engine.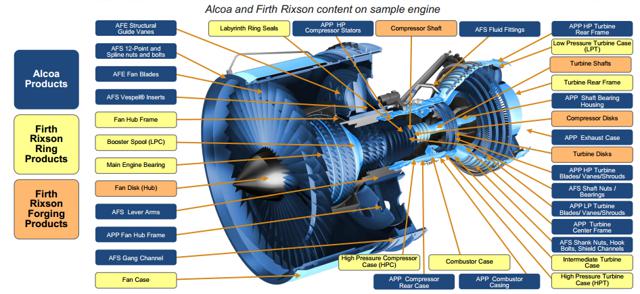 Joined together, the engineers of both companies can come up with ways to improve the existing products and increase the integration of these products with each other. As a result, both Alcoa's and Firth Rixson's market share is likely to increase as the products get better and more complete. Alcoa will now be serving the aerospace industry in 4 key segments, namely: Advanced Aerospace Structures, Innovative Fastening Systems, High Performance Engine Castings and finally Specialized Rings and Forgings. The last segment is where Firth Rixson specializes in and this completes Alcoa's existing contribution to the aerospace industry.
Firth Rixson's strong relationship with some of the major players in the industry such as Boeing (NYSE:BA) and Airbus will increase Alcoa's footprint in the industry tremendously. Aerospace industry is a very complex industry with many moving parts, and the companies in this industry would be much more comfortable with conducting business with companies that can provide parts that integrate perfectly with each other. As the aerospace industry benefits greatly from an increased demand in the commercial plane business, with major players obtaining massive backlogs, this will provide visibility for Firth Rixson's growth far into future. Alcoa's management expects Firth Rixson to grow its revenues at a compounded annual rate of 12.2% at least until 2019. By this year, the company's annual revenues are expected to reach or pass $2 billion. The chart below was taken from the company's latest presentation.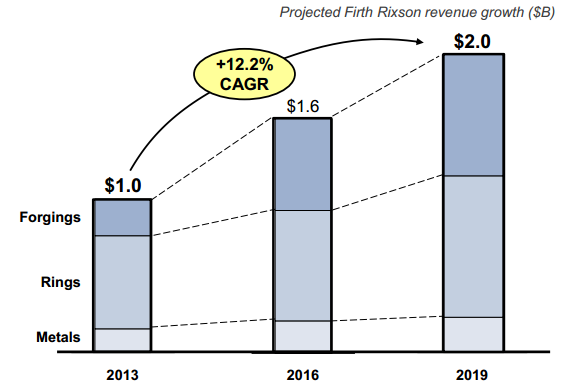 In the short term, the purchase of Firth Rixson should help Alcoa's revenues and margins directly. In the long term, the integration of the two companies, their engineers and products should help both companies serve their customers better, gain market share and become a bigger player in the aerospace industry. This also fits perfectly with Alcoa's shift from raw materials to value-added products.
After trading in single-digits for the most part of 2012 and 2013, Alcoa's share price trended upwards for the most part of 2014. One of the major catalysts for Alcoa was Ford's successful testing of an aluminum F-150. If this truck proves successful, other car companies may start replacing some of their steel parts with aluminum, which would increase the demand for the material greatly. If the whole thing takes-off, the upside will be huge for aluminum producers.
Alcoa's debt load is likely to increase in the near future
Meanwhile, the biggest worry regarding Alcoa is the company's balance sheet. Currently, Alcoa's balance sheet includes $665 million of cash and $7.75 billion of debt as of the end of the last quarter. Since the acquisition of Firth Rixson will be paid by raising more debt, the company's total debt is likely to approach $10 billion by the end of the year, compared to its market value of roughly $17 billion. Alcoa's debt to assets ratio is 0.22 compared to an industry average of 0.41 and the company's debt-to-equity ratio is 0.68 compared to an industry average of 0.85. The company's current debt rating is BB+, which allows its coupon payments to range from 5.40% to 6.75%. If Alcoa sells $2 billion of debt to finance part of the acquisition, its annual coupon payments will be anywhere between $100 million to $130 million depending on the maturity date. This is something to consider.
To summarize things, Alcoa's acquisition makes sense in terms of increasing the company's footprint in the aerospace industry and shifting away from raw products while focusing more on engineered-products. On the other hand, Alcoa's high debt value will keep some investors on the sidelines and that's also understandable. If the company finally makes inroads in the car and aerospace industries, it can turn out to be a great investment in the long term.
Disclosure: The author is long F. The author wrote this article themselves, and it expresses their own opinions. The author is not receiving compensation for it (other than from Seeking Alpha). The author has no business relationship with any company whose stock is mentioned in this article.