On Friday, June 27, KB Home (NYSE:KBH) reported yet another strong quarter, and it seems investors are finally taking notice again. Breaking the typical pattern besetting home builders of post-earnings selling no matter how good the report, KBH actually managed not only to hang onto post-earnings but also to build on them.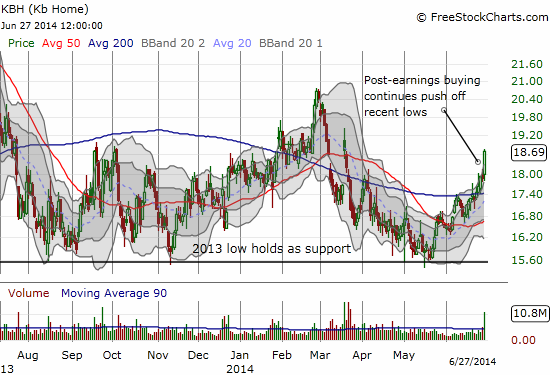 KBH is well off recent highs but seems to have confirmed a bottom with a positive reaction to another strong earnings report.
Source: FreeStockCharts.com
KBH's 4.5% gain on Friday came on the heels of a strong May new home sales report that caused a brief stir in trading until the typical selling ensued to fade much of those gains away. The reaction to KBH's report may finally signal a turning point in the reaction to good news in the sector.
As usual, I like to read the transcript from the earnings conference call (from Seeking Alpha) with a particular focus on management's read on macro trends and the questions from analysts. There was no news on the macro front, but management made some interesting observations on KBH's local markets. In particular, KBH claimed that first-time home buyers are now showing up in its Denver, Orlando, and Texas markets. Management also revealed, for the first time I believe, that it believes it can eventually earn better than the 20% target on gross profit margins. I think these two data points alone are good enough to drive some incremental interest in KBH's results.
Analysts only brought up one notable concern during the Q&A period: could KBH's concentration in California's strong housing market end up hurting the company particularly badly in the case of an economic slowdown. KBH's answer was a decided "no," but it is a question I had not previously considered.
Here is my summary and editorial on the points that most caught my interest…
The bottom line, yet again, is that KBH hit on all cylinders and improved on all its key financial metrics. Gross profit margins in particular were strong with KBH recording its best second quarter on that metric since 2006 and the sixth consecutive quarter of year-over-year gains. The double-digit growth in ASP is KBH's seventh quarter in a row of such gains, driven mainly by a product mix biased towards higher-priced, higher-margin markets and customer bases. ASPs increased in a range from 9% in the Southeast to over 23% in the Southwest. I believe the market continues to under-appreciate how well KBH is executing its strategic focus: land-constrained markets and metros with strong economies and robust job markets that provide ample supply of higher-end home buyers who are buying larger homes with more add-on features. KBH credits its Design Studio for motivating the sales of these premium add-ons and generating "…one of the highest sales rates per community in the industry."
"Revenues for the quarter increased to $565 million and net income rose to $27 million. Our average selling price was $319,700, a 10% increase over the prior year. We improved our operating margin by 440 basis points year-over-year. Our gross profit margin rose 380 basis points to 18.9% and we reduced our SG&A ratio to 12.8%. Both of these results were our best performance for a second quarter since 2006. Net order value increased 19% year-over-year to $763 million on a net order unit increase of 5%, our quarter end backlog value increased by 24% year-over-year to just over $1 billion reinforcing our expectation that our favorable trajectory will continue…"
California is KBH's premiere market. Net order unit value in the state hit an all-time high in the previous quarter. An analyst expressed concern with KBH's concentration in California: a slowdown in the market there could hinder the company's ability to raise prices sufficiently to cover its recent land expenses. (For perspective, KBH plans to spend $1.6B for the year in land acquisition and development, the high end of previous guidance). KBH management responded to the margin concerns by noting that its prices are close to median prices for resale homes; the company also tries to bracket median incomes in its market. The large population, strong demand, and lack of inventory combine to converge pricing. In other words, there is currently little potential for downward pressure given resale homes do not present a much cheaper option for a new home. At least that is MY interpretation of management's response. This dynamic of course relies upon economic conditions that do not slow down dramatically.
On the flip side, KBH's Central region, which features Colorado and Texas, holds the company's largest backlog value (over $400M). Thus, the Central region is poised to become a major component of KBH's results in the second half of 2014. Growth will be supported by a community count that continues to expand off KBH's lows in the third quarter of 2012. KBH expects to open 80 communities in the next 6 months.
The appearance of first-time home buyers in KBH's Texas, Orlando, and Denver markets provides one of the most encouraging developments in KBH's report. If sustained, it will add a fresh element of economic vitality and sustainability to KBH's markets. KBH describes its market opportunity with two distinct characteristics (emphasis mine):
"…we are really operating today in two distinct market environments that are being driven by different dynamics. The first is in the highly desirable markets, such as [Coastal] California, which are driven by strong demand due to large populations and very low inventory….In these areas there is a price driven recovery. The second market dynamic that we are targeting features the more traditional demand we are seeing in Texas, Orlando or Denver fueled by employment and population growth. It is in these markets with their more traditional recovery where we are starting to see the reemergence of the first-time buyer, a critical consumer segment necessary to assure a broad based housing recovery."
KBH is also ready to launch Home Community mortgage, its mortgage partnership and jointly-owned venture with Nationstar (NYSE:NSM). This is an important strategic relationship for KBH. The focus is not on making money although it should eventually provide an additional profit stream. Instead, KBH will utilize the venture to gain reliability, predictability, visibility, and consistency in the sales and buying process. Salespeople will know faster and easier whether a potential customer will qualify for a loan. KBH customers will experience a streamlined loan approval and execution process.
The pool of potential customers is likely expanding due to a long overdue easing of credit conditions. It is slight but at least seems to confirm economic conditions are moving in the right direction in KBH's markets. According to KBH, the mortgage pools they see used to carry FICO scores of 750 or 760. Now, they are down to 720 or 730. These levels represent very strong credit scores and are still well above normalized levels. KBH describes its Spring traffic levels as "pretty consistent" with a "pretty nice rhythm."
Potential future margin levels represent the second most encouraging sign from KBH's earnings. KBH is now comfortable enough to start looking past its 20% gross margin target:
"Our initial targets is 20% and we feel confident we are going to get there. I do believe there is more room to expand beyond that. Our highs in the prior cycle are well above that. And when you look at normalized rates in prior cycles, we were in basically the low to mid 20s. So, I do believe there is the ability to get there."
These earnings results combined with apparent bottoming in the stock price give me incrementally greater confidence in my decision to invest in KBH at its recent lows. (Note I was NOT confident enough to sit through earnings with profits on speculative call options I bought going into the announcement!). The next step is to see whether investors also start waking up more to the strong results of other home builders.
In a future post, I hope to put a special spotlight on one of KBH's most promising properties for 2015: Patterson Ranch in Fremont, CA. The location has been called Silicon Valley's marquee home development offering an amazing potential for 500 units with a likely price tag of $1M and up by the time homes go for sale. When KBH says it has good relationships with land sellers in California, particularly in Northern California, they are not kidding! Patterson Ranch is a major win. Here are two pictures I took of the site which is in the early stages of preparation.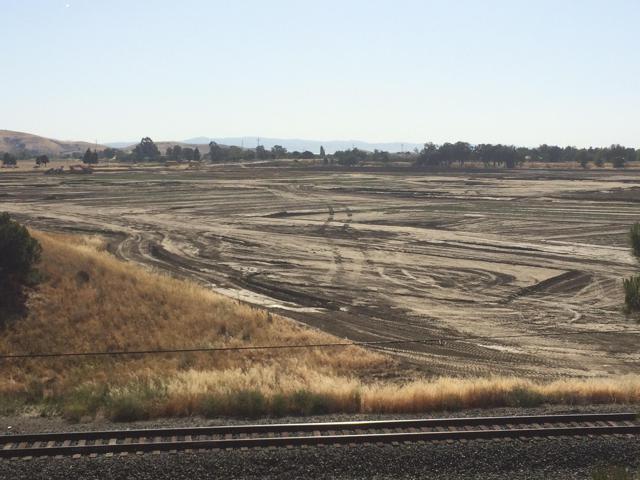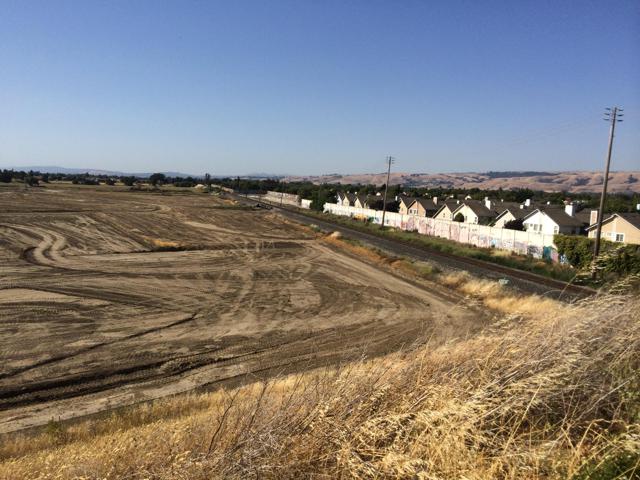 You can also click here for a very short (and windy!) video clip that should give you a better sense of scale.
Be careful out there!
Disclosure: The author is long KBH. The author wrote this article themselves, and it expresses their own opinions. The author is not receiving compensation for it (other than from Seeking Alpha). The author has no business relationship with any company whose stock is mentioned in this article.