As I have written previously, NorthStar Realty (NRF) took a page from Altisource Residential Corporation (NYSE:RESI). It saw just how much massive value could be "created" just by spinning-off a management arm with a generous commission schedule, and tried to do the same.
It worked. NRF is up nearly 80% since announcing the move back in December 10, 2013. But our curiosity remained with whether we'd be able to pick up shares in this management arm on the cheap, once it was spun-off. This curiosity emerged from what happened with Altisource Asset Management Corporation (NYSEMKT:AAMC). After AAMC was spun-off, it started trading at $19, and went on to gain 4300% in just one year and a half.
No such luck
Today, as the NRF spin-off is starting to produce effects, I can already say that there's no such luck in this instance. If not fully priced, then the spun-off entity is close. The spin-off is somewhat confusing so let me explain why I say this. The process is as follows (Source: Company press release):
In connection with the Distribution, NorthStar Realty is conducting an internal corporate reorganization and a one-for-two reverse stock split of its common stock, pursuant to which NorthStar Realty will merge with and into its subsidiary, NRFC Sub-REIT Corp., and the survivor will be re-named NorthStar Realty Finance Corp, which will be the entity that effects the reverse stock split and the Distribution. In the Distribution, each NorthStar Realty common stockholder will receive shares of NSAM common stock on a one-for-one basis, after giving effect to the one-for-two reverse stock split.
In steps:
NRF will do a reverse split on a 1:2 basis. This means that NRF will have half its present number of shares after this step;
NRF will split into 2 share classes: NRFC/the old NRF ex-the management arm and; NSAM, the management arm. Each of these classes will receive 1 share per each share held.
What this means is that the share count of NRFC plus NSAM will be the same as the share count of today's NRF. Also, given where the prospective stocks are already trading (NRFC is at $16.85, NSAM is at $18.85), this means NSAM is worth a bit over half of today's NRF's market capitalization.
So NSAM is trading at a market cap of around $3.4 billion, considering NRF's present market capitalization of $6.46 billion (Source: NRF website, given that there's been equity issuance since the last quarter).
$3.4 billion is not any kind of massive bargain - when AAMC started trading, at $19, it had a market capitalization of barely $43 million - it was undiscovered, the market didn't comprehend right away what it meant to hold shares on that entity. Not so now, given AAMC's performance the market was not caught unaware with NSAM, so the result is that there's no bargain to be had.
NSAM is already trading a bit above the rest of NRF's assets (NRFC). It's already replicating something which happened with AAMC as well. It trades at a premium, because holders of the stock expect it to gain from further NRFC equity issuance, much like holders of AAMC expect to gain from further RESI equity issuance.
Indeed, as per NRF's presentation the new entity stands to gain directly from NRFC issuing equity, as can be seen here (Source: Company presentation)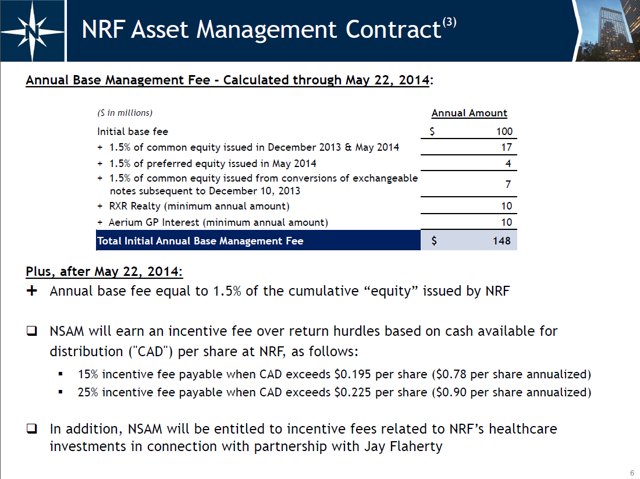 However, one should also notice that the variable fee is significantly lower than what AAMC is entitled to. This, too, gains from NRFC issuing equity, but the gains are capped at 25% of the cash available for distribution, against 50% over at AAMC.
Overall, NSAM is more overvalued than AAMC is
Contrary to our expectation that NSAM could come up as a bargain, it seems that NSAM is even more generously valued versus NRF than AAMC was versus RESI.
It could be argued that NSAM ought to trade lower versus NRFC than the relationship between AAMC and RESI. AAMC trades at 122% of the market capitalization of RESI, and presently the relationship between NSAM and NRFC is at 112%, so it's very close. Due to this it would seem to me that NSAM, instead of being some obvious bargain, is already fully priced or worse.
Conclusion
Instead of coming off as a massive bargain, the spun-off entity from NRF actually seems fully priced or even overpriced, given that its commission structure is not as favorable as AAMC's.
Either way, the spun-off management arm, NSAM, is no massive bargain.
Disclosure: The author has no positions in any stocks mentioned, and no plans to initiate any positions within the next 72 hours. The author wrote this article themselves, and it expresses their own opinions. The author is not receiving compensation for it (other than from Seeking Alpha). The author has no business relationship with any company whose stock is mentioned in this article.