Following a surprising two-week rally in the middle of the month, precious metals ended the last full week of June almost exactly where they began after the gold price rose to a nine week high and silver reached its highest level since mid-March. The silver surge has been particularly impressive and a new technical setup has developed for both metals after markets appear to have "digested" the big mid-month gains.
The threat of higher inflation combined with dovish comments by Fed Chief Janet Yellen as detailed here a week ago were countered in recent days by more hawkish outlooks from other central bank officials and geopolitical concerns have faded, at least for the time being. A weakening dollar continues to be positive for precious metals and more disappointing reports on the U.S. economy did little to halt that trend.
In China and India, seasonal factors played a key role in physical market demand reaching its lowest level of the year. There is disagreement about whether the unraveling of gold financing deals in China has had a positive or negative impact on the gold price and the story of Germany's quest to repatriate a portion of its gold reserves held at the New York Fed took a surprising turn, one that will only add to the many gold conspiracy theories.
For the week, in what could be the smallest combined move for monetary precious metals ever seen, the gold price rose just 40 cents (or 0.0003 percent) to $1,315.10 an ounce and silver fell by a penny (or 0.0005 percent) to $20.87. Gold remains up 9.1 percent for the year, still 32 percent below its record high of over $1,920 an ounce nearly three years ago, and silver held onto the year-to-date gains it amassed during the prior two weeks, still up 7.4 percent for the year and 58 percent below its all-time high near $50 an ounce reached in early 2011.
It was a quiet week for gold and silver but, given the plethora of potential catalysts to push prices higher, this could be "the pause that refreshes".
After metal prices jumped this month - up over 5 percent for gold and nearly 11 percent for silver - it seems former bears don't know whether to turn bullish and former bulls don't know whether to turn bearish. One thing is certain, however, in that precious metals have recently bucked seasonal trends in a big way since June has been the worst month for metal prices by a wide margin as detailed here previously.
The technical picture has transformed into one where traders are now eyeing overhead resistance just above current levels, but few think that current conditions warrant any excursion outside of the long-established trading range of $1,250 to $1,350 an ounce for gold. Just the fact that gold held its price gains from prior weeks was encouraging and the ability to hold big gains is even more important for silver.
After struggling all spring, silver has suddenly captured the interest of both short-term traders and long-term investors and a good way to see this improved sentiment is via the premiums paid for the Sprott Physical Silver Trust (NYSEARCA:PSLV). As shown below via the Sprott website, PSLV premiums reached 3.88 percent on Friday, the highest level since February and one of the biggest premiums since silver completed its tumble from record highs back in 2011.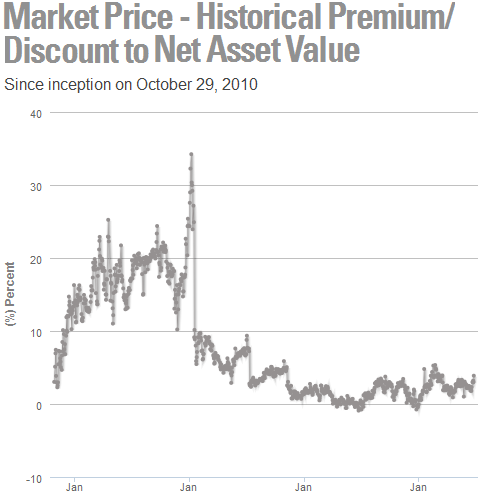 Improving sentiment amongst investors was nowhere to be seen in the iShares Silver Trust ETF (NYSEARCA:SLV) where holdings fell by 159 tonnes last week to 10,107 tonnes after a similar decline during the previous week.
Meanwhile, gold investors added only a little metal to their portfolio as holdings for the SPDR Gold Shares ETF (NYSEARCA:GLD) reversed much of the prior week's decline by rising 2.4 tonnes. So far this year, GLD holdings are down 1.7 percent (13 tonnes) while the gold price gain is over five times that amount as U.S. investors, so far, appear to be sitting out the current rally.
Whether the recent price surge will endure is the key question for precious metals investors in the weeks ahead and new uncertainty was introduced to markets after speeches by two regional Fed Presidents last week.
Once again, the potential negative impact of rising interest rates must now be considered alongside the positive impact of rising inflation and a dovish Fed.
Following Fed Chief Janet Yellen's dismissal of inflation concerns and renewed pledge to keep interest rates low at mid-month, Philadelphia Fed President Charles Plosser said last week that interest rates may have to be raised earlier than expected (as soon as next quarter) if the labor market continues to improve and inflation rises from current levels.
Plosser is one of the more "hawkish" Federal Reserve officials, but similar comments by the more moderate James Bullard, President of the St. Louis Fed, echoed the view that their boss was being too dovish. Bullard said the central bank "is closer to its goal than many people appreciate" and predicted that rates will begin to rise in the first quarter of 2015.
Most analysts think the Fed's first rate hike will not come until late-2015, so, comments such as these are important.
When considering that geopolitical concern over Iraq and Ukraine have both lessened substantially in recent days, it's a wonder that gold and silver prices held up as well as they did, given the tougher talk from the Fed.
To be sure, there is great uncertainty about the rapid advance of Sunni militants toward Baghdad in Iraq and Russia warned of "grave consequences" following a trade deal that Ukraine leaders signed with the European Union. Energy prices gave back some of their recent gains and if crude oil falters again in the days ahead, this will put added pressure on precious metals.
The weaker dollar has been supportive of higher metal prices (the two usually move in opposite directions) and the 2.9 percent rate of contraction for the U.S. economy during the first quarter surely has some gold traders thinking that the recent talk from the Fed is just that - talk. Consumer spending rose less than expected in May, when a big rebound from a harsh winter was expected, and this prompted downgrades to second-quarter growth forecasts, all of which casts doubt on when and how fast the Fed will be able to raise rates.
In India, gold demand is down as buyers wait for the new Modi government to roll back import duties and other efforts that began last year, measures that were aimed at reducing their trade deficit. This comes at the same time that oil prices - the other key driver of the nation's big trade imbalance - are rising and, as a result, there now seems to be even less urgency for the government to act on reversing the gold curbs. This development has the jewelry industry increasingly agitated as seasonal buying approaches.
In China, net gold imports via Hong Kong fell from 67 tonnes in April to 53 tonnes in May, the lowest level in 16 months, however, direct shipments to Shanghai and Beijing likely played a role in the decline. Recall that the Chinese government opened up new gold import routes to the mainland and it is their intention to not make this trade data available to the public, as opposed to Hong Kong statistics that are published monthly and, in recent years, have been widely considered the best proxy for overall demand in China.
You can get a good sense of why the Chinese might be keen on the rest of the world knowing less about how much gold they are importing via Koos Jansen's article LBMA Forum Singapore: SGE Chairman Confirms Chinese Gold Demand In 2013 Hit 2000 MT from last week.
Also from China, in a story first reported by Bloomberg on Thursday, authorities have uncovered $15 billion in fraudulent gold-financing deals. At current market prices, this is the equivalent of about 360 tonnes of gold and the news comes after alleged fraud at Qingdao Port that began months ago where other metal stockpiles (e.g., copper, iron ore) are believed to have been pledged multiple times as collateral for loans.
Recall that, in April, a World Gold Council report said as much as 1,000 tonnes of gold may have been tied up in China financing deals and this led some (mostly already bearish) analysts to think that the unwinding of these deals could cause the gold price to plunge. Others have said that this could push gold prices higher as lenders buy back futures market short positions bought to protect them from fluctuations in the price of pledged gold that never existed in the first place. We'll find out soon enough what, if any, impact this has on metal prices.
Lastly, the German government said it has halted its effort to repatriate $141 billion in gold holdings now stored in the U.S. by the New York Federal Reserve. Recall that, early in 2013, Germany announced it would "bring home" 300 tonnes of gold from New York and 374 tonnes from the Bank of France over seven years as part of an effort to store half of its 3,386 tonne gold holdings (the second largest in the world) on its own soil.
Fast forward 17 months and just 32 tonnes were recalled from Paris along with a measly 5 tonnes from the U.S. (for reasons that were never made clear) and they've given up, labeling the effort "a potential irritant in US-German relations" (see here, here, and here for full coverage). The New York Fed will continue to hold about 1,500 tonnes of German gold and conspiracy minded individuals will, for some time to come, draw parallels between warehousing practices in Qingdao, China and warehousing practices in Manhattan.
Disclosure: The author is long PSLV. The author wrote this article themselves, and it expresses their own opinions. The author is not receiving compensation for it (other than from Seeking Alpha). The author has no business relationship with any company whose stock is mentioned in this article. I also own gold and silver coins and bars.