In a close decision, by a vote of 310 to 303, the Presbyterian Church (U.S.A.) voted to "divest from Israel" over its treatment of Palestinians. Not surprisingly, the decision comes with charges of anti-Semitism. The church adopted a similar solution in 2004 calling for divestment from multinational corporations operating in Israel. This time the church is specifically targeting Motorola Solutions (MSI), Caterpillar (CAT) and Hewlett-Packard (HPQ) for supplying Israel with equipment used in Palestine.
The move comes after the Gates Foundation announced the divestiture of G4S plc (OTCPK:GFSZF), a British multinational security services company, over its role in supplying Israel's military and prison system with supplies and equipment. It is the world's largest security company measured by revenues. The​ United Methodist Church (US) also instructed ​the managers of its​ $20 billion fund to sell all shares in G4S​.​
What's more important than the religious affiliation of the Presbyterian Church (U.S.A.) is its size; to date it is the largest group to vote for divestment in the "boycotts, divestment and sanctions" (BDS) against Israel. It is important to note that the church voted to support the right of Israel to exist within a two-state solution.
Can Divestment Hurt Valuations
Divestment is a tool used against companies in order to promote a certain type of behavior. It has been used on a host of issues such as child labor and tobacco advertising. In the 1970s and '80s investment institutions across the country sold off stocks in companies that did business in South Africa.
The goal of this type of "boycott" is to lower stock prices through mass divestment. However, a study by Ivo Welch and C. Paul Wazzan entitled, The Effect of Socially Activist Investment Policies on the Financial Markets: Evidence from the South African Boycott, found that the boycott had almost no effect on public valuations as one group of investors simply filled in the gap in demand created by the boycott. The paper goes on to say:
The sanctions may have been effective in raising the public moral standards or public awareness of South African repression, but it appears that financial markets managed to avoid the brunt of the sanctions.
Indeed, all three companies appear to be doing well with 1-year price returns over 20%. Of course, this has no bearing on future prices.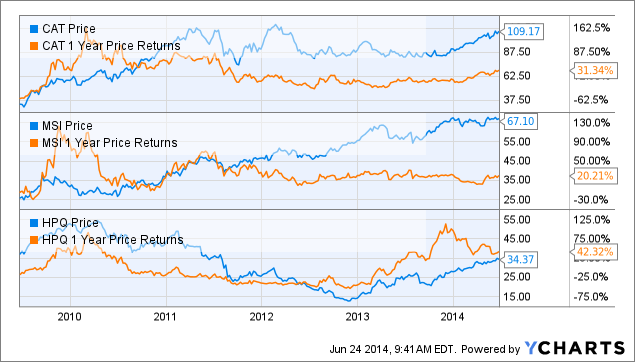 CAT data by YCharts
Still, divestment may have a halo effect in terms of publicity and increasing visibility around certain issues.
The evidence from South Africa suggests that divestment, while ineffective in a financial sense, can have an impact by shaping public discourse. That said, the paper was published in 1999 and the power of social media was just starting to emerge.
Business partnerships aren't easy especially when you have an active group of stakeholders. Almost every corporation can be accused of some violation. And, like people, it is not at all uncommon for institutions to have one stated goal or philosophy, but invest in another. The Presbyterian Church is attempting to align itself with its values, but unlike a traditional boycott on goods, a boycott on marketable paper must have considerable volume to impact liquidity.
Bottom Line
It's important for investors with a large stake in any of these companies to be mindful of this situation as it develops. It may not have an immediate impact on price, but it could hurt the value of the brand.
Disclosure: The author has no positions in any stocks mentioned, and no plans to initiate any positions within the next 72 hours. The author wrote this article themselves, and it expresses their own opinions. The author is not receiving compensation for it (other than from Seeking Alpha). The author has no business relationship with any company whose stock is mentioned in this article.