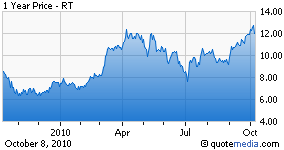 Ruby Tuesday Inc. (NYSE:RT), a casual dining restaurant operator, recently reported first-quarter 2011 adjusted earnings of 17 cents a share, surpassing the Zacks Consensus Estimate by 1 cent. On a reported basis, including one-time gains, quarterly earnings came in at 19 cents a share, reflecting a substantial increase from 11 cents delivered in the prior-year quarter.
Total revenue for the quarter inched up 0.7% year over year to $302.7 million, attributable to a rise in comparable-store sales. Restaurant sales were up 0.4% to $300.6 million, whereas franchise revenues leaped 56.7% to $2.1 million.
Ruby Tuesday has been witnessing improving trends in comparable-store sales and traffic at company-operated restaurants. After falling 3.1%, 1.7% and 0.7% in the first, second and third quarters of 2010, respectively, comparable-store sales were positive for the second consecutive quarter at 1.2% in the first quarter of 2011.
Comparable-store sales at domestic franchised restaurants rose 0.4%.
The adjusted restaurant level operating margin expanded 120 basis points (bps) year over year to 18.0% (as a percentage of company-operated restaurant sales), reflecting a 30 bps drop in payroll and related costs to 33.3%, and a 50 bps drop in other restaurant operating costs to 19.8%. Cost of merchandise declined 190 bps to 28.3%.
Stores Update
During the quarter, no new company-owned restaurants were opened, but 2 restaurants were closed. Three franchise restaurants were opened and three were closed.
The company expects to open one or two smaller restaurants in 2011, and close seven to nine, while converting five to seven company operated restaurants to other dining concepts. Eight to 13 franchised restaurants will likely be opened in 2011, out of which 10 will be international. Ruby Tuesday is also planning to buy back five to 10 franchisee restaurants in fiscal 2011, in addition to the 20 restaurants it bought in the first quarter of 2011.
Financial Position
Ruby Tuesday ended first quarter 2011 with cash and cash equivalents of $9.2 million, long-term debt of $276.5 million and shareholders' equity of 555.8 million. Capital expenditures at the end of the quarter were $6.6 million.
Outlook
Management reiterated its fiscal 2011 earnings guidance in a range of 76 cents to 86 cents. The current Zacks Consensus Estimate is 83 cents per share.
Ruby Tuesday also continues to expect 2011 same-store sales for company-owned restaurants in a range of flat to positive 2%, and restaurant operating margins are projected to be relatively flat. Capital expenditures are estimated to be in between $29–$33 million.
Disclosure: None