Under Armour Inc (NYSE:UA) is engaged in the development, marketing, and distribution of apparel, footwear, and accessories for men, women, and kids. On April 24, 2014, the company reported first quarter earnings of $0.06 per share, which beat the consensus of analyst estimates by $0.02. In the past year, the company's stock is up 99.23% and is beating the S&P 500 (NYSEARCA:SPY), which has gained 22.07% in the same time frame. This is my third foray into the stock, and since initiating my third position back on 11 Sept '13, I'm up 45.29%. With all this in mind, I'd like to take a moment to evaluate the stock on a fundamental, financial, and technical basis to see if right now is a good time to purchase more of the stock for my growth portfolio.
Fundamentals
The company currently trades at a trailing 12-month P/E ratio of 77.26, which is expensively priced, but I mainly like to purchase a stock based on where the company is going in the future as opposed to what it has done in the past. On that note, the 1-year forward-looking P/E ratio of 51.02 is currently expensively priced for the future in terms of the right here, right now. The 1-year PEG ratio (2.93), which measures the ratio of the price you're currently paying for the trailing 12-month earnings on the stock while dividing it by the earnings growth of the company for a specified amount of time (I like looking at a 1-year horizon), tells me that the company is expensively priced based on a 1-year EPS growth rate of 26.33%. The company has great near-term future earnings growth potential with a projected EPS growth rate of 26.33%. In addition, the company has great long-term future earnings growth potential with a projected EPS growth rate of 23.83%.
Financials
On a financial basis, the things I look for in general are the dividend payouts, return on assets, equity and investment. The company does not sport a dividend to speak of, but is sporting return on assets, equity, and investment values of 11.5%, 16.8% and 13.8%, respectively, which are great values. In this particular instance, I will forego the dividend aspect of the financials, because the stock is in my growth portfolio; and in the growth portfolio, a stock does not have to have a dividend.
Technicals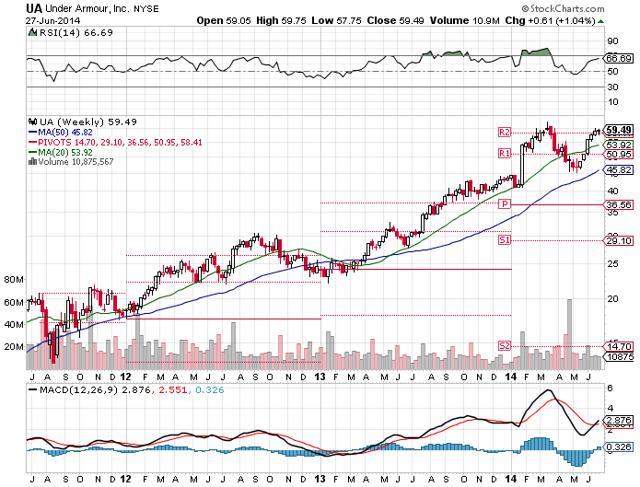 Looking first at the relative strength index chart [RSI] at the top, I see the stock approaching overbought territory with a current value of 66.69. I will look at the moving average convergence-divergence [MACD] chart next. I see that the black line just crossed above the red line with the divergence bars increasing in height, indicating bullish momentum may continue for some time. As for the stock price itself ($59.49), I actually don't see anything to act as resistance and the 20-day simple moving average (currently $53.92) to act as support to act as support. The part about not being able to see any upside resistance actually kind of scares me a bit. Yes there was a complete flush that happened at the end of April 2014, and the stock has been roaring upwards ever since, but there should be some sort of resistance.
I'm going to start keeping track of the short float (7.76%) for this particular situation, because I believe this thing can continue to run up into earnings. But if earnings don't meet expectations, this may be one of those situations where the stock can get obliterated due to the short interest. The company is one of those high growth, high momentum names which can either fly or sink rapidly.
Upgrades Always Push A Stock Higher
Earlier in June, the stock received an excellent pop on the back of two investment firm upgrades. Both Citigroup and Jeffries have rated the stock a "buy," with Citi saying the company has huge growth potential and Jeffries stating that the brand is the popular brand among the kids these days. Currently there are 30 analysts covering the stock with one underperform rating, 17 holds, four buys, and eight strong buys. The average price target for the stock is $56.63, which indicates a 4.81% drop from current levels. The high price target is $75 and the low target is $38.
Conclusion
There is no doubt the stock has had a beastly move upwards in the past year, and with the world economy not yet running on all cylinders you have to assume that the company has been eating someone else's lunch, and I believe that someone to be Nike (NYSE:NKE), Puma (OTCPK:PMMAF), and Adidas (OTCQX:ADDYY). As you can see from the chart below, the competitors' stocks are definitely underperforming against Under Armour.

I've been watching quite a bit of the FIFA World Cup so far, and I've certainly noticed one thing; Under Armour is not present at this event. The world's sport continues to be dominated by the likes of Nike, Adidas, and Puma. That is fine by me, because it can only mean there is much more room to grow for Under Amour. It is beginning to conquer the domestic landscape by winning contracts for high school and collegiate level sports teams. Next should be the professional leagues stateside and then the world.
Fundamentally, I believe the stock to be expensively valued on next year's earnings estimates and on growth potential while sporting excellent near- and long-term earnings growth expectations. Financially, there isn't a dividend to speak of, but the financial metrics are pretty good. On a technical basis, I believe the stock is near a top at these levels, but I don't know where it is. I'm not going to be buying the stock right now, because I feel I can get it at a little bit lower of a price due to the overall market sentiment right now, but I will let my current batch continue to ride the tide.
And let's go Team USA!
Disclaimer: This article is meant to serve as a journal for myself as to the rationale of why I bought/sold this stock when I look back on it in the future. These are only my personal opinions and you should do your own homework. Only you are responsible for what you trade and happy investing!
Disclosure: The author is long UA, SPY. The author wrote this article themselves, and it expresses their own opinions. The author is not receiving compensation for it (other than from Seeking Alpha). The author has no business relationship with any company whose stock is mentioned in this article.