Square 1 Financial, Inc. (NASDAQ:SQBK) has traded in a tight range since its IPO back in late March with the shares floating between $17-$21 and most recently closing at $19.10, an inception to date performance of just 6%. While the stock has kept pace with S&P 500-based ETF's YTD this is not the performance that investors, myself included, expected from an IPO that was to be the first real competitor with SVB Financial (NASDAQ:SIVB) in a space that has produced highly predictive profits historically. The fundamental improvements made at SQBK since its IPO have been made obvious with the company's most recent quarterly results announcement and 10-Q but the stock has failed to react positively to the bullish results produced. This continuing coverage article will make the argument that SQBK is currently trading at an attractive price to initiate a long position based on the improving net income, cash flow generation, internal performance metrics, and comparison to its most relevant peer.
Recent Developments
SQBK reported the following results for its Q1/14 (SOURCE: SQBK IR):
Net income for Q1/14 was $7.8 million: An increase in net income of $4.5 million, or 136.5%, compared to Q1/13 and $0.9 million, or 13.2%, compared to Q4/13
Average on-balance sheet deposits grew $535.7 million, or 33.2%, compared to Q1/13
Average client investment funds grew $283.8 million, or 82.0%, compared to Q1/13 and grew $64.9 million, or 11.5%, compared to Q4/13
Average loan balances grew $246.5 million, or 30.0%, to $1.1 billion and period-end loans increased $261.8 million compared to Q1/13
Net interest margin increased to 4.12% from 3.95% for Q1/13 and 3.96% for Q4/13
Non-interest income increased $3.1 million, or 76.8%, compared Q1/13
Y/Y every major metric that determines performance at SQBK showed improvement leading to significant improvements in both net income and cash flow generation, which are the two primary pillars of my continued bull case. SQBK also managed to show a continued high level of risk management and low levels of cost of capital. Both of these factors greatly contributed to the results in Q1 and have contributed materially to the financials at SQBK historically. It is my opinion that these factors will continue to contribute positively to the top and bottom lines at SQBK going forward based on the last five years consistency of contributions from these line items.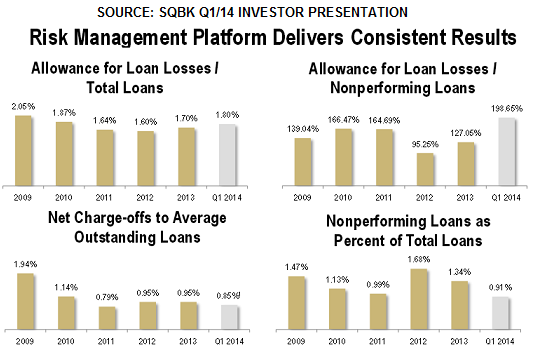 In regards to risk management, SQBK held reserves for loan losses in line with historic levels even while experiencing a drop off in net charge-offs and non-performing loans, in my opinion further dropping the company's overall risk profile and increasing the company's flexibility to take on further risk and/or manage current risk in situations of stress. Any addition to the overall risk profile whether it be from lending to credit profiles further out on the risk curve or any incremental drops in reserves for losses and redirection of that capital to higher ROI categories would accelerate net income, earnings, and cash flow further.
While allowances for loan losses, specifically non-performing loans, will fluctuate from time to time the slope-line of net charge-offs is negatively defined on a 5-year basis and has been more than halved from the levels that existed in 2009. This trend line speaks to SQBK's ability to drive top-line growth Y/Y without increasing aggregate risk, a very valuable skill in current financial environments where risk can be introduced from multiple avenues (largely without precedence making the risk management even harder). This is a significant change from the SQBK of past that found itself on the wrong end of a large MBS portfolio and was forced to take a massive impairment in 2010 causing the company's lone year of negative net income and lone out of trend FY result since 2009.
SQBK's cost of deposits, which has also been more than halved since 2011 (actually, it has largely been eliminated), and sources of funding needs no explanation. It is important to make note that the Q1/14 cost of deposits was two basis points and that I would not expect any material uptick in this number going forward, further increasing operating flexibility and aggregate ROI.
Historical and Recent Performance: A Quasi Comparable Company Analysis
SQBK's performance also compares well with the brand name in the space, mentioned above, SIVB: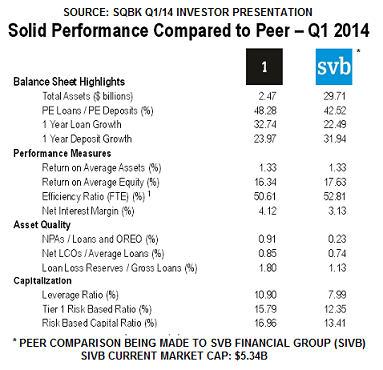 SQBK did operate at a slightly higher NIM in Q1 with most of the other comparison metrics mirroring its larger competitor. I wanted to present this graphic to show the overwhelming similarities between the two companies (quarterly comparison) and to express that in my opinion the similarities of operations are contributing to the valuation of SQBK. SQBK is currently approximately one tenth the deposit size of SIVB and commands approximately one tenth the valuation. While I obviously don't think the valuation of SQBK is being based entirely off a single factor I do mention this because with most other operating metrics being so closely in line this could be used as a measuring stick, if the deposit/valuation ratio's hold true, going forward and is something to note.
That being said, SQBK has substantially outperformed its valuation ratio when it comes to what I consider the most important indication of company health and value, operating cash flow, and has even outperformed its valuation ratio from a net income standpoint (which is less an accurate comparison than operating cash flow but still matters). For clarity of comparison, I place a heavier weight of importance on the operating cash flow ratio and chose to use operating cash flow as a comparison metric rather than net change in C&CE annually because the annual figure includes variances caused by financing and investing (these banks' version of CAPEX).
Consider this, in Q1/14 SQBK operated at the following ratios to net income and operating cash flow when compared to SIVB (SIVB/SQBK, in millions, figures were taken from SEC documents):
Net Income: $91.1 / $7.7 = 11.8:1
Cash Flow from Operations: $45.5 / $13.0 = 3.5:1
Ratios from FY11-FY13:
Net Income: ~$233,~$198, ~$58 / ~$5,~$14,~$22 = 46:1, 14:1, 3:1
Cash Flow from Operations: ~$166, ~$202,~$173 / ~$45, ~$37, ~$55 = 3:1, 5:1, 3:1
Obviously we're only using one company when doing the CCA but I consider SIVB to be the most relevant and highly correlated company to SQBK. SQBK has significantly outperformed its valuation ratio as of late and I think this speaks to the gross undervaluing of the company. SIVB is currently dealing with its own legacy risk management issues that could soon be sorted out and have pressed heavily on its numbers, which have skewed the ratios listed above, but SIVB's share price has moved higher on all rolling durations while SQBK has remained relatively flat thus far into its public trading. Again, I would think that SQBK's share price performance would have to begin moving higher on its cash flow and net incomes relative to much larger peers alone, that's without mentioning any further fundamental progression.
The Financials
The quasi CCA helps place SQBK's performance into context but what do the actual financials look like at SQBK? In summary, they look great. There are areas of improvement that we will point out but for the large majority the financials look clean and are impressive.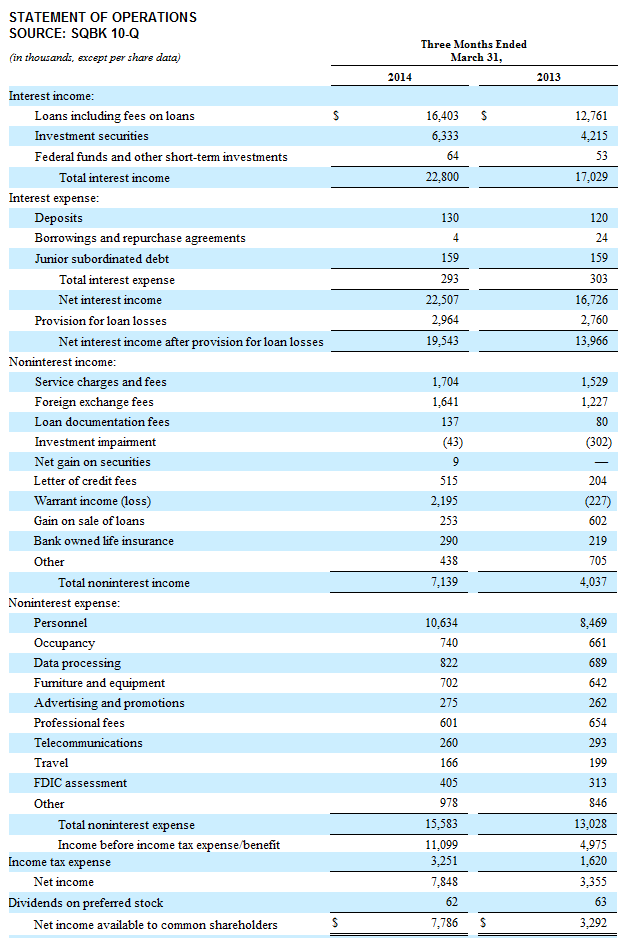 SQBK has been able to grow its "top line" (which would be total interest income) Y/Y, manage its expenses (which have also grown but at a much smaller pace than incomes), and most importantly grow net income. The quarterly net income statement is pretty easy to read and shows healthy growth.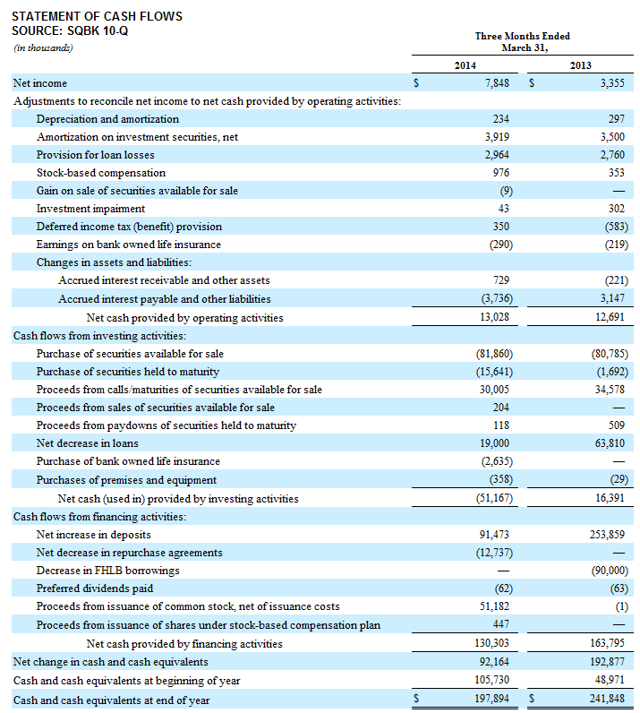 Operating cash flow was held flat Y/Y even though we started with roughly double the net income largely due to a $6.8 million swing in accrued interest payable and other liabilities, which is specifically why I never like to see "payables" increase on the operating cash flows segment - the increases (bills not paid) have to become decreases at some point down the road and that drags down total operating cash flow when it does come time to pay the piper. Outside of the bill payments, which are a good thing, the cash flow from operations was healthy.
As for investing activities, the only line items here that mattered were the Y/Y change in the net decrease in loans and the purchase of securities held to maturity. The swing in decrease of loans is a good thing - it means the amount of loans not outstanding decreased in aggregate (meaning more loans were left in existence, driving down cash inflow from loans being called in/refinanced/etc.), and the purchase of securities cash outflow is self-explanatory. In either case, Y/Y there was a significant amount of cash outflow from this section which is what you want to see. This was healthy as well.
The line item, outside of the IPO proceeds, worth taking note of for the financing section is the net increase in deposits - which fell Y/Y in a big way. Deposit growth at SQBK isn't uniform from quarter to quarter or even year to year which to me is the largest factor pressing down on SQBK's share price and causes the investment community the most stress. Deposits are the life blood of what SQBK does and without being able to show it can consistently grow them, I can understand a certain level of hesitance from potential longs. This is the largest issue needing addressing going forward for SQBK.
In total, the above factors lead to roughly a 50% drop in C&CE generation Y/Y but the entire drop wasn't bad. SQBK did pay some bills and have less cash inflow from loans being eliminated from existence. There were some issues within the cash flow statement (mostly that deposits fell) but on the whole I am left comfortable in its entirety.
The historic financials give us a larger time sample to frame the quarterly developments within and with which to track FY projections: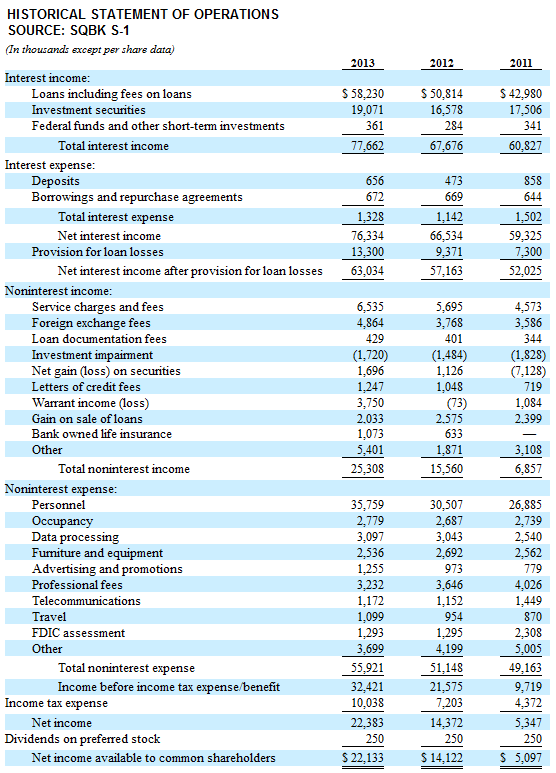 This graphic really speaks to the consistency of operations that makes me so bullish this name long term showing consistent, sequential increases in the top line (interest and non-interest income) and the net income line. Also, very important to note here, notice the almost non-existent increases to the expense lines - both interest and non-interest. What's really important to understand here is these expenses should remain largely flat in total volume with minimal incremental increases as the correlating income lines grow larger and larger at much faster speeds. This creates a mathematical certainty of expenses dropping as a percentage of incomes which will drive net income and margins. The extremely low cost of deposits (read: cost of capital) talked about in the beginning of this article really shows in the historic expense growth, or lack thereof.
What this does to the cash flows is even more important: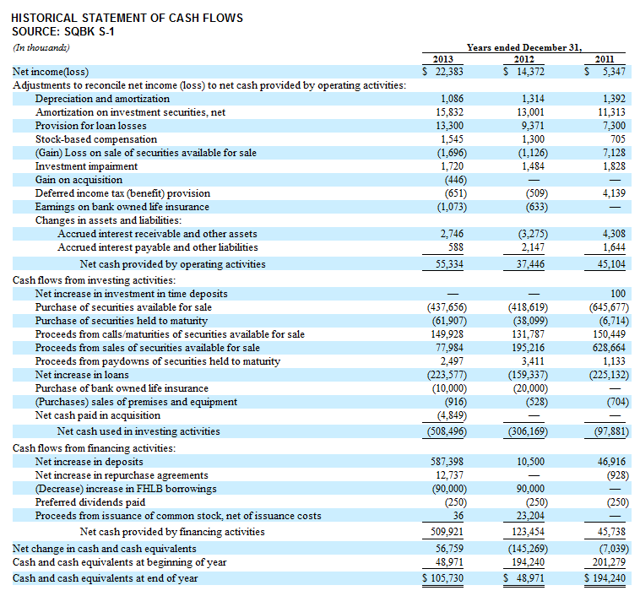 The operations section looks great overall with no abnormalities. The cash flow growth from operations happening Y/Y is the result of the actual operations of a healthy business in this case and not the generation of any increases derived from line items that are artificial.
Cash flow from investments also looks normal, looks sequential in growth, and is pretty straight forward. No line items in particular are worth mentioning other than it appears SQBK is moving the composition of its securities portfolio towards holding more securities until maturation and greatly reduced its selling of securities activities.
The financing activities section is entirely focused around the net increase in deposits line, which again is a problem. Looking at the volatility in the three year increases you can see a fundamental change in business happen from FY12 to FY13. From the SQBK S-1:
"Our deposits increased to $2.1 billion at December 31, 2013, from $1.5 billion at December 31, 2012, an increase of $587.4 million, or 38.7%. This increase was primarily due to growth of our client base and an increase in deposits due to our introduction of an interest-bearing demand account. While our noninterest-bearing deposits increased $318.8 million, or 30.0%, during this period, our interest-bearing deposits increased $268.6 million, or 58.6% during this same period."
This change was prompted by two years of slow deposit growth and two years of net decreases in C&CE. SQBK realized it needed to do something to drive the all-important deposit line and it did, posting its first year (in three full years) of positive net C&CE and a huge uptick to net deposits. They're also on pace currently to hit, and please keep in mind that the deposit inflows are extremely volatile and not easy to project using quarterly performance, at or around $400 million at this point. Even if that figure is inaccurate, the change made has already generated double FY11 deposits and 900% of FY12 deposits. So while it may take time for the actual trend-line to develop post the interest-bearing account being introduced it is comforting to know that the problem has been largely remedied.
The total period end deposits number and the composition figures help explain the changes made in detail:

Where's the trade?
Valued currently at ~$540 million and generating the amounts of operational cash flows that it is I would think that SQBK should move higher into the balance of 2014, especially when compared to its closest peer and that same peer's valuation. I think that SQBK has plenty of room to increase the risk on its books to stretch its numbers and it may even have a few levers left to pull on from an increasing deposits standpoint (at least management alluded to it on the Q1 CC).
I think fundamentally the picture has become leaps and bounds more clear over the last 15 months, with the majority of the improvement coming from deposit derivation potential and the results experienced since. I really like that management made changes that at the time, recently removed from an MBS blowup, could have been looked at as a "here we go again" event.
I'm expecting a continuation of business as usual on a FY basis at SQBK and expect another year of record high total incomes and a second consecutive FY of positive net change to C&CE. SQBK has been really active over the last few months establishing credit facilities with Vascular Pathways, Education Elements, Inc., Evoke Phama, and others. They appear to be ramping into the quarter end and I would think that we see an improvement on the Q1 numbers across the board as a result of the higher activity.
I like SQBK as a long position add for anybody looking for a semi-aggressive financial play that intends to hold the position long term. Good luck to all.
Disclosure: The author is long SQBK. The author wrote this article themselves, and it expresses their own opinions. The author is not receiving compensation for it (other than from Seeking Alpha). The author has no business relationship with any company whose stock is mentioned in this article.