All of the following stocks are trading below their 20-day, 50-day and 200-day moving averages. In addition, all of these stocks have seen worsening analyst sentiment over the last 3 months.

Analyst ratings are presented on a linear scale, where ratings close to 1 indicate "Strong Buy" while ratings close to 5 indicate "Strong Sell". All of the stocks in this list have seen their ratings move closer towards 5 over the last 3 months, i.e. worsening analyst sentiment

If you're a contrarian, this excessive pessimism might raise a flag. Full analysis below.

Analyst ratings sourced from Reuters, short float data sourced from Finviz.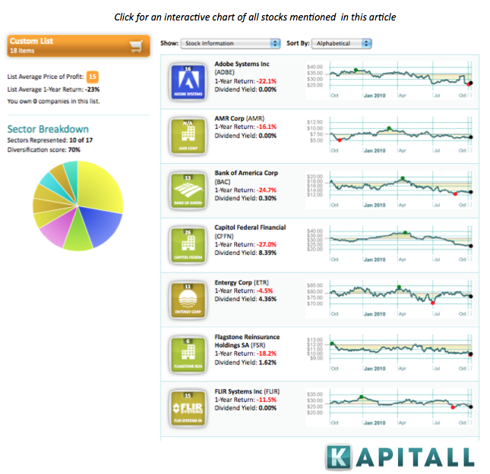 The list has been sorted by the percentage change in analyst ratings over the last 3 months.

1. Gerdau S.A. (NYSE:GGB): Steel & Iron Industry. Market cap of $18.65B. Analyst rating has increased from 2.0 to 2.62 over the last three months. Short float at 1.48%, which implies a short ratio of 1.91 days. The stock has lost 21.88% over the last year.

2. Adobe Systems Inc. (NASDAQ:ADBE): Application Software Industry. Market cap of $15. 07B. Analyst rating has increased from 1.96 to 2.41 over the last three months. Short float at 2.54%, which implies a short ratio of 1.14 days. The stock has lost 21.38% over the last year.

3. Lender Processing Services, Inc. (NYSE:LPS): Business Services Industry. Market cap of $2.59B. Analyst rating has increased from 1.71 to 2.1 over the last three months. Short float at 1.17%, which implies a short ratio of 0.81 days. The stock has lost 31.97% over the last year.

4. Flagstone Reinsurance Holdings SA (FSR): Property & Casualty Insurance Industry. Market cap of $762.16M. Analyst rating has increased from 2.5 to 3.0 over the last three months. Short float at 3.89%, which implies a short ratio of 12.1 days. The stock has lost 16.07% over the last year.

5. Manulife Financial Corporation (NYSE:MFC): Life Insurance Industry. Market cap of $21.86B. Analyst rating has increased from 2.33 to 2.77 over the last three months. Short float at 1.25%, which implies a short ratio of 6.63 days. The stock has lost 41.34% over the last year.

6. Wilmington Trust Corporation (NYSE:WL): Regional Bank. Market cap of $671.90M. Analyst rating has increased from 2.8 to 3.3 over the last three months. Short float at 11.61%, which implies a short ratio of 7.41 days. The stock has lost 49.06% over the last year.

7. Websense, Inc. (NASDAQ:WBSN): Internet Software & Services Industry. Market cap of $764.70M. Analyst rating has increased from 2.12 to 2.47 over the last three months. Short float at 12.51%, which implies a short ratio of 9.45 days. The stock has gained 4.00% over the last year.

8. Owens-Illinois, Inc. (NYSE:OI): Packaging & Containers Industry. Market cap of $4.57B. Analyst rating has increased from 1.67 to 1.92 over the last three months. Short float at 2.50%, which implies a short ratio of 2.11 days. The stock has lost 31.02% over the last year.

9. FLIR Systems, Inc. (NASDAQ:FLIR): Aerospace/Defense Products & Services Industry. Market cap of $3.90B. Analyst rating has increased from 2.0 to 2.29 over the last three months. Short float at 5.66%, which implies a short ratio of 4.36 days. The stock has lost 9.78% over the last year.

10. International Game Technology (NYSE:IGT): Diversified Computer Systems Industry. Market cap of $4.24B. Analyst rating has increased from 2.0 to 2.29 over the last three months. Short float at 5.29%, which implies a short ratio of 3.76 days. The stock has lost 30.29% over the last year.

11. Bank of America Corporation (NYSE:BAC): Banking Industry. Market cap of $133.55B. Analyst rating has increased from 1.52 to 1.74 over the last three months. Short float at 1.27%, which implies a short ratio of 0.86 days. The stock has lost 23.06% over the last year.

12. Iron Mountain Inc. (NYSE:IRM): Business Software & Services Industry. Market cap of $4.10B. Analyst rating has increased from 1.82 to 2.08 over the last three months. Short float at 5.34%, which implies a short ratio of 3.52 days. The stock has lost 22.76% over the last year.

13. Entergy Corporation (NYSE:ETR): Electric Utilities Industry. Market cap of $14.28B. Analyst rating has increased from 1.89 to 2.15 over the last three months. Short float at 1.94%, which implies a short ratio of 2.48 days. The stock has lost 0.90% over the last year.

14. AMR Corporation (AMR): Major Airlines Industry. Market cap of $2.09B. Analyst rating has increased from 1.82 to 2.07 over the last three months. Short float at 8.51%, which implies a short ratio of 3.13 days. The stock has lost 15.70% over the last year.

15. Scientific Games Corporation (NASDAQ:SGMS): Diversified Computer Systems Industry. Market cap of $863M. Analyst rating has increased from 2.2 to 2.5 over the last three months. Short float at 7.45%, which implies a short ratio of 6.79 days. The stock has lost 40.93% over the last year.

16. Sysco Corp. (NYSE:SYY): Food Wholesale Industry. Market cap of $16.83B. Analyst rating has increased from 2.12 to 2.4 over the last three months. Short float at 2.36%, which implies a short ratio of 4.02 days.

17. Capitol Federal Financial (NASDAQ:CFFN): Savings & Loans Industry. Market cap of $1.77B. Analyst rating has increased from 2 to 2.25 over the last three months. Short float at 16.25%, which implies a short ratio of 10.95 days. The stock has lost 20.99% over the last year.

18. Rite Aid Corp. (NYSE:RAD): Drug Stores Industry. Market cap of $824.74M. Analyst rating has increased from 2.57 to 2.88 over the last three months. Short float at 5.22%, which implies a short ratio of 9.83 days. The stock has lost 38.00% over the last year.


Disclosure: No positions