The USDA updated the U.S. and World balance sheet estimates for major agricultural commodities in the World Agricultural Supply and Demand Estimates (WASDE) report on Friday. Wet weather in June and July, followed by a hot, dry August, has led to substantial reduction in U.S. corn yields to 155.9 bushels per acre from 162.5 bushels per acre last year. The USDA also now estimates domestic corn supplies for 2010 to be 902 million bushels, below the critical 1 billion mark.

Corn

2010/11 U.S. corn production was decreased by 496 million bushels to 12,664 million bushels due to lower yields, partially offset by a slight increase of 0.3 million acres planted. The USDA reduced yield estimates in all major corn producing states including (-14 bushels per acres), Indiana (-10), Iowa (-10), and Nebraska (-9). Despite the drop in estimated production, the 2010/11 corn crop is still expected to be the third largest on record.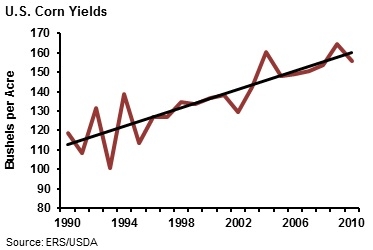 U.S. corn beginning stocks were increased by 322 million bushels based on last week's still surprising and confusing Quarterly Stocks Estimate. Domestic corn use for 2010/11 was increased by 40 million bushels due to a 150 million bushel increase in feed, partially offset by a 100 million bushel reduction in exports. Tighter available supplies, higher prices, and increased competition led to the reduction in exports.

Ending domestic stocks were reduced by 214 million bushels to 902 million, well below the critical 1 billion mark and the lowest since 2003/04. This now puts the stocks to use ratio at 6.7%, a 15-year low. The USDA season-average farm price for corn is estimated at $4.60 to $5.40 per bushel, a midpoint increase of 60 cents.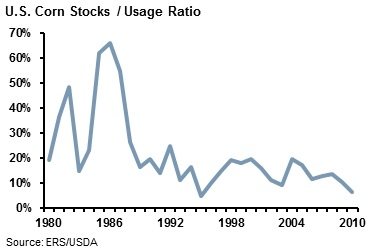 World corn production was lowered 6.4 million tons due to lower production in the U.S. and Russia, partially offset by increases in Argentina, Europe, Serbia, and Sub-Saharan Africa. Production in Argentina was raised by 4.0 million tons to reflect higher corn prices and favorable planting conditions which should encourage early corn planting.

Soybeans

Soybeans also continued the bullish theme, as the USDA reduced its estimate of U.S. soybean production by 75 million bushels to 3.408 billion bushels due to a 1.2 million planted acreage reduction and a slightly lower yield of 44.4 bushels per acre. 2010/11 exports were increased by 35 million bushels to 1.520 billion bushels on strong export sales and reduced export prospects for Argentina.

This reduced ending soybean stocks to 265 million bushels, a decrease of 85 million bushels. Stocks to use ratio is now at 8.0%, but well above last year's 4.5%. The USDA season-average farm price for soybeans is estimated at $10.00 to $11.50, up 85 cents from last month.

Global soybean production was estimated at 255.3 million tons, up 0.4 million tons, due to a 2 million ton increase in Brazilian soybean production due to larger plantings. India's soybean production was raised by 0.4 million tons to increased plantings as well.

Wheat

U.S. 2010/11 wheat ending stocks were decreased to 853 million bushels because of the slightly lower yield estimate and decreased planted acreage. There was also a 10 million bushel increase to feed and residual usage. The USDA season-average farm price for wheat is estimated at $5.20 to $5.80, up 20 cents from last month's estimate.

World wheat supply estimates were reduced by 1.0 million tons, reflecting the lower U.S. production. Total world wheat production is now estimates at 641.44 million tons, down from last month's estimate of 643 million tons. Global consumption of wheat was raised 2.1 million tons for 2010/11 with higher expected use for Europe, Canada, and the U.S.

Overview

We have been warning our readers to be aware of the day that corn ending stocks fall below the 1 billion mark. This statistic occurred much faster than we were expecting and is a sign of how fast things can change in the grain markets. We see this as a warning sign to the world that supplies are very low and the ability to feed itself should not be taken for granted.

Disclosure: No positions