The last time Lumber Liquidators (NYSE:LL) spoke to the public was on the April 30th Q1 Earnings Conference Call; during the call, management announced earnings of $0.49 versus a street consensus of $0.62 and revenues of $246.3 million versus a consensus of $262 million.
Despite this miss, management reiterated their previous full year 2014 EPS range of $3.25-3.60 and revenue of $1.15-1.20B. Furthermore management iterated same-store-sale comps of mid to high single digits. When the announcement came out, shares traded at $86 and remained flat as management cited severe weather as the cause of the softer than usual sales. Management divided out comps between weather impacted and all-other stores. Weather-impacted stores had comps at (13.1%) where non-weather impacted stores grew by +8.5%.
Since the announcement, shares of Lumber Liquidators have been weak and trading 13% lower on no news, and no management updates. Taking a look at short interest, we see that negative sentiment has been building since mid-March. Short interest has steadily climbed from ~10% to ~25% as of this writing.
Recent research from sell-side analysts has claimed that Home Depot (NYSE:HD) has taken share away from Lumber Liquidators. Our own proprietary channel-checks question these hypotheses. We believe there is a half-year to year-long cycle for consumers to (1) Plan, (2) Purchase, and (3) Properly Evaluate their hardwood purchase, as opposed to the claims made by the bears that say customers are moving away from Lumber Liquidators preemptively.
In addition to the lagging indicators that flooring presents in regards to customer sentiment, Home Depot flooring has never been rated highly. Therefore, to say that Home Depot sentiment has somehow magically changed is foolhardy and irresponsible. In a recent search for Home Depot flooring reviews we found:
"House brand flooring arrived horribly, horribly warped. Fortunately, Home Depot was good about giving us a no hassle full refund on the product. Would definitely not buy hardwoods from there based on our experience with their poor quality control."
"You can do better... Lumber Liquidators is a step up from Lowes / Home Depot."
Further searches on Home Depot Flooring at Consumer Affairs revealed over 130 complaints with an average rating of 1 star (out of 5, the lowest rating). We believe the negative sentiment on Home Depot flooring severely impacts its effectiveness in increasing market share.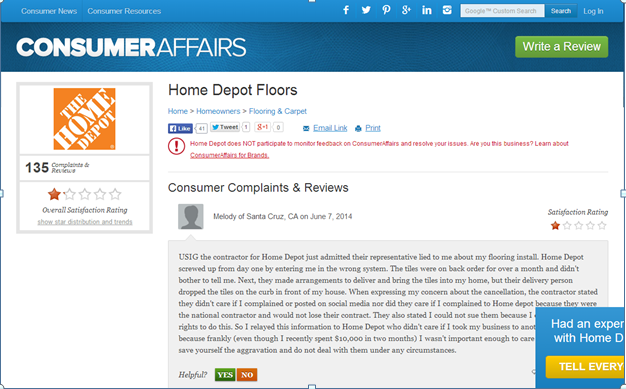 As seen in the above screenshot, Home Depot flooring reviews have the absolute lowest rating possible.
Furthermore, our channel-checks, which include calling stores, in-person brick & mortar visits, and online analytics for Lumber Liquidators (and Home Depot) have been overwhelmingly positive for LL. All checks across the board have shown stability and growth that imply management will hit their targets for Full Year 2014.
To magnify the positive data, the housing market has heated up with US home resales and stock of properties rising to its highest levels in over 1.5 years. On Monday, June 23rd, The National Association of Realtors announced existing home sales increased 4.9% to an annual rate of 4.9 million units, the largest increase since August of 2011. The current strength in housing is a material leading indicator of demand for LL sales and should provide a strong base for revenue in the coming months as home buyers add flooring to their homes. We believe this will be very positive for LL during the balance of 2014.
Management already saw a month of data from sales and from forward looking orders when they reiterated their initial FY2014 outlook on April 30th. Management specifically stated: "As conditions generally became more seasonal in mid-March, customer demand increased. The key strategic initiatives we have implemented over the last two years have strengthened our operations, and we believe we are more capable than ever of serving customers who postponed their flooring purchase in the first quarter." Management has basically said that they had already seen enough data up until April 30th to confidently reiterate guidance and that the question is whether they can adequately handle bottlenecks in deliveries in Q2, rather than sales. We believe many have missed this subtle nod from management in regards to how sales are trending. Management would not have reiterated FY14 had there been any data that implied otherwise.
We believe that management will cite strength in demand heading into Q3 and will reiterate their revenue guidance of $1.15-1.2 billion and EPS outlook of $3.25-3.60. Due to the weakness in share price, simply a reiteration of guidance would send shares of Lumber Liquidators up a minimum of 15% to $86, likely up 20% to $90, and potentially up 25% to $93.75 if a squeeze occurs. Because of the recent sell-off, the risk/reward for Lumber Liquidators stock has been overwhelmingly skewed towards the upside.
Disclosure: The author has no positions in any stocks mentioned, but may initiate a long position in LL over the next 72 hours. The author wrote this article themselves, and it expresses their own opinions. The author is not receiving compensation for it. The author has no business relationship with any company whose stock is mentioned in this article.