Another day, another breakout among Chinese microcaps.
Friday's star is DeHaier Medical (Nasdaq:DHRM), which as of mid-day was the largest gainer on the Nasdaq. This recent IPO is very thinly traded, so be careful.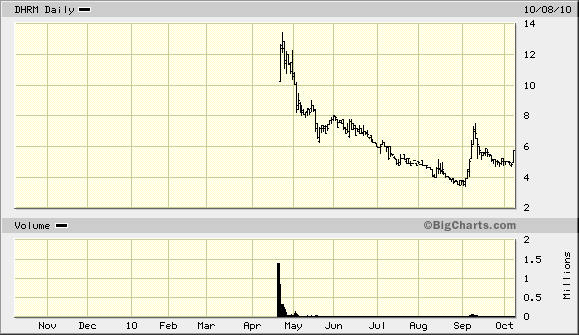 But if DHRM can hold its gains, it may be making another run at its September highs. Fundamentally, the medical device manufacturer is sound. DeHaier's most recent quarterly report showed a 43% year-over-year gain in revenues and a 59% gain in net income. The company also affirmed 2010 full year earnings guidance of $.80/share. That gives it a PE of about 7 after Friday's gains. The PE would be much lower if you back out cash on the balance sheet, but I note that the cash might have to be committed to an ongoing tax dispute with Chinese authorities (for which DeHaier has already accrued its potential liability).
DISCLOSURE: Long DHRM.