Last June, Iron Mountain (NYSE:IRM) declined significantly after receiving an update from the IRS regarding its plans to convert to a REIT. At that time, I argued IRM presented a value opportunity and that the business would likely convert to a REIT. Last week, IRM reported that the IRS finally cleared it to convert, which it shall immediately do. Shares of the record-keeping company appreciated substantially on the news, and in similar proportion to their decline last year.
See a 2-year chart for IRM (Source: Finviz)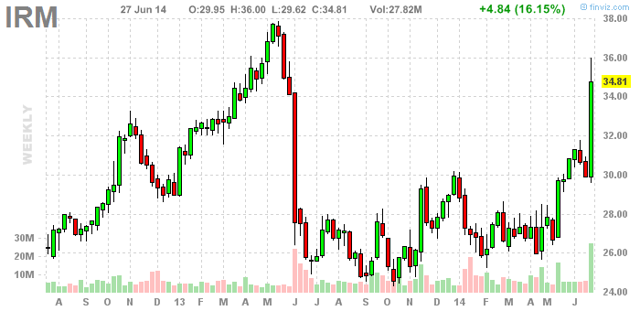 This move upwards is the first of several that should occur in the coming quarters, as IRM increases its dividend, pays out a special dividend and further reorganizes itself, including the sale of non-core and high capital cost businesses, in order to increase the flow of funds from continuing operations. Investors should also understand, that the coming quarterly dividends should be categorized as an ordinary dividend, which is taxed as income, rather than a qualified corporate dividend, which is taxed at a lower rate.
In its press release, Iron Mountain stated that the company expects the full-year 2014 annual distribution as a REIT to be $400 to $420 million, compared with the current projected annual dividend of approximately $207 million. This would work out to a quarterly distribution of about $0.52 on an annualized basis, but IRM has already paid out two quarterly distributions of $0.27, which would indicate a possible increase to $0.77 per quarter to pay out the anticipated $1.54 that remains. This would work out to about a 2.2% quarterly dividend, based upon the present price.
Beyond the quarterly payout, Iron Mountain also indicated it will make a special distribution in the second half of 2014. The special distribution will be of the company's previously undistributed accumulated earnings and profits. The company estimates that the aggregate amount of the 2014 special distribution will be between $600 and $700 million. The company expects to pay the special distribution in a combination of common stock and cash, with at least 80% in the form of common stock. The 2014 Special Distribution follows an initial special distribution of $700 million that was paid on November 21, 2012, at which time IRM anticipated converting to a REIT in 2013.
Depending upon the timing of the special distribution of common stock, it is possible that the coming dividends will be lower than the above-mentioned $0.77 per share, as it will increase the number of outstanding shares. The share count could increase by as much as ten percent. It is likely that at least one quarterly dividend will be reported and paid in advance of the special dividend, an also likely that the special dividend will be reported with or around the year's final regular dividend.
Iron Mountain is in the business of property protection and storage. The most common type of property IRM maintains would be a business document, and the service would be known as records storage. The company also provides data backup services and records management services for industries, such as healthcare, that require secure management of customer data. Iron Mountain also provides other document related services, such as destruction through shredding.
Despite IRM's uncharacteristic real estate business model, the business of storage is reasonably common for REITs. For example, many of the larger companies in the businesses of personal storage, such as Public Storage (NYSE:PSA), are REITs. Further, several corporate digital datacenter management entities have become REITs, such as Digital Realty Trust (NYSE:DLR). Currently Equinix (NASDAQ:EQIX), a datacenter operator that received a similar IRS letter, is hoping to convert to a REIT in the near future. Many take IRM's ruling as a positive sign for EQIX. Iron Mountain's business is sort of a hybrid of these physical and virtual storage businesses.
A large portion of IRM's customer base is composed of large corporate clients that have used the company's services for many years. These clients are unlikely to switch, as IRM already holds these clients' old documents, and it would be inconvenient, expensive and potentially dangerous to move them without being required to do so. As a result, this business appears pretty perfect for a REIT, with the rent-like cash flow that it generates capable of supporting a stable and growing payout.
Beyond its long-standing physical document business, Iron Mountain also owns warehouses filled with servers that hold and manage digital data. The digital business is presently far more competitive. Entities like DLR and EQIX already have larger market valuations than IRM; it is possible that consolidation of the digital datacenter businesses could occur.
The first inkling that Iron Mountain might go down the route towards becoming a REIT came when Elliott Management became an activist investor in early 2011, and nominated four individuals to IRM's board of directors, including two that had experience in converting other companies into REITs. Shortly thereafter, IRM began its REIT conversion process.
This long conversion process has made several analysts skeptical. For example, near the end of 2013, Zacks rated IRM as a strong sell on its outlook and REIT conversion uncertainty. Similarly, in Q1 of 2014, Jefferies commented that the bar was high for IRM to receive a favorable IRS ruling. This negativity is at least partially why there were over nine million shares of IRM sold short prior to the favorable IRS ruling.
While many of those shorts have likely covered in this recent move, it is unlikely that all have covered and that more should in the near term. The sizable coming dividends should convince many such shorts to exit in advance of their payment, and probably in advance of their reporting. A simultaneous source of buying may come from the multitude of REIT funds that will allocate into IRM. Similarly, analysts are likely to rate IRM more favorably in the near term. As a result, IRM appears to be a relatively stable equity for the second half of 2014, and one that will provide significant income to shareholders.
Disclosure: The author is long IRM. The author wrote this article themselves, and it expresses their own opinions. The author is not receiving compensation for it (other than from Seeking Alpha). The author has no business relationship with any company whose stock is mentioned in this article.