It's hard to describe Annaly Capital Management (NYSE:NLY) as a "sleep well at night" REIT. Maybe the real story is the continued evolution of its business model into a "real estate fund" rather than a mortgage REIT. While there are numerous indicators of the transformative strategies, the primary one is contained in the REIT's description of itself:
Annaly Capital Management, Inc is a Maryland corporation that commenced operations on February 18, 1997. The Company owns a portfolio of real estate related investments, including mortgage pass-through certificates, collateralized mortgage obligations, agency callable debentures, other securities representing interests in or obligations backed by pools of mortgage loans, commercial real estate assets and corporate loans. The Company's principal business objective is to generate net income for distribution to its stockholders from its investments.
As the principle business objective of the REIT is income generation for shareholders, it is only natural and logical for the REIT to diversify its cash flow streams and create a more "stabilized" cash flow profile. Many readers that have read my research over the years realize that my biggest issue with mREITs is the volatility of the income stream and the possibility (indeed, probability) of dividend cuts due to market events. Here is a snapshot of Annaly's dividend history: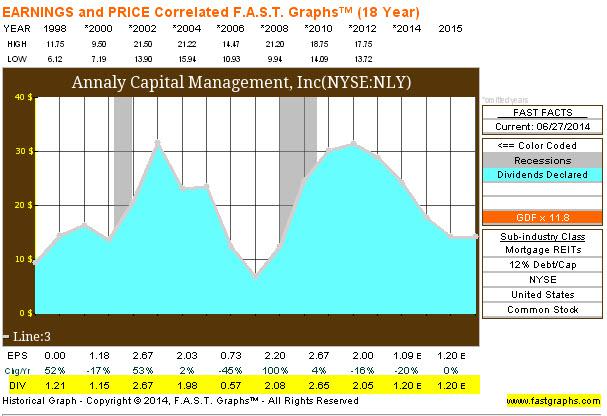 In my opinion, Annaly has been transitioning to a more stable, reliable income profile; however, I'm not advocating this security as a retirement stock, as this mREIT remains an extremely volatile business model, as evidenced by the stock price chart below: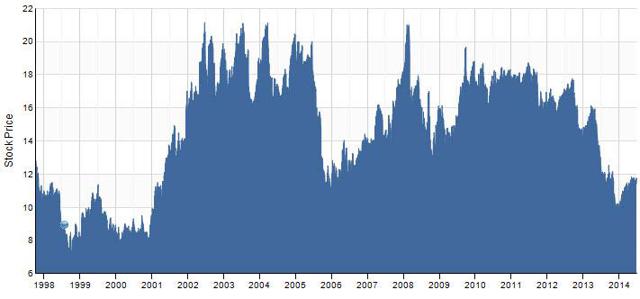 In an effort to improve predictability and reduce volatility, Annaly announced (on May 8th) that it was entering the net lease space through an arrangement with The Inland Real Estate Group:
Annaly Capital Management, Inc. announced that its subsidiary Annaly Commercial Real Estate Group, Inc. has commenced an initiative to acquire net leased commercial real estate assets across a wide array of markets and industries, including industrial, office, retail and restaurant properties. Annaly will purchase commercial properties of a certain size and profile sourced and managed exclusively for Annaly by affiliates of The Inland Real Estate Group of Companies, Inc.

We believe that the potential to utilize Inland's extensive experience acquiring, managing, leasing, financing and developing real estate nationwide will complement our ability to take advantage of a variety of opportunities as we expand our commercial platform into ownership of real property," said Wellington J. Denahan, Annaly's Chairman and Chief Executive Officer. This initiative further augments Annaly's continued expansion of its commercial real estate portfolio.
This announcement didn't seem to create the response I would have thought, and was largely overshadowed by its earnings release the day before the announcement. This move was foreshadowed by an announcement roughly twenty months ago, when Annaly purchased the CreXus shares it didn't already own (CreXus was managed by an Annaly subsidiary):
Since our inception in 1997, Annaly has maintained the capacity to diversify its asset base to include real estate related assets in addition to Agency mortgage-backed securities if we determined that compelling other long-term investment opportunities exist relative to the Agency market. While we remain committed to the Agency market, given the current environment, we believe it is prudent to diversify a portion of our investment portfolio. Therefore, we may allocate up to 25% of our shareholders' equity to real estate assets other than Agency mortgage-backed securities.

A powerful step in this direction is the proposed acquisition of CreXus. We believe that wholly owning the commercial real estate platform we currently manage through FIDAC is complementary to our existing business and return profile and should provide stable and diversified risk-adjusted returns to our shareholders. CreXus' capabilities and growth may be significantly enhanced when coupled with Annaly's broad capital base.

Our commercial real estate expertise, as well as our expertise in a number of other asset classes, are valuable strategic tools, and we look forward to updating the market on our portfolio as it evolves.
The proof, as they say, is in the pudding - or in this case, the "pudding" their money where their mouth is. The combination of the CreXus purchase and the Inland venture shows management's commitment to generating stable net income for its investors.
The secondary objective of the transaction is the ability to commit capital and invest assets. As many are aware, current production in the mortgage market has dropped off precipitously, and the Fed, despite the taper, continues to absorb nearly all the supply of agency mortgages. The effect of the "negative net supply" has been a "tighter spread" on mortgage-backed securities and the inability to continuously source attractive securities with appealing characteristics.
As I see it, the benefits of the new direction are as follows:
The inclusion of real property assets should serve to dampen book value swings based on market movements,
As the portfolio further diversifies, it will require less leverage, and therefore reliance on various borrowing sources,
The dividend yield required will be lower due to a lower risk profile (creating gains as the price increases), and
Annaly will be able to invest in nearly every aspect of real estate with the necessary scale in order to take advantage of opportunities in a methodical and focused approach.
Annaly May Invest in Net Lease, But It's Still No SWAN
As you may know, I'm the Editor of a REIT newsletter, and one of my strategies (in the newsletter) is defined as SWAN investing, or simply "sleep well at night" investing. Several of my SWAN picks are Triple Net REITs, including Realty Income (NYSE:O), National Retail Properties (NYSE:NNN), and W.P. Carey (NYSE:WPC).
One of the primary requirements for the SWAN portfolio candidates is that each company must demonstrate a reliable and predictable earnings history - not just a few months or quarters, but a sustainable pattern that is evidenced by durable dividend fundamentals.
Based on my definition, a SWAN investor is the opposite of a market timer who thinks he or she can capture large returns by jumping in the market to profit when shares are up or down. More conclusively, a SWAN investor is simply a value investor, and not a market timer who seeks instant gratification by predicting short-term stock market direction. Annaly does not fit my definition of a SWAN, as I explained in a recent article:
Earnings have been volatile due to gains and losses on the portfolio and trading. This earnings component is necessarily discounted as it is rarely repeatable.
It's important to recognize that because Annaly does not enjoy a highly predictable dividend history, the successful investor must advocate time and resources on understanding the more complex hedging strategies. Trading gains and losses add volatility to Annaly's results, making the predictability - and repeatability - of earnings and dividends difficult.

It's true, Annaly is adding a more predictable net lease strategy to the mix; however, the accumulation of free-standing (more bond-like) revenue will not turn the mortgage REIT into the epitome of dividend predictability, Realty Income.

By comparison, Realty Income has returned over 10% during the last year, and Annaly returned less than 1% (remember, Annaly's dividend yield fell by over 16%).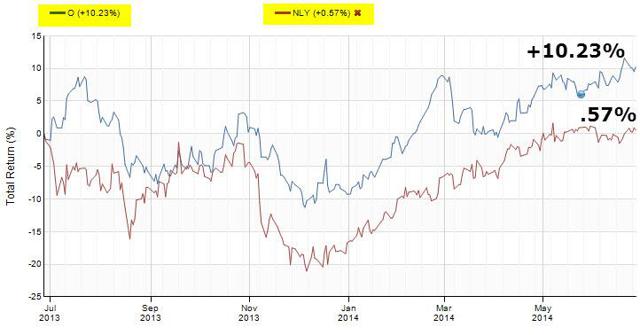 Looking further out, Realty Income returned 3 times better than Annaly - The Monthly Dividend Company returned 164%, and Annaly returned around 47%.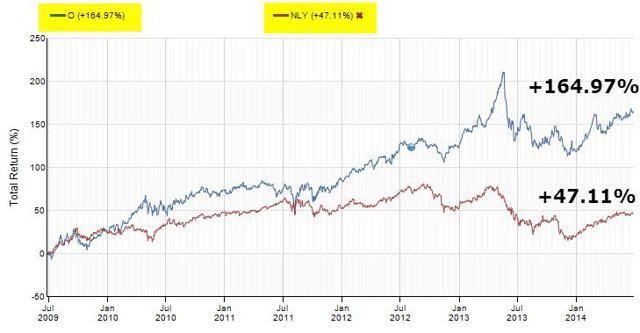 So why is Realty Income is such a sound REIT? First, let's take a look at the 3-year share price history of Annaly: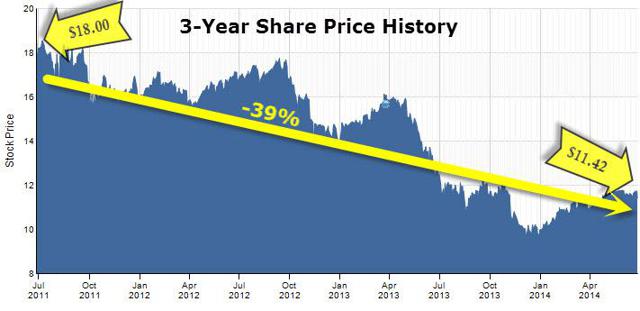 Now, let's look at Annaly's 2-year share price history: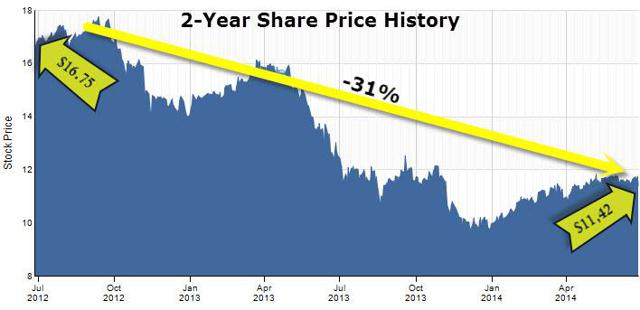 Annaly is a speculative stock to own, and although the shares are trading at a discount to book value, I don't consider the 10.5% dividend opportunistic. All it takes is one big loss to decimate the winners in my portfolio, and based upon the unpredictability of Annaly, I'm not willing to take the risk of owning the shares.
I'm not a retiree yet; however, I don't see the benefits of owning Annaly in a retirement account (that is, the common shares). I would much prefer to spend my days on the golf course not worrying about Annaly's volatility or whether or not the company was decreasing its dividend.
It's true, Annaly could produce stable results with its new Triple Net allocation; however, the inconsistent earnings history remains a more influential part of my dividend agenda, and I'm not willing to compromise my risk management profile in order to gain exposure to a more speculative position.
The Net, Net, Net of Annaly is that investors should not be fooled by the Triple Net lease allocation. Until I see a more predictable earnings history, I'm not placing any capital on this security. By paying close attention to profit margins, intelligent investors can better predict the companies that could have a negative earnings impact. Based on its current price of $11.42 (and a dividend yield of 10.51%) Annaly could be cheap, but I prefer dividend momentum over stock price momentum.
For an investor with more risk tolerance, Annaly could be an opportunity. I guess you could say that I'm from the "old school" and I would prefer to own long-term winners, and I see no reason to "swing for the fences" when I have achieved favorable results with more predictable investment vehicles.
To be brutally honest, I see no way to accurately and consistently time short-term market movements, and I believe that by sticking with value stocks, my portfolio will achieve the highest potential returns. Lest I forget, I'll sleep better at night!
Check out my "special report" on 10 SWAN picks. Click HERE.
Sources: SNL Financial and F.A.S.T. Graphs.
Disclaimer: This article is intended to provide information to interested parties. As I have no knowledge of individual investor circumstances, goals, and/or portfolio concentration or diversification, readers are expected to complete their own due diligence before purchasing any stocks mentioned or recommended.
Disclosure: The author is long O, DLR, VTR, HTA, STAG, UMH, CSG, GPT, ARCP, ROIC, HCN, OHI, LXP, KIM, WPC, DOC, UDF. The author wrote this article themselves, and it expresses their own opinions. The author is not receiving compensation for it (other than from Seeking Alpha). The author has no business relationship with any company whose stock is mentioned in this article.