GoPro Rockets on First Two Trading Days
GoPro (NASDAQ:GPRO) IPO'd this past Thursday, raising nearly $420 million in sales of 17.3 million shares of the company's stock. The underwriters and even the CEO are likely to have cashed in on the monstrous gains that GoPro posted in its first day of trading.
In its first two days of trading, the stock was bid up hard. On the date of its IPO - Thursday - the stock rose 30%. Friday morning, GoPro came out firing as well - eclipsing $40 at one point before cooling off a bit to close the week near $36.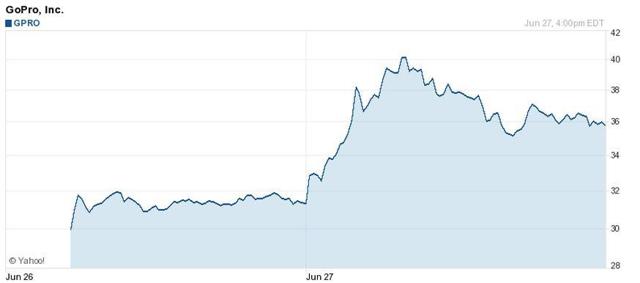 The excitement seems to match the growth that has been going on at GoPro the last couple of years. 2013 was a stellar year for the company, with sales of $985 million - an 87% growth YOY. The company's net income also doubled from $32 million in 2012 to $61 million in 2013.
But, as we know, an IPO is about the future growth of the company - not what the company has done leading up to it becoming public. 2014 didn't start off with the same promise - revenue was off 7% from the YOY prior period and net income was down 52% from the YOY period. CEO Nick Woodman spoke about this on CNBC the morning of the IPO, dismissing the declines and writing them off to poor inventory management.
CEO Sells Shares into IPO
But, the very first thing I noticed was that the CEO was on CNBC the morning of the IPO and being questioned about why he was selling stock into the IPO. While I understand that tons of hard work had been done up to that point, and that the CEO deserved the fruits of his labor - I can't say that if I was the CEO of a public company that it wouldn't be a couple of quarters of stability and growth before I would be prompted to "enjoy the fruits" of my labor.
CNBC reported:
But Woodman's payday isn't just theoretical-it's also real cash. In addition to his shares, he already sold 3.56 million shares for $85 million.

Woodman's not the only one at GoPro enjoying a payday. Dozens of GoPro employees, executives, investors and Woodman family members also sold their stock Thursday. Michael Marks of Riverwood Capital sold 1.15 million shares and Edward Gilhuly of Sageview Capital sold 436,700 shares.

Executives Stephen Baumer, Ruben Ducheyne and Justin Wilkenfeld also sold shares. Woodman's dad, Dean Woodman, isn't selling any of his 7.3 million shares. But Woodman's sisters, Andrea Moody and Pilar Woodman, both sold more than 100,000 shares Thursday for an excess of $2 million. His mom and stepfather also sold 15,000 shares each.
I can't say that if this was my IPO, that I'd be doing the same thing. Call me old school, but I'm damn sure I would wait for the company to get some "public company" footing under it before contributing to sales of my company's stock.
But, I guess when QTR takes his own company public and becomes an overnight billionaire, then I'll be able to issue orders about what to do with stock. Until that time, I'll watch other people get rich.
There's three things that I'm going to need to see GoPro do over the next 6 months to instill long-term confidence in the company.
1. GoPro has to Put the Numbers Up
By this, I mean that the company's first earnings report is going to have to show that the first reported sales from 2014 were just a fluke and a product of mismanaged inventory. GoPro needs to show that the demand that was there in 2013 still exists for the company - otherwise, how can one get excited about the future of the company?
2. GoPro Needs to Become a Media Company
GoPro has an interesting advantage. The same thing that makes the company popular - its cameras can go anywhere - is the same thing that makes GoPro an obvious choice for becoming a content company, as well.
In keeping with the way that the company needs to grow, and in order for it to be a successful investment, I'd love to see GoPro monetize the media that is created by their cameras. Right now, they have millions of YouTube subscribers and millions that have downloaded the company's video editing software. How does GoPro transform from simply being a camera company to a company that also manages and monetizes the media that it's cameras create?
3. GoPro Needs to Innovate at a Blistering Pace
When I think about GoPro, I think about wearable technology.
That, in and of itself, should give investors some pause.
In the day and age where companies like Google (NASDAQ:GOOG) (NASDAQ:GOOGL) and Apple (NASDAQ:AAPL) have dedicated themselves to wearables - whether it be Google Glass or Apple's coming iWatch - it's only going to be a matter of time before those wearables contain therein a camera that can begin to rival and dip into the GoPro marketplace. Wearables are no doubt the next big coming innovation in the tech world, and QTR wants to see innovation that is going to keep GoPro out in front of this crowd for a couple years to come when it comes to wearable camera technology.
While I know that GoPro has the head starts and the obvious advantage now, it won't take long for companies with resources like Google and Apple to catch up.
Investment thesis: Hold/Neutral, PT of $32
Make no mistake, I love the GoPro product - but the security, with the way that its priced is a completely different animal. My friends that climb have all used GoPros to make some outstanding videos of their climbing adventures. And, there is no doubt the content that is derived from GoPro's devices is truly unique. It's for these reasons that QTR is initiating GoPro with a Hold/Neutral and a short-term price target around $32 - while we wait anxiously to see the direction this company heads over the next 6 months.
Disclosure: The author has no positions in any stocks mentioned, and no plans to initiate any positions within the next 72 hours. The author wrote this article themselves, and it expresses their own opinions. The author is not receiving compensation for it (other than from Seeking Alpha). The author has no business relationship with any company whose stock is mentioned in this article.