I recently responded to an article featuring the extremely bullish assumptions of an SA author regarding Netflix's (NASDAQ:NFLX) future growth path and profitability. This followed my own article from last year, in which I opined that NFLX will have difficulty replicating its domestic success internationally.
In revisiting NFLX's valuation to evaluate the bullish claims, and in re-reading my original piece, I came to realize that to properly understand NFLX, one must look past the company's preferred (non-GAAP) metric of "contribution profit" to instead consider the actual profit margins of the different segments. In the following discussion, I'll calculate those numbers from NFLX's published financial data and then compare my conclusions to the market's current evaluation of the company.
Company Performance
Netflix began as an online DVD rental company in 1997, and quickly proved to be a formidable competitor, eventually pushing the incumbent brick & mortar giant, Blockbuster, into bankruptcy. Beginning in 2007, but with heavy emphasis in the past 5 years or so, NFLX has re-invented itself as a deliverer of streaming content with a (as of yet) small complementary business in content creation (e.g. House of Cards, Orange is the New Black).
Yet, for as much as the company and analysts bill NFLX as a video streamer and content creator, I was surprised at how important the DVD business has been, and still is, to the company's overall profitability.
To see this, consider the two figures below, which show the net margins of the three segments Netflix currently breaks out in its financials: Domestic Streaming, Domestic DVD rentals & International Streaming. I've calculated these net margins by adding back all the expenses that NFLX's "contribution margin" leaves out, and then allocating those expenses on a pro-rated basis according to the revenues of each of the three segments.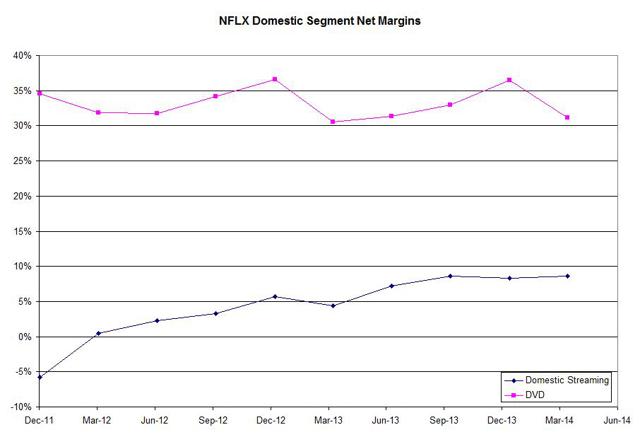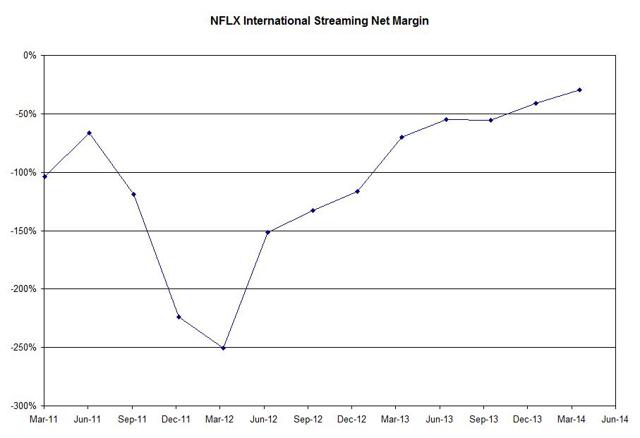 What most stands out here is the overwhelming superiority of NFLX's DVD business's margins relative to streaming. Why is this important? Well for one, the assumption is often that as the streaming businesses mature and are no longer in their marketing and capital-intensive phases, NFLX will show enticing profit margins. But with domestic streaming looking to cap out below 10% and the international business seemingly years from profitability, the hopes of significantly positive company-wide net margins may be wildly optimistic.
Another way to look at this is to consider the actual dollars of P/L of each segment (by multiplying my calculated net margin by the segment revenue). The next figure does that and, at least to me, really underscores the importance that the DVD business has had in shoring up the company's financial position over the period considered and, by extrapolation, over the company's entire existence.
I discussed the competitive landscape, and the fact that Netflix is no longer the disruptive "new kid on the block," in my first article, so no need to rehash that here (the article is linked to above). But the facts regarding NFLX's competitive environment in streaming today and going forward, coupled with the dwindling relative importance of the DVD business within Netflix as a whole, suggests that net margins are likely to remain low (and at times negative) in the foreseeable future. This is also confirmed by the smoothed net margin graph below.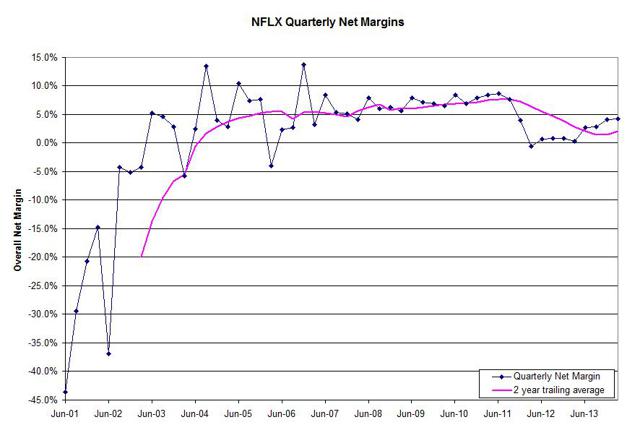 Market Valuation
The reality is that Netflix will likely never again garner the same levels of profitability - nor vigorously out-compete the competition - as it did in the 2000s; yet the market currently sees fit to award it much larger multiples than it did previously.
For example, on both a price to earnings and a price to sales basis, the market valued NFLX much more conservatively in the period 2006 to 2012 than it does currently.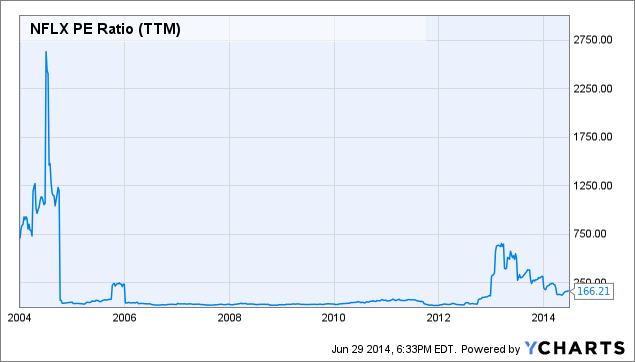 NFLX PE Ratio (TTM) data by YCharts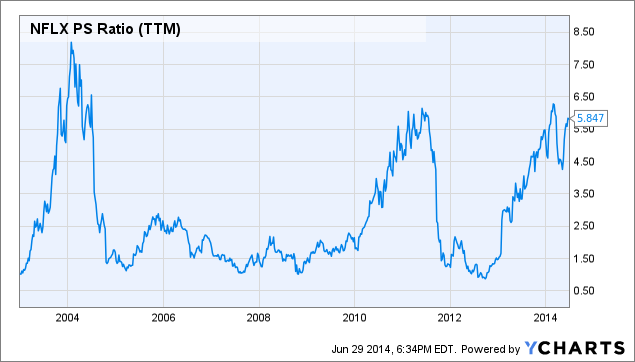 NFLX PS Ratio (TTM) data by YCharts
Yet the company was generally more profitable during the former period than the latter. And even with today's expanding international sales, revenue growth was greater in the earlier period than it is now, so one can't point to revenue growth rates to explain increased multiples.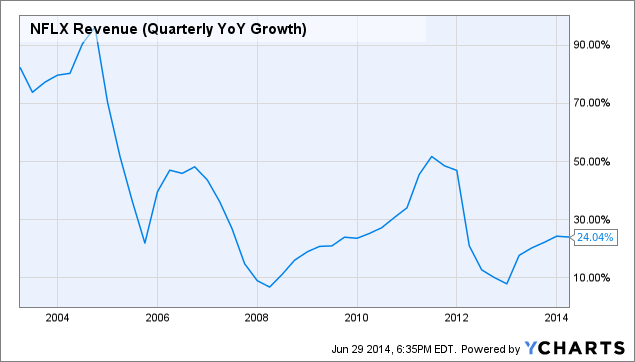 NFLX Revenue (Quarterly YoY Growth) data by YCharts
From this discussion, it appears that today's market valuation of NFLX is due solely to extreme and unwarranted multiple expansion (likely from the Fed-induced bubble market). Over time, NFLX's multiples should revert back to 2006 levels (or lower) since the business model is not as profitable or as dominant as it once was. I remain short and await this longer-term reversion.
Disclosure: The author is short NFLX. The author wrote this article themselves, and it expresses their own opinions. The author is not receiving compensation for it (other than from Seeking Alpha). The author has no business relationship with any company whose stock is mentioned in this article. I am a NFLX DVD subscriber. I regularly trade around core positions.