Apple (NASDAQ:AAPL) will make a serious move over the next few months to consolidate its position as the leading provider of mobile devices as it introduces new products.
I believe that the Apple TV set-top box will be a key component to this.
Current situation
Apple is running wild again, currently up more than 20% since the last quarterly report in April, and 60% in the last 52 weeks.
A lot of this is due to increased dividends, share buybacks, and the recent stock split. However, a lot is also due to the positive nature of the long list of feature announcements at Apple's World Wide Developers Conference in early June, which triggered a run to new 52-week highs (although we are still just below the $100 all-time high of September 2012.)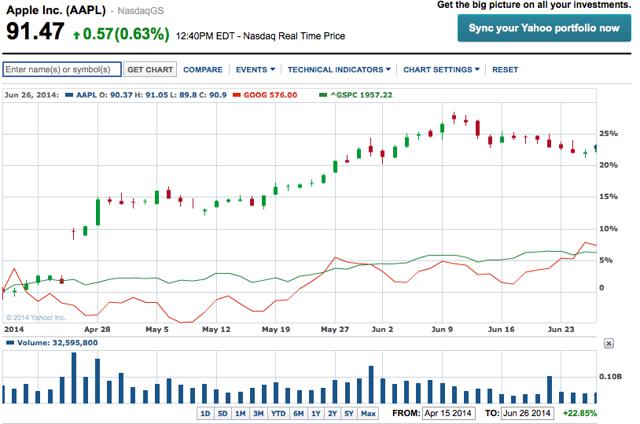 Now -
Apple is making a serious move to retake market share on all levels. In my post on the WWDC - Hidden Implications, I made the case that several programs announced at the Developers Conference would spearhead this effort and point to the direction in which Apple is headed.
While I have no inside information, I am attempting to draw logical conclusions from what was presented. I wrote about certain announced features that I called "sleepers":
These are things that will ultimately further the success of the platform by increasing positive differentiation of the products.

…there appears to have been a real theme that ran throughout the whole event - Integration.
In line with this, there were new software features presented for both iOS and Mac OSX, including:
HealthKit,
Continuity,
HomeKit, and
Metal
The first two are great features that well illustrate the concept of Integration. HealthKit will integrate all the information from all health and fitness apps, and allow them all to share data with each other - with user permission, of course.
Continuity is a merging of functionality between OSX Yosemite and the iPhone and iPad. Phone calls and SMS messages can be answered or initiated from your Mac, and your iPhone or iPad used to create an instant hotspot for Mac access to the Internet anywhere a cellular signal is available. Handoff allows you to use an app on any device, and immediately and effortlessly pick up the same app on any other device, exactly where you were on the original one.
These are two powerful feature sets that will enhance the user experience on the Apple devices but are not part of the current discussion.
The important 2
HomeKit is something that was anticipated by the rumor mill. Analogous to HealthKit, it provides a rich and standardized software framework for communications between any device in your home that has Internet connectivity. This can be a refrigerator, a window sensor, a surveillance cam, house lights, door opener, coffee maker, or entertainment system, etc., etc.
HomeKit provides a hub - a centralized description of your house with all its rooms, and for each room a list of all addressable devices therein. Each device can be read from as appropriate:
state = on/off,
data - e.g. temperature,
etc.
Each device can be directed to change state as appropriate:
turn on/off,
set temperature,
set channel or volume,
etc.
Again, the model of your house that is generated is the hub via which controlling apps can interact with the registered devices.
Metal is a technical framework for graphics applications. When there is some kind of work that repeatedly needs to be done on a computer, designers create an Application Programmers Interface that gives developers a standard way of doing specific tasks so that the programmers do not spend all their time reinventing the wheel. If there is one specified way to send a file to any printer, for example, then a driver for some particular printer only needs to accept the standardized set of commands in order to work properly.
Metal provides a new set of commands to the Graphic Processing Unit that greatly increases efficiency. With Apple's A7 chip in the iPhone 5s and newest iPads, this can yield up to 10x performance gains. [How Metal works]
Importantly, this works only with Apple iOS devices, and it is unlikely that Android will ever be able to duplicate it, certainly not in the short run. (For more details, see previous discussions.)
Apple TV - history
The Apple TV was introduced in 2007, and has gone through several iterations since then. It is a "set top box" that connects to the Internet and to your TV and audio systems to proved music, video and other services via the Internet, or from your home computer or iOS device. Its two main features are Streaming and AirPlay.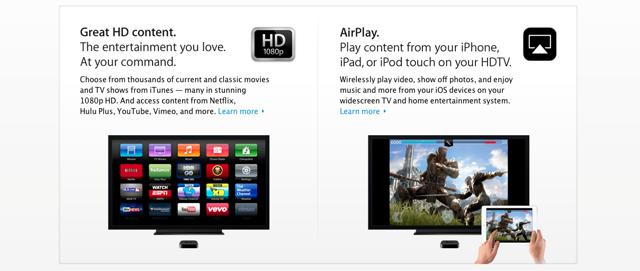 [Source]
Apple TV allows you to stream HD content from a wide variety of sources beginning with rentals and purchases from the iTunes Store, to a long list of suppliers including Netflix, MLB, HBO, Vimeo, etc., etc. (See Apple TV page for details.)
AirPlay allows you to stream content directly from your iDevice or Mac to the ATV. You can stream songs directly from iTunes, videos from your collection or the web, or mirror your screen to show anything that is on either a Mac or iPhone or iPad.
For instance, my daughter was in town and wanted to share some music from her iPhone. I just gave her the password to the ATV and we listened to it instantly though the stereo system. She was able to browse through and select songs on the fly, or back up and repeat a section of a tune when she wanted to. (I have a pretty nice sound system, so it was a real pleasure.) Photos and videos can be shared on the big screen just as easily.
In 2007, Steve Jobs (then CEO of Apple) said of the Apple TV:
"The reason I call it a hobby is a lot of people have tried and failed to make it a business. It's a business that's hundreds of thousands of units per year but it hasn't crested to be millions of units per year, but I think if we improve things we can crack that." [2007]
In May of last year it was reported that Apple sold somewhere around 6 million ATV units in the previous 12 months - about half the 13 million sold since it was introduced. More recent news has it earning over $1 billion in the 2013 fiscal year, including device sales plus content purchases. This puts total units sold most likely around 20 million. Not really a hobby anymore.
At the May 2013 D11 conference, Apple CEO Tim Cook was asked to elaborate on where the Apple TV was going.
Pressed further on where Apple may take its TV business, Cook opted to refuse further comment, teasing only "there is a grand vision." [source: The Verge - emphasis added.]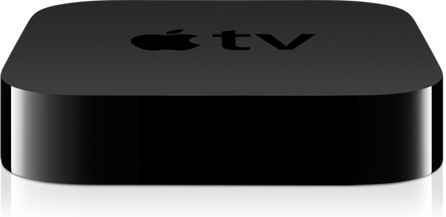 The "Grand Vision"
To my mind, the grand vision is now coming to pass, and will be implemented with the next ATV upgrade, and this will be sooner rather than later. This grand vision has the following features:
New hardware with A7 or A8 chip (possibly a special edition)
Support for UHD 4K TV
Home Center app
ATV App store
Metal implies emphasis on games
Price may change
- Again, I would like to note that I have no insider knowledge, but these conclusions represent my reasoning from the information we have.
1. Hardware -
The next ATV will definitely run on the A7, a newer A8, or some special version of one or the other. This is necessary if it is to run Apple's Metal graphics technology, since that runs only on A7 - and presumably later - processors.
This could prove wrong. If Apple decides that the ATV will only display video already generated on an iPhone or iPad, then the processor will only need to be upgrade to support 4K.
2. UHD 4K -
Ultra High Definition TV is the future, and it is coming quickly. Already 4K transmission has begun in France with the French Open, and Channel 4k has begun broadcasting in Japan, writes informitv, which adds:
According to IDC, over a million 4K capable televisions are now shipping a month, despite very limited availability of programming. However, there are forecasts suggesting that 4K screens will be in 10% of North American homes by the end of 2018, reaching 50% by 2024.
I assume these shipping figures are worldwide. Still, Apple would like to lead the pack, and this would make ATV the option of choice in the most affluent households, those that are the leaders and trend setters. They certainly do not want to be excluded from these homes because they do not support 4K.
3. Home Center app - and one ring to control them all
The essence of Apple's HomeKit control system is the conceptual model of your home with each of its rooms. Each room has a list of devices that are controllable, and each of these a list of individual controls (a furnace system may have a heater, an A/C and a fan). While every device can be controlled remotely from someone's iPhone or iPad, there may be functions that are supposed to be performed even if no one is currently connected. For this there needs to be an in-home device to perform these functions.
Apple TV is already the hub of the entertainment system, logically it should be the hub of HomeKit Center as well.
Many home controllers, particularly for security systems, are very expensive. The ATV is substantially less than these, yet provides increased functionality. As a provider of a household controller, ATV can add this functionality at no extra cost to the user because, in the end, it is only software. Thus, the Apple TV can be your home controller at a competitive, or even much lower, price than stand-alones, and you get the ATV video/audio server functions thrown in for free (or the other way around if you prefer.)
One of the beauties of this system is that, because of the economics, it gets itself into even the WinPC home! Any device with Wifi or Bluetooth connectivity can be programmed to interact with the system.
4. Apple TV App Store -
Because a HomeKit Center controller will need to be programmable, it is most probable that the new ATV system will be open for developer apps. This is not a complete necessity since Apple might set it up so that the controller is an ATV app with which other apps interact via Wifi or Bluetooth. But I think that device manufacturers may need to get their apps onboard some hardware in the house. Providing an open software solution will further the platform and help to ensure wider adoption.
5a. Games -
In one of the WWDC presentations, Apple VP Andres Wendker said:
"Apple is pushing on gaming heavily."
With the new Apple TV they will be doing just that. There are two possible methods for that, the first of which is already available.
iDevice screen share -
You can already play games on your iPhone or iPad and have the screen shared with your HD TV. You can even have a different display for the TV and your device so the latter can be just your controller. The new thing I envision is the ability to send 4K to the TV. I expect this to be available with the new A8 chips for the iPhones and iPads.
ATV Games -
The second scenario is for Apple to allow games to run directly on the Apple TV, and the iDevice would be no more than a controller. In other words, the Apple TV would become a gaming console competing directly with PlayStation, Xbox, etc. And why not? These devices are already leaders in streaming videos, so why not ATV move into gaming?
5b. Metal - the killer
Here is where Metal comes in. The extra performance made available by this system makes today's iPad Air close to dedicated gaming console performance, according to several major game developers at the WWDC [see my previous articles]. Imagine how they will perform on a newer A8.
A further boost for the ATV would be this. Speed is throttled on the iPad and even more on iPhone because speed both consumes battery power and generates heat. Power is no issue for an ATV as it plugs into the wall, and larger heat sinks can also be accommodated. Therefore the power to the processors could be significantly increased with a parallel increase in performance.
Finally, I noted in other posts that the GPU of Apple's A7 processor is based on Imagination Technology's (IMG) PowerVR G6430 design, and this can be extended simply by adding more cores to the design. This could give Apple's A8 graphics power unheard of in a mobile processor.
6. Price -
One question is how the new box would be priced. In 2010, the ATV was estimated to have a build cost of about $64 [iHS]. While most component prices have come down since then, the largest one, the processor, might go up with the latest technology in the A8. In the end, however, I expect it will be a wash. If so, then the current price gives a 55% gross margin. Not bad, even for Apple. Given the price of competing consoles [PlayStation by Sony (NYSE:SNE) and Xbox by Microsoft (NASDAQ:MSFT) are at $400], I could see the price going up a bit. But the competition from Google's (NASDAQ:GOOG) (NASDAQ:GOOGL) Chromecast, should keep them in check.
Summary
All indications are that the upcoming Apple TV will be a real game changer. It will challenge all competitors on many fronts as it enters both the Home control market and poses a new challenge to the gaming console market. All the while it will be on the leading edge for its original core functionality - Internet video.
I would look to Apple to come out slugging with a slew of HomeKit connected devices from featured partners, and staggering demos by games developers, and the new Apple TV, all at the iPhone 6 press party.
To my mind, this is going to take the market by storm, and dominate the home market in both areas. To me, this is where all the arrows are pointing. With a dominant beachhead in the home, the growth in smartphone and tablet market share will resume, particularly in the high end where they dominate still.
For the investor, the $1 billion currently earned is a small fraction of the $176 billion of overall revenue (ttm: Yahoo Finance). But that could easily multiply by two or three, and more importantly, it would add significantly to the overall appeal of the whole Apple product line.
Resources:
iPad Air II - Real Game Changer
Microsoft Surface Pro 3 vs. Apple iPad/MB Air Make your own analysis
Disclosure: The author is long AAPL, GTAT. The author wrote this article themselves, and it expresses their own opinions. The author is not receiving compensation for it (other than from Seeking Alpha). The author has no business relationship with any company whose stock is mentioned in this article.