Benedict Evans had an interesting post ("Google IO: Market Shares") in which he made the point that total spending by Apple (NASDAQ:AAPL) iOS users on apps is much greater than that of Google (NASDAQ:GOOG) Android users. He makes the point, which I think is widely accepted, that iOS has a higher "wealth share" than Android. Based on the current growth trajectories of the ecosystems, this wealth gap will only widen with time.
Growth Trajectories
Evans assumes that the number of iOS users is roughly half that of the 1 billion current Android users Google claimed recently at Google IO. This part I believe is correct. Evans goes on to assume that the amount paid by Apple to developers in the last 12 months is double that of Google's $5 billion that it reported at IO. Evans argues that the $7 billion Apple paid to developers in 2013 would increase to $10 billion for the 12 months ending in March 2014. On this basis, Evans concludes that iOS spending per user is about 4 times that of Android.
Apple's iOS ecosystem growth is substantial, but not quite that substantial. I calculate that the amount paid to developers for the 12 months ending in March is closer to $7 billion. This still makes the spending advantage per iOS user very substantial, about 3/1 compared to Android. But the important takeaway here is the long term trend in total app revenue for the two ecosystems. Based on current growth trajectories, the app revenue gap gets larger over time. Given the faster numerical growth in Android devices, this came as a surprise to me.
This conclusion is based on an analysis of the growth in mobile device populations for the respective platforms over time. The mobile device population is the number of devices for a given platform in actual use at any given time, and this is always less than the cumulative number of devices sold. The starting point for this analysis is the cumulative sales.
Cumulative sales for Apple's iOS is simply a matter of tallying the Apple's quarterly reported sales of iOS devices, iPod Touch, iPhone, and iPad. For Android, I estimate cumulative sales based on Google's announced activations. Google's device activations mostly don't include "white box" devices, which are rarely activated with Google. Since there have been gaps in Google's activation announcements, I include a curve fit to the activation data.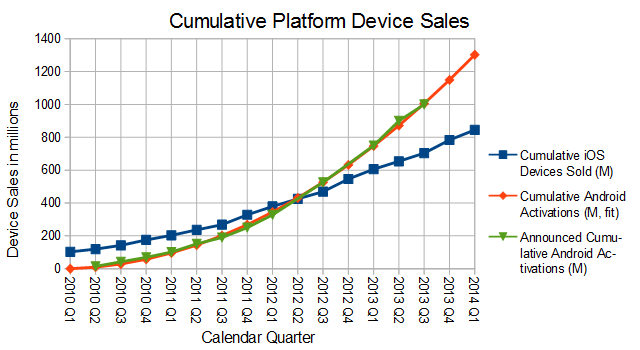 It's always been difficult to go from the device sales data to figuring out how many devices were in actual use, the current device population. Apple and Google probably have a good idea what the device populations are, but they've never divulged the information. At least, not until Sundar Pichai revealed that Google had 1 billion current registered Android users at IO. Approximating 1 user per Android device allowed me to anchor a population growth model for the two ecosystems.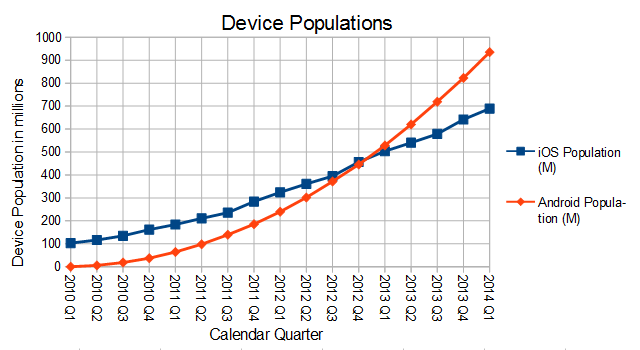 For the Android population, I used my curve fit of quarterly sales data, so the Android population curve is smoother than the iOS curve, which reflects quarterly sales variations. The curves are generated by solving a pair of coupled differential equations that describe the changes in the device populations over time. This model reflects factors such as platform loyalty and defection rates (to the other platform) based on data published by CIRP.
The iOS platform is quite a bit more retentive than Android for a number of reasons. Platform loyalty is higher and defections rates are lower for iOS. Also, Apple has done an excellent job of maintaining backward compatibility, so that 89% of iOS devices can run iOS 7, as Tim Cook reported at WWDC. This means that even when an iOS user buys a replacement iOS device, the older device is more likely to be transferred to another user than thrown away. The net effect is that the current population to cumulative sales ratio is 81% for iOS compared to 72% for Android.
Evans states in his article that there are 470 million iOS users as of March 2014. If that's correct, then my model indicates that there are about 1.5 devices per user on average, not unreasonable, but it seems a little high to me. I suspect that there are actually more iOS users than Evans assumed.
Platform App Spending
In the chart below, I plot cumulative platform app spending assuming $4.25 spent per device per quarter for iOS and $2.4 per device per quarter for Android. These numbers were chosen so that the resulting curves would approximately fit the known data:
1) $10 billion in iOS App Store revenue that Apple announced for 2013.
2) $7.14 billion in Android app revenue for the past 12 months reported by Google at IO 2014. This is just the $5 billion Google announced it paid to developers divided by .7.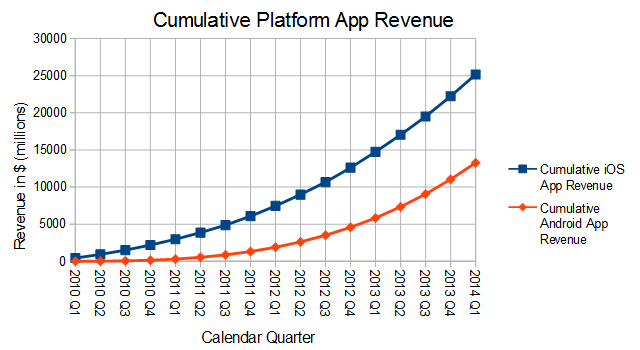 This chart shows how the app revenue generation of the platforms grows over time. The net revenue generated by iOS in the 4 quarters ended in Q1 2014 ($10 billion) is about the same as the revenue generated by the 4 quarters in 2013. This is why I believe Evans was in error assuming much greater growth for the 4 quarters ending in Q1 2014.
Other Takeaways
What I find fascinating about the app revenue chart is that it indicates that despite the higher unit growth rate of Android, the app revenue gap between iOS and Android continues to widen. This may be an artifact of the assumption of constant spending per device that the model makes. Variation in spending per device or user may shift these trajectories.
Certainly, the app revenue curves indicate that iOS is under no immediate threat from an app revenue standpoint. Of course, app revenue is about a tenth of device sales revenue for iOS, and has a lower gross margin of 30%. The fact that iOS has a larger share of app revenue doesn't lay to rest my concerns about iOS market share declines I have discussed for iPhone and iPad.
Disclosure: The author has no positions in any stocks mentioned, and no plans to initiate any positions within the next 72 hours. The author wrote this article themselves, and it expresses their own opinions. The author is not receiving compensation for it (other than from Seeking Alpha). The author has no business relationship with any company whose stock is mentioned in this article.