I'm thrilled to officially launch Seeking Alpha's Investing Applications today and tell you a bit about why we launched Investing Apps.
First, what are Investing Apps?
Investing Apps are professional-grade tools to research stocks, and manage, track and analyze your investments. These apps are provided by other companies but are carefully screened by us. Apple's App Store is for mobile, Facebook apps are for social networking and gaming, and Seeking Alpha apps are for investing. We are building the best way to discover and use investing apps on the web, by making them available in one place and at reasonable prices. For additional details, see today's press release.
Why did we launch a platform for Investing Apps?
In five years, Seeking Alpha has built a wide and varied audience. We have over 3.5 million monthly unique visitors and over 560,000 registered users, representing a wide range of investing types – from retirees to financial professionals, hedge fund managers and more.
Many of our readers are looking for something specific from Seeking Alpha. Some people are looking to generate income from their portfolios from dividends and bonds; some are looking for long or short ideas; some are focused on ETFs, while others are primarily interested in market commentary or, say, tech industry analysis.
Over the past few years, we've been approached by tens of companies wanting to partner with us to offer their investing products to our readership. The problem was that most of these products appealed only to a subset of our readers, and we didn't want to clutter Seeking Alpha with functionality that many people wouldn't use. The solution, we realized, was to offer a choice of tools that our users could select from, to fit their own needs and interests, and a platform which would allow partners to easily integrate their products into Seeking Alpha. This way, we'd offer a 'menu' of Apps but it would be our users themselves that would choose which ones they wished to see and use.
Personalization is the Goal
There are more than 25 Applications live on the platform today serving a wide variety of user needs, from stock screeners to charting tools to portfolio tracking Apps.
The Apps are fully integrated into the Seeking Alpha site.
You can browse and choose Apps in the Investing App Store. Installing Apps is easy and quick.
Once you've installed Apps, you can view them from your My Apps page.
All of the detailed data, research and charts you've installed lives on the main App page for each specific app.
You'll also notice that many of the Apps will come up every time you search for a company on Seeking Alpha. From a new tab on our quote pages, you can now see charts, guru analysis, news and details from SEC filings, analyst coverage and more on every quote page. The data is personalized, comes only from the Apps I installed and is integrated onto every quote page on the site.
Portfolio pages are also rich with data and information from the Apps ().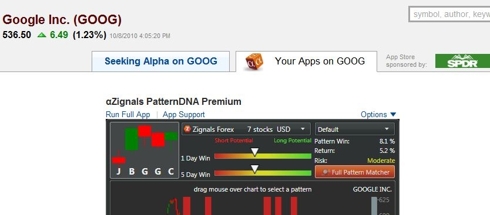 Watch the Investing Applications How-to Video
You can personalize the Seeking Alpha experience to see only the things you care most about.
We're excited to make professional-grade investing tools affordable and available from one location. Most Apps have a free trial period or a free "lite" version. Try the Apps and let us know what you think!
If you have feedback on the Apps, please contact fara at seekingalpha dot com. To have your App reviewed for inclusion into the Investing App Store, please contact applaunch at seekingalpha dot com.