This article about underwater drillers is a bit unusual for me, as I won't be picking "winners" and "losers" aka Ford (NYSE:F) vs. General Motors (NYSE:GM) (June 19) or JPMorgan (NYSE:JPM) vs. Citigroup (NYSE:C) vs. Bank of America (NYSE:BAC) (planned). My thesis is investors have an exciting opportunity to benefit from a positive, secular change in perception regarding underwater drillers driven by recent geo-political events.
In this article, when I refer to underwater drillers, I am referring collectively to Ensco (NYSE:ESV), Noble (NYSE:NE), Seadrill (NYSE:SDRL) and Transocean (NYSE:RIG). Individually, they have individual strengths (e.g. SDRL has a newer fleet, more focused on ultra-deepwater) and weaknesses (e.g. RIG's continuing and still unknown exposure to the Deepwater Horizon disaster) as well as upcoming structural changes (both NE and RIG are spinning off a subset of their older rigs later this year). However, collectively, at least in the short term, they rise and fall on the same waves of perception regarding growth or contraction in underwater drilling.
While a number of factors impact valuation, with respect to the industry, the two most dynamic in the short term are backlog (contracts for the future use of owned or to-be-delivered underwater rigs) and day rates (the contracted rate per day for a given rig).
Recent History
For the last nine quarters (since April 2012), the perception of underwater drillers has been slightly negative to hugely hostile. The stock price performance of ESV, NE, RIG and SDRL have all significantly trailed the S&P 500 index (in the interim period, ESV and SDRL held up better) since April 2012 (and November 2013) during this period.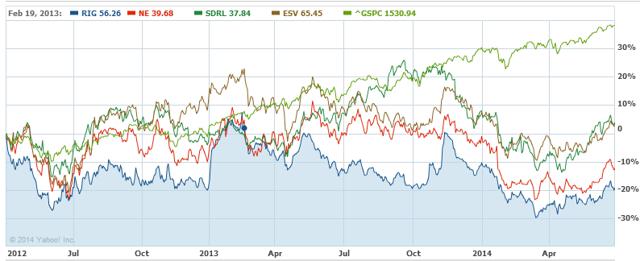 Source: Yahoo
The drop in oil prices, as shown in the graph below, illustrates the catalyst for the initial change.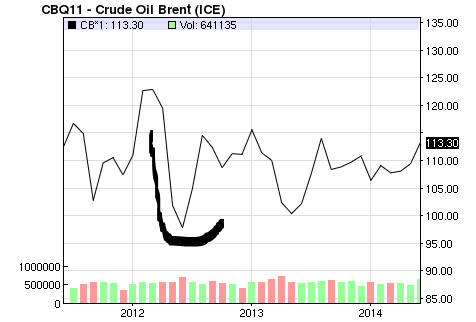 Source: NASDAQ
As recently as this past quarter, earnings estimates for the entire group have been cut for 2014 and slashed for 2015.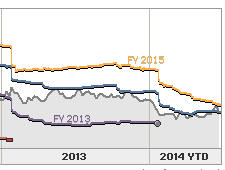 Source: TDAmeritrade; Earnings actual and forecast for NE as a representative example
The recent catalyst for the negative adjustments to earnings forecasts was a decrease in backlog for drilling rigs combined with public statements from many of the major oil companies regarding reductions in exploration spending. Interestingly, during most of the last three quarters, the "market" has had it right. Stock prices dropped significantly before the analyst community began cutting estimates. During the first half of 2014, despite a nice bump since mid-April, ESV, NE, RIG and SDRL are all down between 2%-9%, significantly underperforming the S&P 500.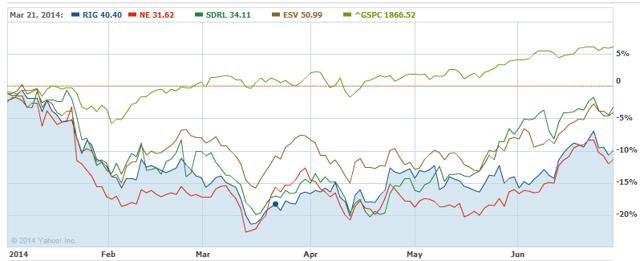 Source: Yahoo
This Time It's Different?
Recent geo-political events, first in the Ukraine and more recently in Iraq underscore a change in the perception of oil supply and risk to that supply. In recent years, conventional wisdom has held that 1) Iraq would bring significant incremental oil to market as it recovered from the US invasion and brought capacity back online, and became the beneficiary of state-of-the-art extraction techniques the (Western) major oil companies have mastered and 2) other markets such as Libya would return to material production. Further, 3) oil and gas extraction from Canada and the US promised significant increases to world supply.
In recent quarters, the trend among oil companies and analysts was to say, "this time it's different", and cut exploration efforts (and forecasts) in more challenging underwater (and other) environments. Companies were eager to brag about how they are making their EPS numbers while reducing risk and capital requirements. For better or worse, most producers play follow-the-leader; once Exxon-Mobile (NYSE:XOM), Chevron (NYSE:CVX) and many of their peers announced reductions to their exploration activities and budgets, it was almost de rigor for others to follows.
Russia's actions this spring in the Ukraine have convinced many in Europe that their energy supplies need to be diversified. The events in Iraq are more significant; they expose a short and long-term risk to the status quo of energy supplies from the Middle East. Even if ISIS is halted in Iraq, there remain long-term questions about the stability of supply from the Sunni Arab world (Iraq, Kuwait and potentially Saudi Arabia). North American production has acted as a price buffer; the absence of which would have likely led to significantly higher spot oil prices.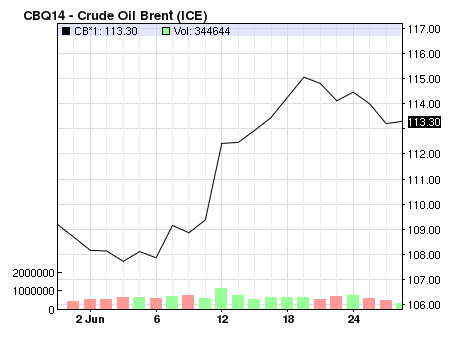 Source: Nasdaq
What Does This Mean for Drillers?
My thesis is that the impact of recent events will cause oil producers to change their calculus on the best places to operate and explore, reflecting cost, the political situation (current and future) and risk of success. Secondary issues such as barrels of reserve and replacement will also play into these decisions. Producers will seek to diversify their (previously) "safe" bets in Iraq and Russia and will increasingly turn to (newly) safer areas such as underwater. As this change occurs, the same herd mentality will drive down backlog and drive up day rates. There even exists the "risk" that a bidding war will erupt for underwater rigs, creating a price bubble in day rates (new rigs can cost $500-$600 million to build and have significant production lead time).
The stock market is often a function of perception as opposed to reality. The perception that day rates and utilization for underwater rigs (of all types) are falling was disproportionately reflected in a decrease in the stock prices and PE ratios of the underwater drillers. This perception will start to change as the "market" realizes that underwater drillers are going to be one of the logical "winners" of this change in (first) attitude and (then) behavior.
Valuation
Valuation is a little trickier than I would like, with forward estimates being, in my mind, extremely unreliable and subject to dramatic change (especially if demand increases; impacting not only day rates but also the value of older vs. newer rigs with a variety of other second and third order effects). For this industry, I am going to focus on current year (2014) estimates. History suggests that valuation in this industry during a "positive" market is approximately 15-20x forward earnings (a wide range).
| | | | | | | | | |
| --- | --- | --- | --- | --- | --- | --- | --- | --- |
| | June 27 | 2014 | 2015 | 2016 | PE (2014) | 15x 2014 | Target App (Min.) | S&P Stars |
| ESV | $55.35 | $5.62 | $5.85 | $5.53 | 9.8x | $84.30 | 52% | 4 |
| NE | $33.25 | $3.41 | $3.73 | $4.71 | 9.8x | $51.15 | 54% | 4 |
| RIG | $44.53 | $4.30 | $3.58 | $3.17 | 10.4x | $64.50 | 45% | 4 |
| SDRL | $39.43 | $3.03 | $3.57 | $4.02 | 13.0x | $45.45 | 15% | na |
Source: TDAmeritrade
For the entire group, except SDRL, 2014 PE's are in the 10x range. Similarly, all except SDRL imply a 45%-55% target price increase. I would be hesitant to disregard SDRL based on its "richer" valuation as its higher dividend yield (see below), recent West Jupiter contract and newer fleet are likely perceived as adding value/mitigating downside risk. Personally, I own NE and RIG; I'd give the slight nod to RIG due to unrecognized turnaround characteristics of the equity.
Dividends While We Wait
As I view this recommendation as a 6-to-12 month trade, I have generally ignored the material dividends (4.5% to 10.1%) paid by underwater drillers as a primary investment factor. However, it is always nice to get paid while waiting!
| | | |
| --- | --- | --- |
| | Dividend | Yield |
| ESV | $3.00 | 5.4% |
| NE | $1.50 | 4.5% |
| RIG | $3.00 | 6.7% |
| SDRL | $4.00 | 10.1% |
Source: TDAmeritrade
While none of these companies could be confused with a "Dividend Aristocrat", each has raised its dividend during the past twelve months.
Conclusion
As I stated at the outset, I am not picking specific winners or losers in this analysis- I believe the collective group has significant appreciation potential (+/-50%) during the next 6-12 months (and you get paid handsomely in the form of dividends while you wait). My thesis is that recent geo-political factors will 1) change the perception by producers (and stock analysts) of the desirability of underwater drilling (followed by actual contracts) which will 2) positively impact the stock price of the collective group of underwater drillers as expectations rise for backlogs and day rates.
I don't view current 2015 and 2016 earnings estimates as highly; I am using 2014 earnings estimates as a proxy for valuation purposes (if my thesis holds, 2015 and 2016 earnings estimates will be increased).
Disclosure: The author is long NE, RIG. The author wrote this article themselves, and it expresses their own opinions. The author is not receiving compensation for it (other than from Seeking Alpha). The author has no business relationship with any company whose stock is mentioned in this article.