It's being widely reported that China's gold imports so far this year are down from its record level of imports in 2013, with lower imports being attributed to this year's decline in the yuan vs. the dollar. However, I will present several reasons why generally published and accepted western reports of China's gold import activity are unreliable and that China's true level of gold demand is significantly higher than is commonly accepted or known outside of China. Because of this "shadow" physical demand in China, I believe that the expected seasonal July/early August sell-off in the price of gold will not only be muted but there might be an unexpected move higher.
In February this year, the World Gold Council published its annual global gold demand report. It reported that China had imported 1,066 tonnes in 2013: World Gold Council Global Gold Demand (see pg. 4). However, the World Gold Council data only picks up the data for gold entering China via Hong Kong and this only captures a portion of China's total demand for gold. In fact, China's total demand for gold in 2013 was 2,197 tonnes. This number is derived from the total amount of gold withdrawn from the Shanghai Gold Exchange in 2013.
The reason that gold withdrawals from the SGE represent the total amount of gold demand is that all gold which is imported into China and which is mined and refined inside China must be sold via the Shanghai Gold Exchange. This article from In Gold We Trust explains how China's gold market functions and further elaborates on why it is the case that the amount of gold withdrawn annually from the SGE equals the total demand for gold by the Chinese (except for the Peoples Bank of China, as explained below).
One source of discrepancy between the WGC number and the actual number is that the WGC report does not capture the gold produced by the Chinese mining industry and sold internally. In 2013, China was the world's largest producer of gold at 437 tonnes. Most of China's mined and refined gold stays inside China. The Chinese Government tightly controls any gold which is approved for export: Regulations On The Control Of Gold And Silver. Any gold produced in China must therefore pass through the Shanghai Gold Exchange before it ends up with the ultimate buyer.
In addition, while imports through Hong Kong accounted for most of China's imports, gold entering the country through Shanghai and Shenzen that originates from sources other than Hong Kong cannot be tracked because the Chinese Government does not report import numbers for gold. Hong Kong reports export numbers, which is why this source of imported gold into China can be credibly tracked. Furthermore, the WGC report does not capture the amount of gold that is recycled, re-refined and resold internally in China. The second link above discusses the details of scrap recycling in China.
Thus, because the WGC relies solely on available export data from China to estimate China's annual gold demand, the WGC's number is incomplete. But the Chinese Government made it even more difficult to account for the amount of gold entering China when it approved the importation of gold through Beijing. The purpose of opening Beijing to gold imports was to help the Chinese Government in its efforts to keep total precious metals demand in China a State secret (see this article). Because of this, I would argue that the widespread reports of a decline in China's gold demand in 2014 vs. 2013 could well be incorrect. In fact, it will now be impossible to track the total amount of gold demand in China because of an inability to measure imports fully. In addition, the Peoples Bank of China (the Chinese Central Bank) does not disclose its gold purchases and it does not buy gold through the SGE. This makes it impossible to track the quantity of gold that the PBOC is likely accumulating and therefore makes it impossible to calculate China's true demand annually for gold.
Because the Chinese Government has made it even more difficult to measure the true amount of gold that is being imported and purchased by all segments of demand inside the country, I would argue that China is likely importing a lot more gold than is being priced in by the market. This unaccounted amount of demand for physical gold could potentially offset the expected sell-off in gold that typically occurs in July and early August (source: equityclock.com, edits in red are mine):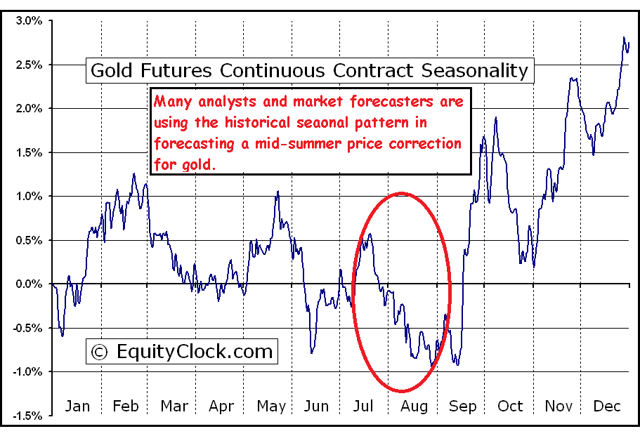 As you can see from the above graph - which captures the last 20 years through 12/31/2013 - historically mid-July to the end of August on average has been a negative rate of return period for gold. As mentioned at the top of this article, several analysts and market technicians are now forecasting a sell-off/price correction for the price of gold. While it's entirely possible that gold will experience a brief correction after its 6.4% move higher since the beginning of June, I would argue that "stealth" physical gold demand from China - as I described above - may take the market by surprise by muting any expected price correction. Furthermore, I believe there's a distinct possibility, with the market in general expecting a move lower in gold, that we could actually see a surprise move higher throughout the rest of the summer.
If you want to participate in a bull market move in gold, I always first and foremost recommend buying and holding physical gold coins (gold eagles, maple leafs, etc.). If you want to trade and "index" the price of gold, the easiest and most liquid security is the SPDR Gold ETF (NYSEARCA:GLD). In addition, you can make a leveraged bet on gold using the VelocityShares 3x Long Gold ETF (NASDAQ:UGLD). The most leveraged play on the price of gold is investing in junior mining stocks. While ETFs like the Market Vectors Junior Gold Miners ETF (NYSEARCA:GDXJ) are one way to invest in juniors, investing in well-researched individual companies provides the most upside. I offer some individual stock research ideas on my website (you can access from my Seeking Alpha profile).
Disclosure: The author has no positions in any stocks mentioned, and no plans to initiate any positions within the next 72 hours. The author wrote this article themselves, and it expresses their own opinions. The author is not receiving compensation for it (other than from Seeking Alpha). The author has no business relationship with any company whose stock is mentioned in this article.
Additional disclosure: The investment fund I manage is long physical gold, silver and junior mining shares. I am invested in the fund.