Questcor Pharmaceuticals, Inc. (QCOR) has been subject to severe short selling and redundant negative press campaigns over the past several months from notable sources the reader can delve into on their own.
The article that summarizes the bear thesis best, and unfortunately, still appears to contain conscious misinformation, is from the New York Times and can be read in full here.
From this article I would like to point out a few components I find to be particularly fascinating that may shed some light on why short interest is over an astonishing 30% for both MNK and QCOR, even though the stock price continues to rise.
I present 3 observations from the NY Times article;
The Good

This response from MNK means everything. The CEO of MNK is confirming due diligence by the acquiring party. I conclude that MNK knows exactly what the acquisition entails, and this means everything.
The smear campaign against QCOR & MNK has given MNK a golden opportunity to diversify into a drug class that has enormous growth potential; nonsteroidal melanocortin system pathways.
The Bad
What is this thing about "Investigations"?
Citron Research /Andrew Left published a scathing report that can be read entirely in the attachments in the NY Times Piece and on Seeking Alpha here.
I read through "The Letter to the FDA", and from a regulatory perspective, found the assertions made in the section below to raise some red flags;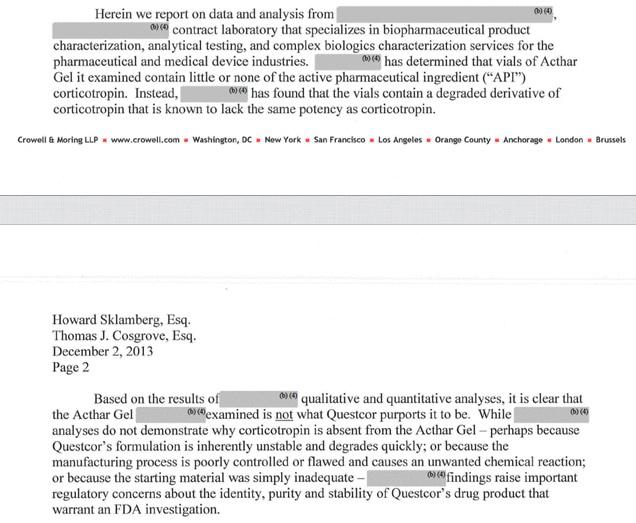 First off, I have serious concerns this contract lab has open access to the cGMP / SOP guidelines as outlined by intellectual property for Acthar Gel in accordance with the FDA, and in ownership of Questcor. Nowhere does this letter confirm the relevance of their testing as it relates to a manufacturing protocol. Therefore, I must conclude this letter to FDA indicates that this lab is creating its own guidelines for evaluating an animal derived biological preparation. Furthermore, where and how its analytes (Acthar?) were obtained and handled before testing is completely absent.
This kind of campaign raises serious concerns over why so much effort has been put forth to tarnish Acthar gel, and in lieu of the short interest, raises further concerns over potentially fraudulent nature of the massive shorting of QCOR stock.
The Ugly
I believe the most shocking aspect of this article is the final paragraph, where in fact this author of this NY Times article appears to finish her article with what appears to be a blatant lie;

Did Cigna really stopped covering Acthar for individuals with MS?
Below is the coverage revision. Cigna will still cover Acthar, and the burden of coverage relies on the prescriber and previous indications of the patient. I commend Cigna as a smart provider for doing so as Acthar is an extremely expensive therapeutic. In summary, if corticosteroids (CS) work, then stick with them. If a patient fails to respond to CS, where Acthar Gel is effective, then coverage applies.
I believe this is more telling of the fact the non-steroidal effects of an ACTH prep may be necessary, and essential, for some individuals depending on condition and circumstance.
Read for yourself and decide.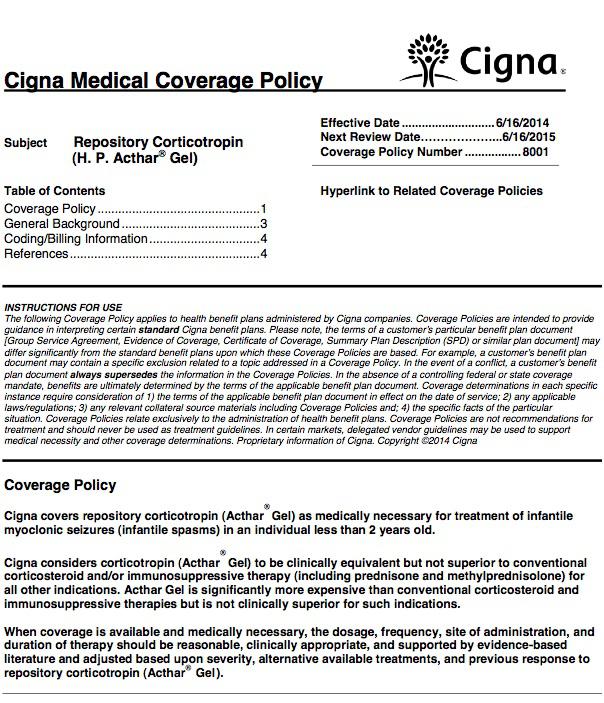 In conclusion, Cigna still covers Acthar. For an expensive therapeutic as Acthar, this makes perfect sense for all parties.
To consider investing in either QCOR, and MNK at this point, I believe it is important to highlight several observations I believe to be compelling. Public companies such as QCOR have an obligation to generate an ROI for their shareholders, and it was not always a picnic for this company.
I believe this letter from CEO Don Bailey summarizes the rise of Questcor very well.
Don Bailey has successfully brought a shelved animal derived therapeutic; Acthar Gel, back into the clinic, adjusting pricing to make the drug commercially profitable, implementing new clinical trials, implementing more R&D spend, initiating more involvement in the MS and Lupus patient communities, and finally, being acquired by MNK.
1) I present an interesting finding on 13F for the acquiring company Mallinckrodt plc.
Paulson & Co. reports 11.5% passive stake in MNK
Janus reports 10.2% passive stake in MNK
Courtesy of Nasdaq;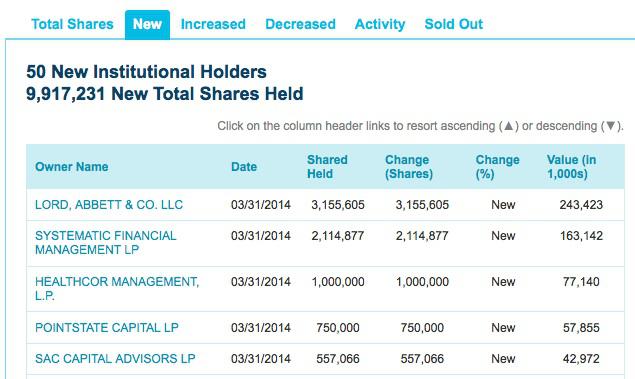 And now let's look at the big holders of MNK: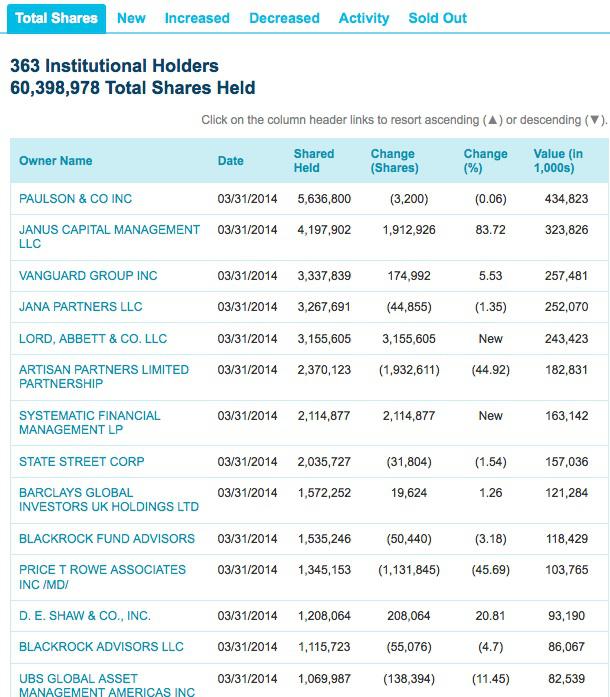 In conclusion, large firms are long into this acquisition. When fund managers take large stakes in companies, this is considered a bullish sign.
For would be investors in either MNK or QCOR, perform your own due diligence first. Suffice it to say that in my own research into QCOR, there is literally not a single public pharmaceutical company with the cash flow metrics, forward PE, and growth forecast of QCOR, that is currently trading at a discount price, in no small part thanks to an astonishing >35% short interest.
2) Mallinckrodt PLC (NYSE:MNK) Director Melvin D. Booth acquired 4,000 shares of Mallinckrodt PLC stock in a transaction that occurred on Wednesday, June 11 2014.
When a company director buys shares entering this Q3 acquisition, this implies internal optimism of the company future prospects.
A review of insider purchases for MNK courtesy of Nasdaq;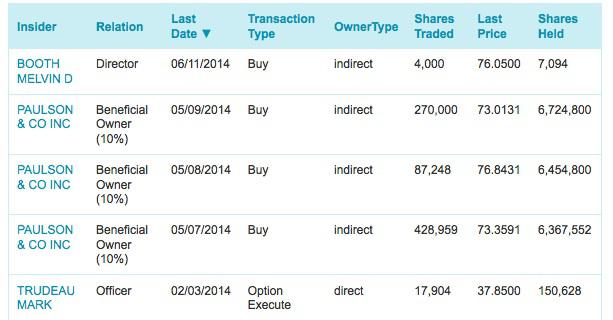 3) June 23, 2014 Questcor Pharmaceuticals, Inc. today announced that the transaction acquiring rights to Synacthen® and Synacthen® Depot from Novartis Pharma AG and Novartis AG in certain countries outside the U.S. has been closed.
From a regulatory perspective, this is a very positive conclusion to diversifying into synthetic melanocortin peptides therapeutics. Brilliant move to secure this long ignored and undervalued space.
4) May 14, 2014 Questcor announced a development collaboration agreement with an undisclosed privately held European company to develop novel melanocortin peptides.
This transaction significantly expands Questcor's portfolio of preclinical melanocortin therapeutics, and provides an investor with more clear insight into their growth strategy into advancing nonsteroidal dependent melanocortin therapeutics.
5) Questcor currently pays a $0.30 quarterly cash dividend on a Forward PE of 12.27 with a predicted growth Q2 of 49%. As of April 18, 2014, Questcor has cash, cash equivalents and short-term investments of $398.1 million.
Questor is successful in revitalizing Acthar Gel into a profitable drug, that currently carries 19 indications. Given the nature of the cGMP surrounding a animal derived orphan drug, there is little risk for generic competition.
6) Research and development (R&D) investment increased 84% to $19.9 million in the three months ended March 31, 2014, compared with $10.8 million for the year-ago period. The increased R&D investment reflects the company's ongoing efforts to further build the body of clinical evidence for Acthar, clarify the potential immune-modulating properties of Acthar and Synacthen, and identify mechanisms of action that could be potentially applicable to other inflammatory and auto-immune diseases with high unmet medical needs. There are several clinical trials in play for Acthar;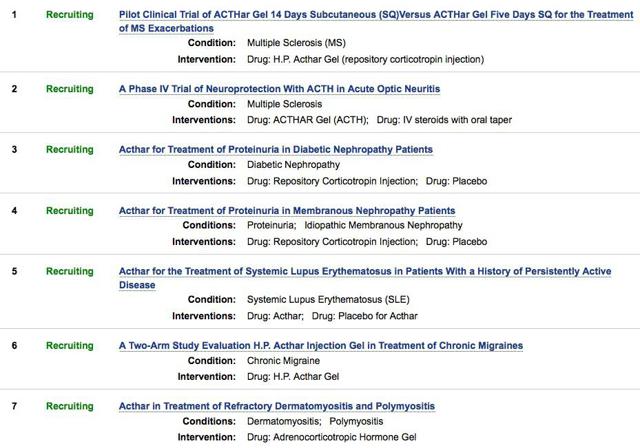 One of the active clinical trials will be very interesting, and will be reported once MNK has already acquired QCOR.
ClinicalTrials.gov Identifier: NCT01906658
My father's childhood friend passed away from Amyotrophic Lateral Sclerosis ALS. Anyone who knows about this, has had a family friend or relative with ALS, also knows there is currently no therapy out there that really stalls progression.
Acthar Gel is in a Phase II for ALS, and the estimated Study Completion Date: December 2014
If, and the key word here is "if", the Phase II shows improvements, then Acthar Gel will be a novel way to stall progression, and it will bring hope to a lot of patients.
7) Technically speaking, short interest and PPS generally should diverge from each other. As shares are borrowed (short interest goes up), and price goes down. I present interesting graphs indicating since March 2014, short interest and PPS have both been trending up for QCOR.
This is highly unusual. Short interest and stock price tend to follow diverging trends. As a stock sells off, the price goes down. However as you will see in the below graphical analysis, Questcor pps is actually increasing while the short interest is sky rocketing.
When 35% float is short for both QCOR and MNK, this suggests there are some serious risks for borrowers going forward. Conversely, given my skepticism behind the bear thesis, I see this as extremely bullish for longs who ignore the fear, uncertainty, and doubt FUD campaign and hold through September 2014.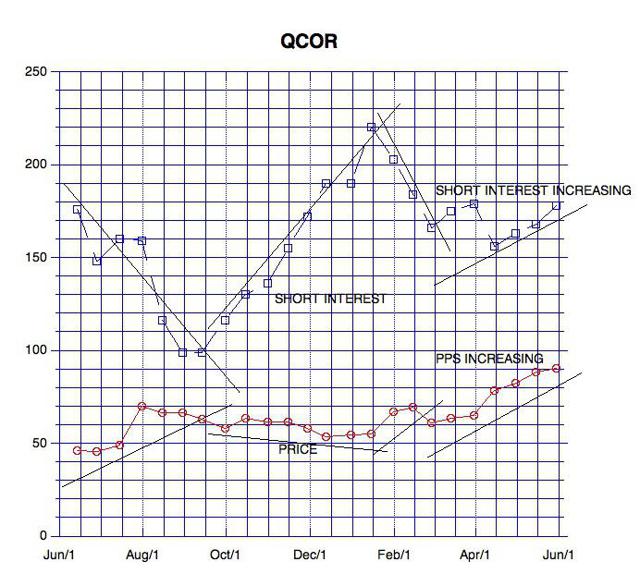 The graphic adjusts decimal for short interest to portray linear relationships between PPS and outstanding shares.
As of 6/14/14 I present another revision to further indicate this unsustainable trend. I believe that borrowers (short) are now destined to cover QCOR at much higher levels.
I believe a lot of investors who have entry points on large positions at all levels, and are more focused on the long-term prospects of a fruitful merger between two drug companies with distinct drug portfolios.
I believe the reward for investing long in either company on a 12-24 month timeline will be significant.
PPS and short interest will diverge at some point, and based on my research, I believe pps will continue to trend up through acquisition.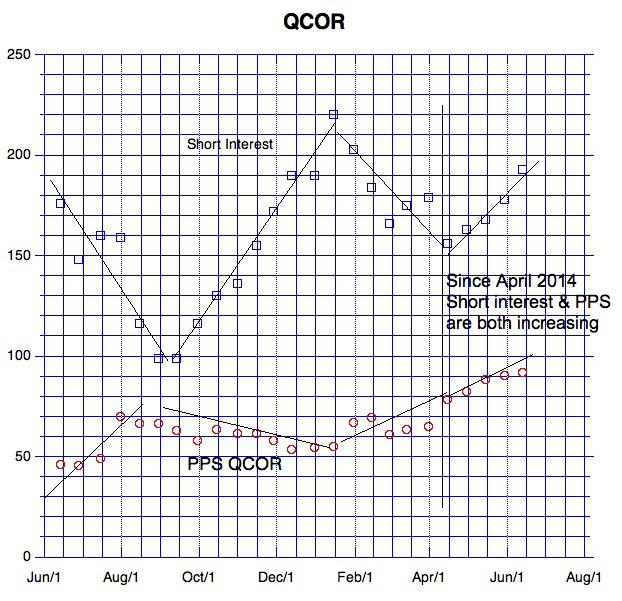 As summer approaches, the 4 major catalysts that I am aware of for long investors are:
1) June 27 ex-Dividend / July 8 QCOR Dividend
2) July 28 QCOR Q2 earnings
3) MNK acquisition of QCOR Q3
4) Acthar Gel Phase 2 Clinical Trial for ALS Q4
Good luck to all.
Disclosure: The author is long MNK, QCOR. The author wrote this article themselves, and it expresses their own opinions. The author is not receiving compensation for it. The author has no business relationship with any company whose stock is mentioned in this article.