Introduction
This article is meant to have a closer look at Excellon Resources (OTCPK:EXLLF) which is currently mining the extremely high-grade La Platosa project in Durango, Mexico. The main scope will be to determine whether or not Excellon is a good buy at the current share price, how sustainable the high-grade production profile is and where the next step in the company's game plan will occur.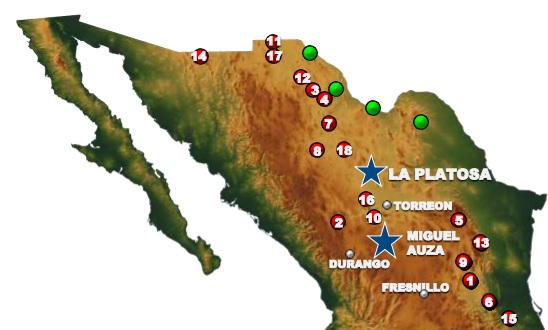 Source: company presentation
As Excellon's main listing is on the Toronto Stock Exchange where the company is listed with EXN as its ticker symbol, I'd strongly recommend to use the TSX for your trades as the average daily volume is approximately three times higher as the (not very illiquid) US exchange.
Excellon is a Canadian company and where necessary I recalculated Canadian Dollars into US Dollars using an USD/CAD exchange rate of 1.065. As always, all images in this article were directly taken from the company's presentation, website, press releases and official filings.
The La Platosa Project has an incredibly high grade
Excellon Resources has only one producing project, and that's the La Platosa Silver-Lead-Zinc mine in Mexico's Durango state. This project is a very typical CRD (Carbonate Replacement Deposit)-project which usually occurs in clusters and has a very high average grade. Typical CRD deposits have a size of 10 to 15 million tonnes (consisting of several smaller orebodies) at an average grade of anywhere between 60-600g/t silver and 2-18% zinc and lead. As you can see in the next image, Platosa's average grade is very consistent with the grade you'd expect from a CRD project, as Platosa has an average grade of 777g/t silver, 8.4% lead and in excess of 10% zinc. As the grade is very high, the needed throughput can be quite low, and as Platosa is running at a throughput of just over 200 tonnes per day, one could say this is a simple and very straightforward wheelbarrow operation.

Source: technical report
As the mine and mill are both up and running, the sustaining capital expenditures will be quite low, and in an updated technical report this cost is expected to be $4-4.5M per year, which results in approximately $3/oz being added to the production cost of the silver. As there are a lot of by-products, Excellon is able to keep the cash cost relatively low, and in Q1 2014 the company reported a total cash cost per payable ounce of $11.76 and an all-in sustaining cost of just over $17 per produced silver ounce. Because Excellon can't really benefit from economies of scale, its cost basis per processed tonne is very high, at $300/t. This means that the company effectively needs the super-high grade to be profitable.
But there obviously are also some risks involved!
Having a very high-grade deposit is obviously very nice, but the main question and problem for Excellon will be to extend the mine life. The current measured and indicated resources contain less than half a million tonnes for a remaining mine life of just 6.5 years (based on the current production rate and 340 operating days per year). Needless to say the market isn't very impressed with a mine life this short, and would prefer to see a longer mine life.
Fortunately Excellon definitely realizes this and has announced an extensive drill program to follow up on an earlier CRD-style discovery a few years ago. The company plans to drill 10,000 meters in diamond drilling (which I expect to cost roughly $1.75M given the fact the drill cost has come down substantially compared to last year). The company won't be just drilling newly generated targets developed by the seismic survey, but will also follow up on the discovery of the Rincon del Caido zone which is just over half a mile away from the current Platosa Mine.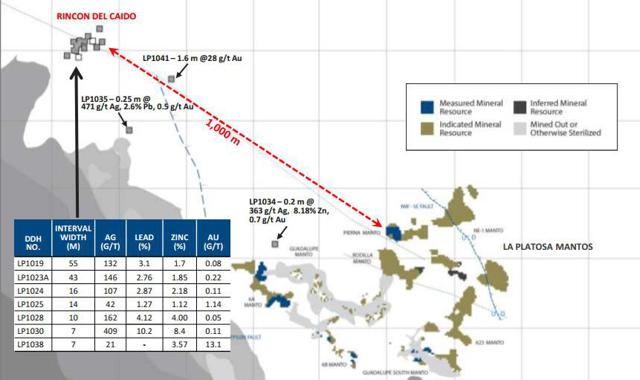 Source: corporate presentation
I'm really looking forward to see some more drill results from the Rincon zone, as earlier exploration programs have resulted in for instance 55 meters of almost 4 ounces of silver per tonne of ore and 5% Zinc-Lead, as well as higher-grade intercepts such as 6 meters of 12.5 ounces of silver per tonne of ore and in excess of 21% Zinc-Lead. It will be interesting to see if the Excellon team can connect the dots and discover another extremely high-grade mineralized zone which could extend the Platosa mine life.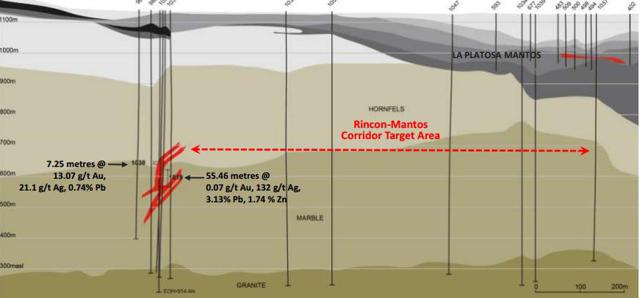 Source: corporate presentation
Another risk - which I believe has been priced in by now - is the higher tax pressure now the Mexican government has instated a special tax on the sale of gold and silver. This has reduced the attractiveness of Mexico as a mining destination and I'm convinced this will be seen in the amount of foreign investment in Mexico's mining sector. However, as Excellon has an already producing mine which remains profitable, even with the additional tax, I don't anticipate anything to change in Excellon's case.
What would be the value of La Platosa at today's silver price?
Now we know what the production profile is (1.5M oz silver per year) and the remaining mine life, I'm in a position to calculate the fair value of the La Platosa project based on the currently known facts. There's an additional tax on the proceeds of gold and silver sales which is levied on EBITDA (which means companies won't be able to reduce the tax by increasing the used depreciation rate), and the corporate tax rate in Mexico is 30%. I will base my calculations on an all-in sustaining cost base of $17/oz (taking the currently higher zinc and lead by-product revenues into account, and an increase in exploration expenditures as well). The AISC obviously includes the expected $4-4.5M per year in sustaining capital expenditures as well. The used discount rate is 8%, and the used silver price is $21/oz.
As always, these calculations are my own, and are not official company projections. These tables should only be seen as a starting point to do your own due diligence and calculations.
| | | | | |
| --- | --- | --- | --- | --- |
| Cash Flow per year | Corporate tax rate (30%) | after tax | Discount rate (8% per annum) | NPV8% |
| 0 | | | | 0 |
| 5,500,000 | 30% | 3,850,000.00 | 1.00 | 3,850,000 |
| 5,500,000 | 30% | 3,850,000.00 | 1.08 | 3,564,815 |
| 5,500,000 | 30% | 3,850,000.00 | 1.17 | 3,300,754 |
| 5,500,000 | 30% | 3,850,000.00 | 1.26 | 3,056,254 |
| 5,500,000 | 30% | 3,850,000.00 | 1.36 | 2,829,865 |
| 5,500,000 | 30% | 3,850,000.00 | 1.47 | 2,620,245 |
| 4,000,000 | 30% | 2,800,000.00 | 1.59 | 1,764,475 |
| | | | | 20,986,409 |
Based on the currently known numbers, the NPV of the La Platosa project is just $21M. Add the net cash position (here defined as current assets + deferred income tax assets - total liabilities) of $17M, and the total value of Excellon based on Platosa is just $38M or $0.69 per share. This is less than the current share price of approximately $1.20. This means that the market seems to be very confident that either a) the company will effectively be able to extend the mine life at Platosa which would increase the project's NPV, or b) the silver price will go up, as for every dollar the silver price goes up over $21/oz, the NPV increases by $5.5M.
So based on the currently known facts, I'd be very reluctant to invest in Excellon Resources. But a lot can change in six years' time, and I'm confident the management team will come up with some value enhancing ideas.
Where will the growth come from?
Well, as said before, Excellon Resources should really get a game plan in place to provide the market with a long-term production plan. At this moment, the remaining mine life at Platosa is just 6.5 years, and a potential mine life extension will be fully dependent on further exploration success at either Platosa, Rincon or a newly generated exploration target thanks to the upcoming seismic survey on the company's own land package. The next image shows where drill holes have intersected anomalous sulphide zones (green zones), which means there could be quite a few drill targets to be tested.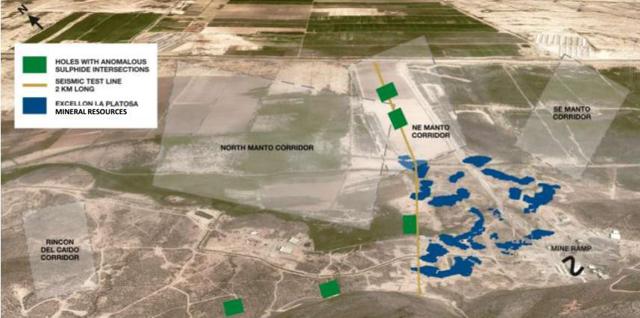 Source: company presentation
I'm glad the company realizes something needs to be done and is addressing the issue by taking the necessary steps to show the market it will be able to extend the mine life at Platosa.
Additionally, the company also owns the Miguel Auza property which actually had a producing mine (which was closed in 2008 when the silver price tumbled to less than $10/oz). This project is located in a very prospective region where a lot of historical mining activities have occurred. As there is (an often true) saying that 'the best place to look for a new mine is in the shadow of an old mine', I hope Excellon will also step up its exploration efforts at Miguel Auza, as this would allow the company to add another project to its pipeline which would reduce the 'one trick pony'-discount by the market, which discounts companies whose only source of revenue is provided by just one property and where there is no clear growth plan in place.
Investment thesis
Even though Excellon's Platosa mine is an extremely high-grade operation, shareholders should not be blind to future issues. The most important issue which Excellon will have to solve is the problem of the short mine life. As (based on the measured and indicated resources) the remaining mine life at Platosa is just 6.5 years, you cannot expect the market to fully value that, and a 'short mine life'-discount will be applied. That's just the theory, as in Excellon's case the market is actually paying a premium over the fair value of the project, as it seems to think Excellon will have no problems to find another high-grade CRD deposit.
And that's not unthinkable. As I explained earlier, CRD deposits usually appear in clusters of 0.5-2 million tonnes in size, and every half a million tonnes would increase the Platosa mine life by approximately 7 years.
At this point I'll stay on the sidelines until I get some more information from this year's 10,000 meter drill program which should reveal some more high-grade zones which have the potential to be mined economically. Until that happens, I'm quite reluctant to buy a company at a premium over its fair value based on just the hope to find a new mineralized system. That being said, a lot can happen in six years' time, and I hope the management team at Excellon will be able to increase the Platosa mine life or add another project to its pipeline.
Disclosure: The author has no positions in any stocks mentioned, and no plans to initiate any positions within the next 72 hours. The author wrote this article themselves, and it expresses their own opinions. The author is not receiving compensation for it (other than from Seeking Alpha). The author has no business relationship with any company whose stock is mentioned in this article.
Editor's Note: This article covers one or more stocks trading at less than $1 per share and/or with less than a $100 million market cap. Please be aware of the risks associated with these stocks.