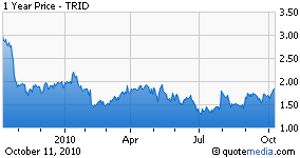 Do you ever wonder, while you are watching your LCD or Plasma television, who makes those set-top boxes which provides you the signal to be able to watch your favorite show? If so, I found that small-cap company which you may want to keep your eyes on (literally) moving forward. Trident Microsystems (TRID) is the "leading force in the digital home entertainment market, delivering innovative semiconductor solutions for digital televisions and set-top boxes - at the heart of today's digital home, with Samsung (OTC:SSNLF) as its number one customer at 23% of revenues and Phillips closely behind at 14% of revenues followed by many other high profile companies.



Trident has a history of bringing innovation to the digital entertainment market. Key developments include enhanced super resolution (ESR), motion estimation/motion compensation (MEMC) and conditional access, each of which has been contributing to Trident's success in delivering the highest level of picture quality and overall entertainment experience to consumers. Trident also has the industry's first 45nm fully integrated set-top box system-on-a-chip platform, which brings unrivaled performance to HD DVRs and set-top boxes.
Sylvia Summers, CEO of Trident Microsystems, said:
With more than 2,000 patents and top-three industry positions in both TV and set-top box, Trident has become a major force in the digital entertainment market. The new and stronger Trident leads the industry today with the most vivid and brilliant TV images, a strong feature set across a broad TV product range, and a future product roadmap that we believe positions us well to keep winning in the market.
Trident's extensive portfolio enables it to offer a broad range of solutions for the digital home entertainment market, a served market which Trident estimates will exceed $4 billion in 2011.
In February of 2010, Trident completed its acquisition of NXP Semiconductor's television and set-top box lines, creating a leader in the digital home entertainment market with industry-leading positions in both TV and Set-top Box.
Trident's Set-top Box and TV Technology Leadership
First with DTV one-chip based on 45nm process

Leading in PQ and 1st to market with CI+, H.264 HD video decoding, Connected TV, & DVB-C

Advanced Analog CRT and video decoders

Strong TV Patent Portfolio, including MEMC

Top 3 player in STB

First to market with 45nm SoC integrating broadcast receivers

Leading ARM-based STB SoCs for Pay-TV

Advanced low power

Advanced features for mainstream STB (3D, GPU, 3DTV & Internet TV content/UI)

Leader in PC TV

1 in 2 PC TVs use SoC, tuner can, and silicon tuner chipsets

Deep relationships with leading PC OEM's and supply chain partners

Trident estimates that for 2010 it currently has the number one market share position in semiconductor system solutions for digital and analog TV. The company estimates that it also has leading market share of greater than 50% in FRC (frame-rate-converter) co-processors that are used to create 240hz and higher frame-refresh rates in high-end digital TVs. These co-processors are essential in delivering 3D content in unsurpassed quality and Trident FRCs are at the heart of many 3D TVs in the market which we all know we continue to grow in demand.
Sylvia Summers, Trident's chief executive officer, said:
For the second consecutive quarter, Trident exceeded expectations for revenues and gross margins, driving a substantially lower operating loss in the first full quarter since the acquisition of NXP's Set-Top Box and TV product lines. Our integration activities are on track. Despite supply constraints that are limiting our ability to meet strong upside demand in TV, we remain committed to our goal of achieving non-GAAP operating breakeven by year-end. We expect in the second half of 2010 to begin production of our industry-leading Apollo 45nm Set-Top Box SOC, a product that we believe will be a platform for significant growth in 2011. In addition, we currently are demonstrating to customers our new fully integrated SOC for the value range of the DTV market and will know more about potential design wins in this segment over the next several months.
For the most recent quarter (Q2), Trident reported revenue of $171.6 million and a non-GAAP loss of 9 cents a share which the Street had expected $155 million in revenue and a loss of 15 cents a share. For Q3, the company sees revenue of $170 million to $180 million; the Street has been expecting $170 million. For the year, Pete Mangan, Executive Vice-President/CFO said that Trident MicroSystems looks to be both cash flow and EBITA positive for 2010, while even providing Q4 guidance – something Trident rarely does.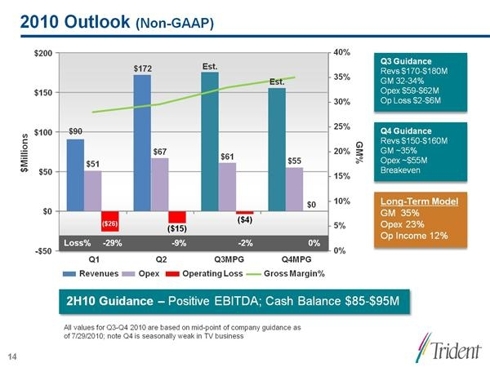 (Click to enlarge)
In looking at TRID from a technical perspective, it appears to be breaking out of its flat-line range. Both stochastic parameters and volume have increased recently. Also, the stock has just crossed above both its 50 and 200 day moving averages. TRID appears to be heading towards the $3-$4 area where it could face some further resistance. Until then, this stock looks as if it is on the right channel.
Disclosure: Author long TRID