By Carla Fried
At this late stage in a very long market, tilting toward companies with strong and sustainable profitability and solid balance sheets has its charms. As covered previously at YCharts, quality has lagged the general market badly through this bull run, but that also leaves them as a better relative value when ballast can carry the day.
YCharts provides a somewhat obscure metric that offers a one-stop snapshot of a company's quality level. The Piotroski F Score is a composite score of nine different quality factors including positive and growing return on equity, return on assets, low debt-to-equity, no share dilution and widening gross margins. (All nine factors spelled out here.)
Each stock is evaluated on the nine components, with one point handed out for every "pass" and no points for failing to scale the bar. Thus, the highest Piotroski score is a 9. Right now, no stock in the YCharts database is rated higher than 6. Apple (NASDAQ:AAPL), Microsoft (NASDAQ:MSFT), Exxon Mobil (NYSE:XOM), Johnson & Johnson (NYSE:JNJ) and IBM (NYSE:IBM) are the five largest positions in the one-year old iShares MSCI US Quality Factor ETF (BATS:QUAL).
Apple and Johnson & Johnson have the highest F-Scores of the five: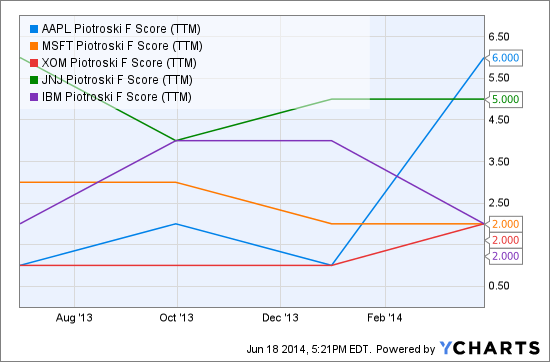 AAPL Piotroski F Score (TTM) data by YCharts
Apple gives you high absolute levels of return on equity and return on assets (though the trend has been moving down), while Johnson & Johnson shows a positive slope, though at much lower absolute levels: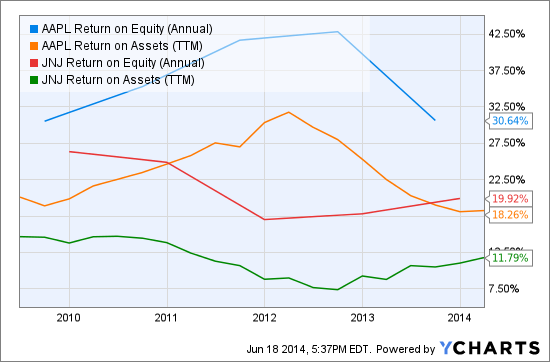 AAPL Return on Equity (Annual) data by YCharts
Both companies have about $17 billion in long-term debt, which is negligible relative to equity:
AAPL Debt to Equity Ratio (Quarterly) data by YCharts
Among large cap stocks,Facebook (NASDAQ:FB) also comes in with a 6 Piotroski score, but from a valuation standpoint, a trailing P/E ratio that is "down" to 87 is not suggesting quality on the cheap.
Better current values among 6 scorers are Walt Disney (NYSE:DIS), Union Pacific (NYSE:UNP), Caterpillar (NYSE:CAT) and Dow Chemical (DOW). Union Pacific is a top-five position in the Powershares S&P High Quality ETF (NYSEARCA:SPHQ). Key profitability metrics are moving up, and leverage down, just the way you want: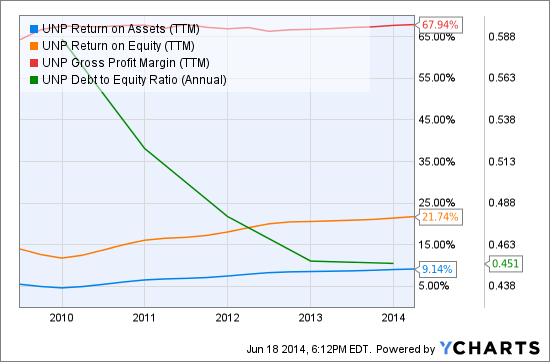 UNP Return on Assets (TTM) data by YCharts
A recent price run has pushed Union Pacific's trailing P/E ratio back up to a post-recession high.
A 20.6 trailing P/E isn't anything to celebrate, nor is it an absurdly overvalued outlier. Grabbing it on any market weakness could make for a quality addition. Earlier this year, YCharts dug into Union Pacific and asked whether it's better than Warren Buffett's railroad, BNSF?
Disclosure: None