Introduction
When you purchase a ticket on Spirit Airlies (NASDAQ:SAVE) all you are paying for is transportation. The average Spirit flight fare for 2013 was around $133 (Thomson Reuters), 65% lower than the average domestic fare of $380 (U.S. Department of Transportation). We believe this to be a very disruptive and prevailing value proposition. With Spirit, everything above transportation including checked-bags, additional carry-ons, seat selection, and even a bottle of water costs extra. Add one checked bag at $30 to your package and the total fare of $163 is still 57% cheaper than the national average.
This a la carte proposition is at the heart of the company's strategy and translates directly to the firm's revenues. The split between ticket and non-ticket revenue for Spirit is about 60-40 respectively. Spirit passengers familiar with the airline's model can significantly reduce their transportation expenses by traveling light and taking a middle seat. The growing demand for Spirit's services, measured by a 15% annualized growth in revenue passenger miles allows Spirit to maintain fuller flights and a high load factor of 86.6% (Thomson Reuters). If the company can effectively educate potential customers on how this model can benefit travelers, Spirit can expect plenty of future demand.
Outlook
The company has experienced a 5-year compound annual growth rate (CAGR) of 19% in sales and 16% in diluted EPS (Thomson Reuters). As mentioned on recent earnings calls, Spirit plans to grow their capacity by 30% in 2015 and expand their routes into areas of the country that present the greatest opportunity for profit.
The airline industry's resurgence in recent years was due in part to decreasing oil prices and jet fuel costs. Jet fuel is almost always the largest expense for an airline. Based on a report published this past April by The International Council on Clean Transportation, Spirit is currently positioned as the second most fuel-efficient carrier.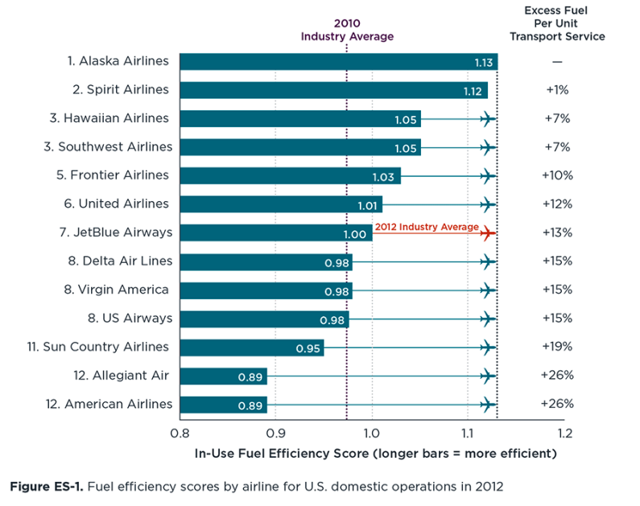 To date, Spirit has achieved one of the highest operating margins in the industry from a lower fuel expense, smaller team and low amortized maintenance expense. Spirit also does not spend as much on passenger services or sales and marketing compared with competitors.

Spirit continues to demonstrate the hallmarks of strong and sustainable growth, backed by a solid balance sheet. In the last four quarters, the airline has generated strong operating cash flow of $200 million from $294 million in net operating assets (68% cash/assets, 49% free cash flow/assets) and as of the most recent quarter ending in March of 2014, accumulated $544 million in cash and marketable securities (Thomson Reuters). In addition, Spirit currently does not have any debt obligations, and has relied on operating cash flow to finance growth expenditures since 2011.
While analysts' opinions following companies are sometimes viewed as a negative or contrary indicator, in our experience, accurate analysts typically lead the consensus and can be helpful in validating growth and recognizing deterioration. We define the most accurate analysts by ranking their prior forecasts relative to actual results on a rolling eight quarter basis. Looking forward to 2015, the average earnings estimate among the most accurate analysts following the company is $3.82 per share, up against the consensus estimate of $3.73.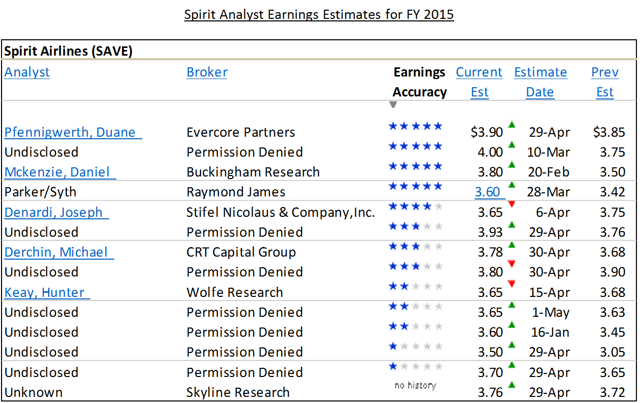 Thomson One Investment Research
BHWM holds a long position in Spirit in its Small Cap and All Cap portfolios. We consider it a high-quality, sustainable growth stock in a growing industry. By continuing to educate potential customers, invest in efficient assets, and maintain their low cost structure Spirit will continue to grow and provide investors with attractive returns.
Risks
Zero outstanding fuel derivative contracts as of Q1 2014
Competition from other low-cost players in the U.S. such as Frontier
Limited new ancillary revenue sources
Disclosure: The author is long SAVE. The author wrote this article themselves, and it expresses their own opinions. The author is not receiving compensation for it. The author has no business relationship with any company whose stock is mentioned in this article.