The last time I wrote about Travelers Companies, Inc. (NYSE:TRV) I stated, "I see a contraction in earnings from the trailing twelve months when compared to 2015 and that to me signals a sell." Since writing the article it proceeded to move higher to the tune of 12.28% versus the 5.01% gain the S&P 500 (NYSEARCA:SPY) posted and since May was my quarterly portfolio change-out, I decided to sell Travelers out of the portfolio and replace it with American Realty Capital Properties Inc (ARCP). At the time I believed ARCP had a lot more growth to it than Travelers, specifically because at the time the company was going to spin-off its multi-tenant shopping center portfolio.
ARCP is a real estate investment trust, owning and acquiring single-tenant, freestanding commercial real estate primarily subject to medium-term net leases with credit quality tenants. On May 8, 2014, the company reported first-quarter adjusted funds from operations of $0.26 per share, which missed the consensus of analysts' estimates by $0.03. In the past year the company's stock is down 17.89% excluding dividends (down 10.84% including dividends), and is losing to the S&P 500, which has gained 22.03% in the same time frame. Since initiating my position back on 20May14, I'm down 1.36% including reinvested dividends and dollar cost average. With all this in mind, I'd like to take a moment to evaluate the stock on a fundamental, financial and technical basis to see if more shares should be bought for my dividend portfolio.
Fundamentals
So from the most recent quarter, if we assume all things equal, it comes out to be about $1.04 for the year, giving a price to AFFO ratio of about 12.04 which is relatively inexpensive. However, I don't know that all things are equal with all the transactions that have taken place just in the past month alone. Back in August of 2013 the company announced increased 2014 AFFO guidance of $1.14 to $1.18 per share. It seems like the company has some heavy lifting to do to meet that goal. However, if that goal is met, then that means the company is currently trading at a 10.99 P/AFFO ratio, which is a better value than what my "all things equal" scenario plays out to be. For comparison purposes, Realty Income Corporation (NYSE:O) reported first quarter AFFO of $0.64 per share, and if all things were equal the company would be trading at a P/AFFO of 17.36, which is a bit more expensive than ARCP. I believe ARCP is trading at a discount because the breadth of all the movements the company has been making within the past month or two.
Financials
On a financial basis, the things I look for when initiating a position in my dividend portfolio are the dividend payouts, long term debt to equity, and debt to equity. ARCP boasts a dividend of 7.98% and because it is a real estate investment trust it must distribute 90% of its earnings to shareholders through dividends. The long-term and short-term debt ratios of the company have values of 1.13 and 1.13, respectively. Because I believe the market may get a bit choppy here and would like a safety play, I believe the 7.98% yield of this company is good enough for me to take shelter in for the time being. The company has been increasing its dividends for the past 4 years.
Technicals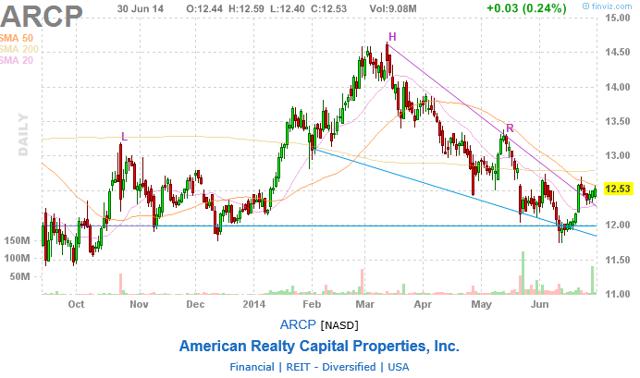 Here is a chart of ARCP indicating a head and shoulders pattern, a bearish pattern. I am by no means a chartist, but a head and shoulders, as described by Investopedia, has the following characteristics: 1) "price rises to a peak and subsequently declines. 2) Then the price rises above the former peak and again declines. 3) Finally, the price rises again, but not to the second peak, and declines again." The first and third troughs are considered shoulders, and the second peak forms the head.
From my experience of head and shoulders patterns, you figure out where the neckline is and measure half the distance to the top of the head to figure out how much further the stock is going to drop. The stock must break the neckline with "umph", though, meaning on large volume. But it looks like the stock did not do that, it got to the neckline and bounced right off of it. The stock however did trade four times the average volume on 27Jun14 and has been moving upwards every since then. I can't say that I've ever seen a head and shoulders pattern broken, but this looks to be one case and I'm destined to learn from it.
Recent News
ARCP was recently going to spin off its multi-tenant shopping center but ended up selling it to a Blackstone real estate fund for $1.975 billion. I'm not going to lie; the original reason why I was getting into ARCP was for the spinoff. This news literally happened the next day after purchasing my shares. I wasn't too happy with the stock from the get-go. The proceeds are going to be used to fund the recently announced Red Lobster sale-leaseback deal.
Then a week later the company announced the closing of a 120 million share secondary offering for $12 with the underwriters exercising another 18 million shares for a total of 138 million shares. The net proceeds of the sale were about $1.59 billion. The intention of the sale was to use the proceeds for the repayment of outstanding debt under its existing credit facility, and for other general corporate purposes. I'm not going to lie; this was a second dagger to the heart in one week!
Conclusion
To say the least I was a very bitter investor for the first couple of weeks of owning the stock, but since then I've become immune to it because I figured that there are definitely investors that have been in the name much longer than I have and I don't know how they're feeling. On the bright side I'm investing in a stock that is inexpensively valued relative to its peer and it pays an 8% dividend on a monthly basis to boot! I'm going to continue to hold the stock for now and may consider selling out if it in August because my initial investment thesis in the company doesn't hold anymore. But there are a few other stocks I want to rotate out of first.
Fundamentally, I believe the stock to be inexpensively valued on this year's AFFO expectations. Financially, the dividend is pretty sweet, but there is a bit more debt on the balance sheet than I'd like to see. On a technical basis it broke a head and shoulders pattern and had an upward movement on strong volume. Right now I believe the 8% yield is worth the headache of all the transactions. I'm going to buy some more of the stock right now because the ex-date for the dividend is looming on 03Jul14 with a pay date of 15Jul14 for a forward yield of 8.03%.
Because I swapped out Travelers for ARCP in my dividend portfolio, it is only fair that I provide an update from the swap-out date. From May 20, 2014, ARCP is down 2.87% while Travelers is up 1.39% and the S&P 500 is up 3.99%. My change-out is not performing so well as of now because I walked into the stock in Wiley Coyote fashion and got run over by it at the time.

Disclaimer: This article is meant to serve as a journal for myself as to the rationale of why I bought/sold this stock when I look back on it in the future. These are only my personal opinions and you should do your own homework. Only you are responsible for what you trade and happy investing!
Disclosure: The author is long ARCP, SPY. The author wrote this article themselves, and it expresses their own opinions. The author is not receiving compensation for it (other than from Seeking Alpha). The author has no business relationship with any company whose stock is mentioned in this article.