The success of the GoPro's (NASDAQ:GPRO) IPO is unquestionable. The company sold 17.8 million shares at $24 a piece, to value the company at roughly $2.95 billion. Subsequently, the company has provided tremendous early returns, with shares crossing the $40 mark on Monday. The buzz and sanguine atmosphere has contributed to adding over $3 billion in market capitalization within a few days. Long-term investors should be cautious in investing in this security, with serious optimism baked into the share price.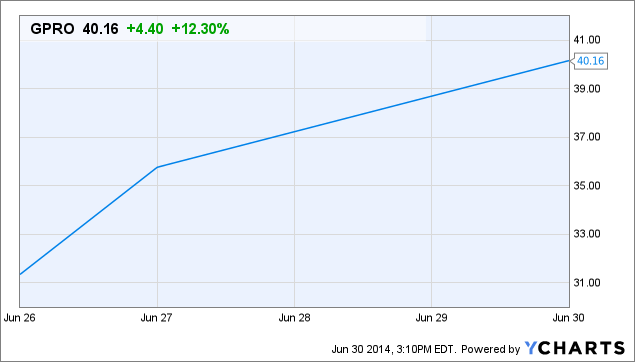 Tremendous Growth
GoPro initially debuted in 2009 and has prodigiously grown revenues since. In 2012, it had sales of $526 million resulting in $32 million in net income. Investors are salivating at the growth it has experienced, expanding sales 87% y/y to $985 million in 2013 and generating nearly double the net income with $61 million. These figures are compelling, but by diving in further, this price level is not warranted.
Causes For Worry
Slowing Sales Without New Product Introductions
In Q1 of 2014, revenue declined 7% y/y and net income fell 52% y/y. CEO Nick Woodman said it was due to poor inventory management. However, the first quarter of 2013 was buoyed by the launch of the Hero 3 Black edition and it is likely that sales were artificially boosted by the introduction. Without many new introductions, it will be difficult to maintain elevated levels of revenue growth.
Declining Margins
In 2011, GPRO enjoyed astounding gross margins of 52%. The niche product allowed them to command a premium price. However, with a deluge of competitors entering the market, such as Sony with its HD AS15, Panasonic with its Lumix TS5, and JVC's Adixxion GC-XA2, margins have compressed. In 2012 margins declined to 43% and in 2013 then dropped to 36.7%. The declining margins tells investors that contrary to some belief, their brand image is not strong enough to sustain higher margin levels. Management outlines its need to sustain a brand to keep margins up in the S1.
"Our success depends on our ability to maintain the value and reputation of our brand."

Source: GoPro S1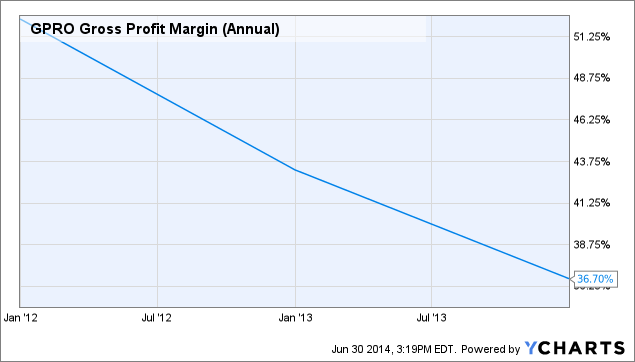 Overly Optimistic Growth Prospects Priced In
With a PE ratio of 85 and a price to sales ratio of over 5, investors are expecting the company to experience a period of sustained exceptional growth. According to a study by the NPD Group, last year GoPro had a 45% market share in the U.S. camcorder market, which is up from 11% in December of 2011. With the onslaught of competition, however, and the prospect of saturating the market for this niche product, sustaining such high growth levels is unachievable. Further, profitability will be a question, as more competitors enter the market and commoditize this product. Expect a continuation of margin declines in coming quarters.
Management discussed the possibility of a commoditization of the product and losing market share in the S1.
"We operate in a highly competitive market and the size and resources of some of our competitors may allow them to compete more effectively than we can, which could result in a loss of our market share and a decrease in our revenue and profitability."

Source: GoPro S1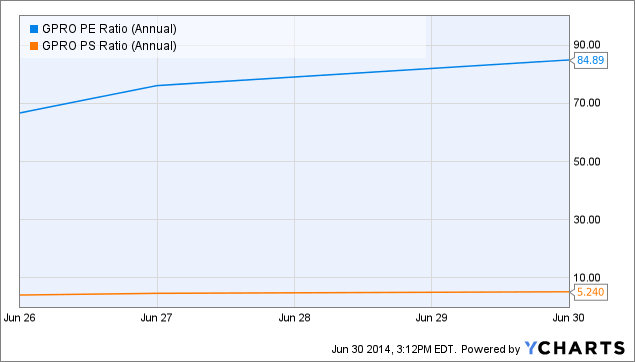 As the company matures and growth tapers, it can be expected to trade at multiples with competitors such as Nikon (OTC:NINOF). Nikon currently trades at a PE ratio of 14 and a price to sales of .59. For GPRO to reach Nikon in terms of its PE ratio, sales would have to increase 6x at these margins. If margins normalize at around 30% which is still optimistic, it would have to increase sales by even more. On a price to sales basis, GoPro would have to increase sales 10x which would be nearly $10 billion in sales. Attaining this level with a niche product is not likely.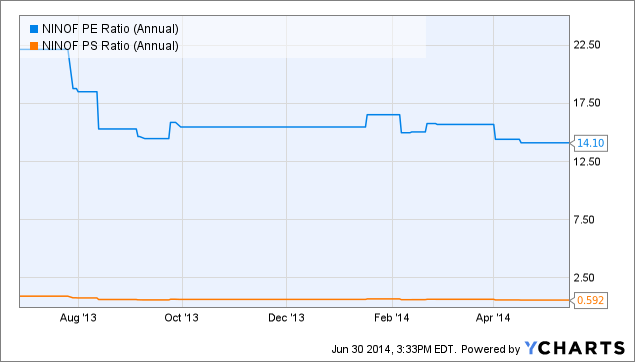 Content Driving Revenue Expansion?
Many pundits and investors have realized that growth from just product sales will not justify this price level. In order to do so, they have pointed to revenue generation through content. Although the market for content is growing with Amazon and Netflix battling over exclusive content, expecting exceptional attribution through this avenue is not reasonable.
GoPro has reached agreements with Virgin America and Microsoft (NASDAQ:MSFT) for content. However, the Virgin America deal does not provide any revenue for GPRO. The Microsoft deal, is unlikely to bring in much revenue either. The company stated that in the S1 "We do not expect the revenue earned from these GoPro Channels to be material to us in 2014." The revenue will come in the form of sharing advertising revenue on the channel. However, Microsoft does not want to hurt the user experience and will likely not add many ads. Source: GoPro S1
Further, many investors cite its Youtube Channel as another revenue generator. In the S1, management states that there are 6000 daily uploads with over 1 billion page views in Q1 of 2014. However, one caveat that some are misunderstanding is that these figures are all "videos with GoPro in the title, filename, tags, or description." The GoPro channel which is the only way it could monetize these uploads has in total 500 million views since 2009 which would result in $5 million in revenue assuming a $.01 per page view payment. This assumption seems low, but with some videos not being eligible for monetization, I believe it is reasonable. Investors should look more closely and be more realistic about content revenue generation, which only would be $1 million a year if they monetized the videos.
Looming Lock-Up Expiration
As many Facebook (NASDAQ:FB) and Twitter (NYSE:TWTR) investors have seen, the share lock-up expiration date can have a material effect on the share price. An increased supply of shares depresses the share price, it goes back to simple economics. The date is 180 days from the IPO which puts it in December. As the date comes nearer, the shares will trade downwards as the market begins to discount the stock for the increased shares. With 123 million shares outstanding, and only 17.8 million shares being offered in the IPO, there will be a huge flood of shares. Further, the company has awarded over 30 million shares with an average price of $3.24 that will dilute shareholders. Thus, to sustain the mature trading range on par with Nikon that I discussed earlier, the company will need to grow revenues more than the 10x to offset the dilution.
Final Remarks
Investors are enamored with the growth prospects of GoPro. On the surface, it provides a compelling opportunity with 87% y/y growth and other avenues for revenue growth such as with content. However, once you delve deeper into the company's prospects, the picture is not so bright. Sustaining this elevated price level with declining margins, an onslaught of competitors, a bleak future for content revenue, and a dilution with a significant number of options maturing, investors should be wary of an investment in GoPro.
Disclosure: The author has no positions in any stocks mentioned, and no plans to initiate any positions within the next 72 hours. The author wrote this article themselves, and it expresses their own opinions. The author is not receiving compensation for it (other than from Seeking Alpha). The author has no business relationship with any company whose stock is mentioned in this article.
Editor's Note: This article discusses one or more securities that do not trade on a major U.S. exchange. Please be aware of the risks associated with these stocks.