By Jeff Pietsch
The VXX hit an all time low Monday, continuing its apparent gradual descent to zero. Since its inception in Feb. 2009, this exchange traded note of VIX futures has been a short seller's dream. In my last post on VXX I suggested the only strategy to use with this dog was to short any rallies, a tactical approach that has proven to be a winner many times over.
Click to enlarge: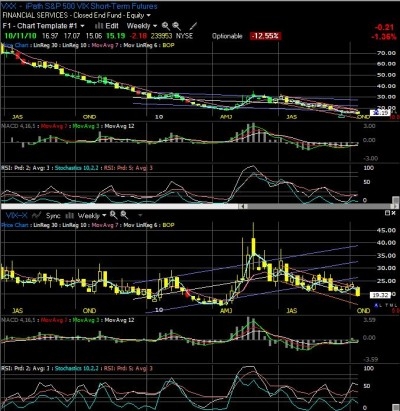 The VIX on the other hand, while showing the first penetration of 20 since May is looking technically poised to head back to levels around 25, which has provided a solid LR30 mean value for most of 2009 and which has proven fairly resilient for the past 3 months.
With gold, silver and the Euro on wild bull runs and looking technically overextended, TLT has been been the only hedge unable to hold higher ground, even in the face of POMO [permanent open market operations] boosting.
Currently looming is earnings season, which over the recent past quarters has produced a positive surge. With price levels of the major indices now at the top of the daily bar sine curve cycle, things might be different this time around.