Tremor Video's (NYSE:TRMR) stock has recently risen a great deal. It is up over 20% since June 3rd. Even with this sizable increase, I believe that it still can move higher. The stock is still down about 18% for the year, to put this recent move into context. Tremor Video is a great company and it will have a successful year as it rolls out its programmatic ad buying platform to go along with its proprietary VideoHub technology that allows advertisers to better understand its engagement metrics with video on the internet.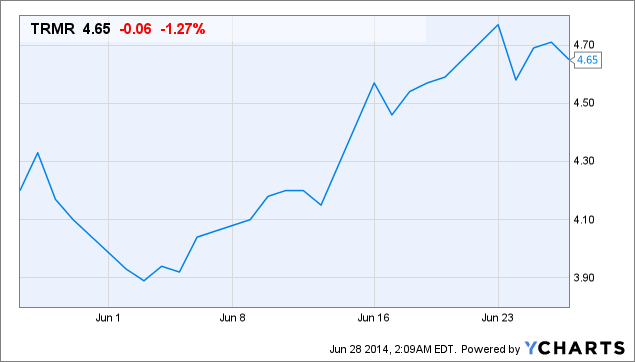 Tremor is an advertising technology company that integrates viewer engagement metrics from all screens seamlessly. This means that advertisers give Tremor the payment and Tremor optimizes which screen the advertising dollars will go to, based on which screen its software deems will be the most effective. Tremor's patented VideoHub technology sets itself apart from its competitors because it allows advertisers to run campaigns that only pay Tremor when the ad is delivered and consumers' opinion of the brand changes. This is called performance-based pricing. Performance buying has high margins for Tremor. Tremor also has premium customers such as Six Flags (NYSE:SIX) and Media Storm.
VideoHub tracks consumers' engagement by measuring 16 unique metrics. They include metrics such as brand health and viewable completions. VideoHub provides advertisers with an EQ score which is a ranking from 1-100 that is based on how long the ad was played, whether it was in view on the screen, and the size of the video player. This is definitely valuable information for advertisers to have. The company services 500 websites and has 200 exclusive partners.
On May 13th, at a Wedbush technology conference, Tremor's CEO stated that he believed that consolidation in the ad tech industry would be likely in the future. Since Google (NASDAQ:GOOG) (NASDAQ:GOOGL) has recently started to focus more closely on this industry, I believe they may consider possibly taking over Tremor Video. Google has recently purchased the ad tech company mDialog, so this certainly wouldn't be out of the question.
Tremor has $87 million of cash on its balance sheet, so if you back out the cash from the company's $234 million market capitalization, it is being valued at $147 million. This is extremely cheap considering that the company currently has 2014 revenue guidance of $158 million to $163 million. Even though the company is not yet profitable, it still had 41% revenue growth and stabilizing margins in its most recent quarter. The market is currently undervaluing advertising technology companies and overestimating the threat of Google to their businesses. While Google did just launch its own programmatic business called Google Partner Select, this doesn't mean that Google will overtake the entire market. The CEO has stated on numerous occasions that there is room for a few players in the space. The company's VideoHub technology as well as its relationships with high-quality content companies makes me believe that it can fend off the possible Google threat. This is the reason why it doesn't make sense for me to compare the valuation of Tremor to other ad tech companies such as YuMe (NYSE:YUME).
I decided to run a screen of the stocks of all the companies in the internet and software services industry of which Tremor is a part of. One of my screen parameters was a minimum of a $50 million cap to rule out small companies that may have questionable financial reporting standards. A second parameter was a gross margin percentage of above 30%. Tremor's gross margin was 41% last year. This high gross margin makes Tremor more valuable. The final screen I used was a negative profit margin since Tremor is not yet profitable. This gave me 9 stocks, including Tremor. The stocks are shown in this screen shot.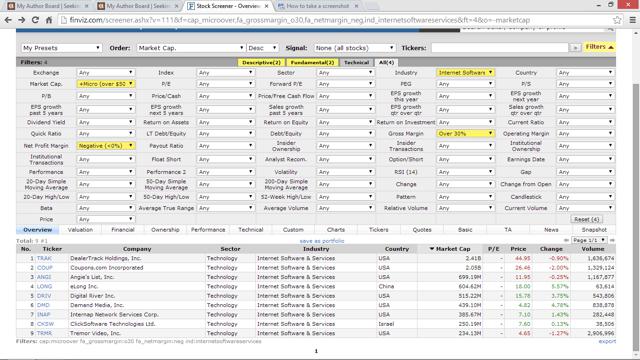 I then found an average revenue multiple for these companies, obviously excluding Tremor, and I compared it to Tremor's revenue multiple. The average revenue multiple for the companies in the screen was 3.28 compared the Tremor's 1.77. This signals that Tremor is significantly undervalued compared to its peers.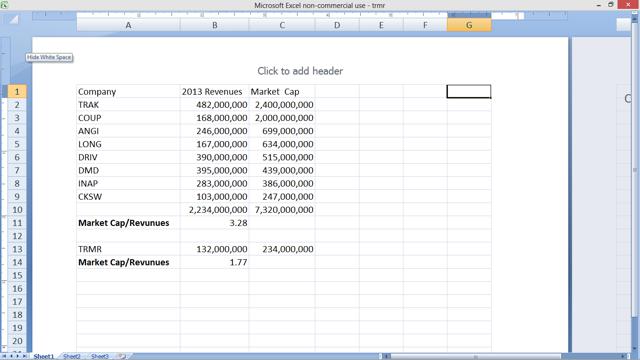 Regardless of whether or not Tremor is acquired, I believe it is in a great position because of the trend of increasing ad spending on internet video. Advertiser Perceptions did a poll of 297 marketing executives and it found that 65% of participants will spend more on digital video ads in 2014 than they did in 2014. Online advertising revenue is expected to grow to be $5 billion in 2016 versus the $2.8 billion it was in 2013. This is a 21.32% compound annual growth rate. Tremor only services high-quality videos produced by companies such as A&E.
The company has also entered into servicing the Real Time Bidding for ads which expands is revenue potential. Real time bidding is misunderstood. It is not only about low cost arbitrage of clicks. Real time bidding can be optimized upwards to help brand image. In an article on ad exchanger by the CEO of TripleLift, Eric Berry, this point is elaborated upon. Eric states "By optimizing up, you try to engage with the target audience in the most effective way possible. This means trying to identify the sites that deliver the best impact for your brand, trying to understand how much it costs to buy media on those sites and then determining where on the site's price curve you should bid based on the likelihood of high-quality branding impact." I think Tremor Video is a buy based on this - it will have increased revenues coming from its rollout of new products.
The programmatic and all screen advertisement servicing have both only been released this year, which led to the company raising its 2014 full year revenue guidance last quarter. Tremor Video's recent entering into the programmatic market is different from other companies' offerings because it combines programmatic with premium content. This video on Tremor's website further explains how Tremor's entering into programmatics will help its customers. Tremor is clearly positioned well for future growth in the huge trend that is digital video advertising spending.
There are many risks to this long-term investment. I consider the digital advertising trend to not be a big risk because of the growth in consumers watching videos on internet TVs, tablets and smartphones. What is a big risk is Google trying to outbid Tremor for its premium content. Another obvious risk is that Google decides to buy a competitor to Tremor such as YuMe. If this happens then Tremor would probably move higher in the near term, but it would certainly hurt the company's competitive advantage in the long term. As far a positive event that I did not mention is the possibility of AOL (NYSE:AOL) making a purchase of Tremor. The company has made many acquisitions of late. It bought Adap.tv for $405 million last year, Gravity for $90 million this January, and Convertro for $101 million in May. These companies are all in the same industry as Tremor so it is a possibility that Tremor is acquired by AOL. There are always increased risks, such as financing problems, with buying the stock of a company that is not profitable, but I believe that if you wait until after it becomes profitable to buy the stock much of the easy profits in the stock will have already have been made.
Disclosure: The author is long TRMR, AOL. The author wrote this article themselves, and it expresses their own opinions. The author is not receiving compensation for it (other than from Seeking Alpha). The author has no business relationship with any company whose stock is mentioned in this article.