Inside information about companies is considered highly prized in the investment world, so much so that lawmakers deem it necessary to regulate its flow (to the point of everybody is informed or nobody is informed) with violations subject to criminal sanction, and to the point where some have still been willing to risk, and in some cases, experience, imprisonment in order to work with "the good stuff."
The good news is that we do have a lawful category of insider information, data regarding stock purchases and sales by corporate insiders. It's not the same as that which will leads to prison ("Psst . . . we're going to be acquired"). But there is reason to believe that we can learn from watching when people connected with a company put their own money back into its shares, even though they are under no obligation to do so. Presumably, they know more about the business than we do, and presumably, they think well of its prospects.
The presumption is basically correct. Use of data regarding insider-transactions can help us, somewhat. But if done simplistically, the benefit we'll get is not much more than can be obtained with many other screening strategies. The Appendix below details the "Follow The Insiders" model I created for StockScreen123.com and data from a variety of backtests. If you check it out, you'll see that in order to make successful use of insider data, we probably need to combine it with other fundamental factors and we also should limit consideration to smaller stocks, probably those most investors would label micro-caps. I believe there are three reasons for this:
Insiders may know a lot about their companies, but we cannot presume they are expert in financial markets, so they may not accurately assess if, how or when the factors they observe in their firms will translate to strong share price performance. Hence we should supplement what we learn from them with what we know about stock analysis in general. (It's really a two-way street. We can learn things from them, and they can learn things from us.)

Having worked in huge and tiny companies, I have come to believe the insider experiences are vastly different. At the smallest firm at which I worked, I knew everyone, including the CEO, the COO, and CFO and in some cases, even met their families. At the largest company at which I worked, I knew who the CEO and COO were but had no day-to-day contact, and I had no idea what the name of the CFO was nor did I have a clue as what the revenues or profits were at the division in which I worked. The other divisions were complete mysteries to me. That's pretty amazing considering I analyze stocks for a living! It's not that I couldn't have easily obtained such information. It's that when a company is so vast, you often don't have the time or inclination to dig much beyond your own area of responsibility because you don't really "feel" that it's part of what you do. I believe the smaller the company, the more likely insiders are to have knowledge that's credible and relevant to the needs of outside investors.

Ideally, we'd love lots of situations where insiders are reaching into their wallets and savings accounts to buy shares of their companies. Indeed, that happens sometimes. Realistically, though, much of the buying we see consists of stock grants or exercises of options at zero or below-market cost. Such events get companies into our models when the insiders hang onto these shares for a while, instead of cashing out right away. Such decisions may be more telling when they occur in the context of micro-cap companies, as opposed to blue chips.
So when I work with insider data, I'm going to stay small and stay well connected to fundamentals. Table 1 shows the stocks that currently pass my "Follow The Insiders" model (as modified here to include only stocks with market capitalizations below $500 million).
images
Table 1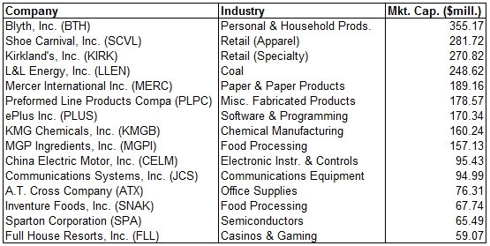 Let's look more closely at a few of these selections.
Lesser-Known Retail Plays
I don't recall who first wrote about buying companies that are market leaders, or best in breed, but often that strikes me as one of those assertions for which one might say "it sounds good if you say it fast enough" (expression borrowed from Brooklyn Law School's Richard Farrell, a former professor of mine).
I'm not looking to engage in trade-press hero worship. I'm looking for stock-market money-making opportunities and in this area, lesser-breed companies whose stocks may be cheaper, whose fortunes may be improving under the market radar, etc. might actually make for better opportunities. When it comes to retail, I'd be happy to buy as much stock of Wal Mart (NYSE:WMT) as I could if this were 1980. But it's not. This is late-2010 and retail prowess aside, as an investment opportunity, it's been played out for over a decade.
Here are some lesser-breed (you might even say "brand X") alternatives that have merited at least some measure of insider loyalty.
Blyth (NYSE:BTH):

This self-described "home expressions" company sells candles and other home decorative products. Traditionally, it depended on direct sales reps doing at-home demonstrations for small groups (party-based selling, so to speak). It also sells via the web and catalog, and has broadened its offerings to include other kinds of decorative and wellness-oriented (e.g. personal care) products. Revenue-wise, the firm has been on a slow boat to nowhere since the 2000s. Mall-based Yankee Candle and other decorative boutiques may have been more hip. In recent years, the economy may have made these products more of a luxury than many consumers could accept. But in any case, cash flows far exceed what's needed for reinvestment and the firm, which usually has a modest regular dividend, has been making late-year special dividends that have wound up giving shareholders yields above 3%. Note, too, that in early September, management raised full-year EPS guidance from $2.90-$3.20 to $3.05-$3.35. If this is a sign of any kind of good revenue news, the insiders who've been holding onto the early-summer stock grants may be onto something.

Shoe Carnival (NASDAQ:SCVL):

I can't recall exactly when footwear migrated from "black, brown or go barefoot" to high fashion, but just because superstar brands get all the publicity now, don't assume every consumer wants to be on board with that sort of thing. Shoe Carnival operates big-box stores (by shoe retailing standards) that stock a wide variety of footwear at reasonable prices featuring huge variety, lots of in-store promotion and what the company thinks of as a high-energy, fun, shopping environment. Don't look for celebrities here, but you're likely to see enough mainstream consumers to allow for a sales growth rate that's usually around 5%-10% (we saw some shrinkage when the economy was in the tank, but top-line growth is back in double digits). With hefty operating leverage, EPS can bounce around a lot but right now, the company is achieving what a stock watcher would call an upside breakout. As with BTH, cash flows are huge relative to reinvestment needs leading SCVL investors to wonder what's next. We'll see.

Kirkland's (NASDAQ:KIRK):

This seller of traditional-aesthetic home-decorative products has, sort of, been reinventing itself. It's been migrating from being mall based to larger off-mall locations, and it's been beefing up its merchandise selections and operations. Staying the same is the company's value-pricing (it claims "We were value before value was hot") and the treasure hunt nature of the shopping experience. Meanwhile, debt is zero, cash flow generation is strong and the trailing 12 month P/E is in single digits. Putting everything together and recognizing that KIRK does not have a glorious stock-market history, there still seems to be a special-situation feel here.
Lesser-Known Industrial Plays
A lot of what I said about best-of-breed retail applies here as well although in this area, with investors not typically interacting with these companies in day-to-day life, it's entirely possible that some may be best of breed, or close, without us even realizing it. So with these outfits, here, let's just say "lesser known" and leave it at that.
Mercer International (NASDAQ:MERC):

If the manufacture of pulp, a key raw material for paper, isn't the single dullest business on the planet (at least in the eyes of the average investor), it may at least be in close contention for that honor. But with a model like this, we need to consider the vantage point of insiders, for whom pulp may be hot. Cyclicality is our starting point so if the economy is really going to continue to recover along with MERC's sales and bottom line, the stock, with a PE of 2.96 when measured against the current-year EPS estimate and 4.96 when calculated based on next year's estimate, could, indeed, be very attractive. Meanwhile, the firm emphasizes fine papers and tissue products; the latter could have better-than-GDP prospects given the potential for increasing use as developing-world living standards rise. Finally, this company's manufacturing process winds up generating a lot of surplus power, which the company sells. As a "green play," I'm not going to get giddy, but with valuations so low, it's just one more thing to smile about.

KMG Chemicals (KMGB):

Speaking of dull, let's turn to specialty chemicals. Here again, we have a general cyclical overlay to our investment case. But I'm actually intrigued by some specifics regarding this company, mainly the way it operates in a way that's analogous to what value investors do in the stock market. It likes to acquire chemical product lines in businesses that are too small and mature to warrant interest on the part of industry leaders (who need to make big splashes with their R&D) and give first-class attention to operations and marketing, this being a big improvement on the low-priority stature these businesses likely had with their former corporate parents. 2008 was a rotten year given the way the world seemed to go over a cliff, but EPS growth has been pretty snazzy (above 30%) most other times, and business momentum looks pretty solid right now. And by the way, the P/E, measured on the basis of estimated current-year EPS, is just 10.5.
Preformed Line Products (NASDAQ:PLPC): Consider these buzz words: networks, cable TV, data communication, telecomm, energy. This sounds like we may be looking at a pretty chic company. We're not. It's PLPC's customers that get the glory while PLPC itself makes protective closures, cabinets, splicers etc. used in such networks. Think of PLPC as being like a vendor who sells refreshments at a Lady Gaga concert. Nobody knows his name, but he's still important, and he'll do well if there's a packed house, but not so good if Lady Gaga were playing to a lot of empty seats. Hence we do need to wonder if PLPC's customers are enjoying good business opportunities. As things stand now, it appears that the answer has, after a bit of economic wobbling, returned to being "yes," enough so for PLPC to be enjoying trailing 12 month sales and EPS growth rates of 14.7% and 55.4% respectively.

(Before the recession, sales growth rates in the high teens and EPS growth rates in the twenties were often seen.) Debt is modest and cash flows are healthy. The dividend is decent but so far, it looks like priority one for surplus cash has been acquisitions. That could be scary to M&A cynics, but returns on equity, here have been rising (they're now around 15%) suggesting the company has been acquiring well.
APPENDIX
The StockScreen123 "Follow The Insiders" model starts with the following screen:
Basic liquidity rules: (i) first alternative: price is at least 5 and market capitalization is at least $50 million, or (ii) second alternative: price is at least 2 and market capitalization is at least $5 million and daily volume averaged at least 15,000 shares over the past twenty days

Eliminate companies classified in the Miscellaneous Financial Services Industry, most of which are investment companies and funds and not the kind of stocks sought by most users

There were at least three insider buy transactions in the past six months

Net insider transactions (buy transactions minus sell transactions) is at least three

Insider percent share ownership is at least 25% and no more than 75%

There are at least 2 million shares in the float

The float comprises at least 25% of the outstanding shares

Market Capitalization is no more than $500 million (this being an add-on to the original screen)
Next, I narrow down to a readily manageable 15-stock portfolio or idea-list (depending on whether one would want to trade them all or pick and choose) by using the StockScreen123.com QVG (Quality-Value-Growth) ranking system based, which, essentially, is based on the following factors:
Quality (return on capital, margin, turnover and financial strength)

Value (price-earnings, price-sales, price-cash flow, and price-book)

Growth (long- and short-term sales and EPS growth and acceleration)
Figure 1 steps back a bit and shows the results of a 3/31/01 – 10/11/10 backtest (assuming the model is rerun and the list refreshed every four weeks) of a stripped down version of the strategy, one which eliminates the QVG sort and the market cap screening rule. It looks only to basic liquidity, insider and float data.
Figure 1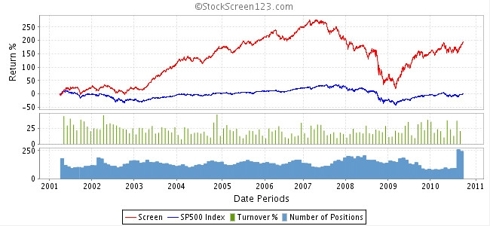 That's OK. But as many users of StockScreen123 and Portfolio123 know, and as we'll see below, we can do a lot better.
Figure 2 shows the performance of the basic StockScreen123 model, where I add in the fundamental ranking system (but continue to omit the market cap filter).
Figure 2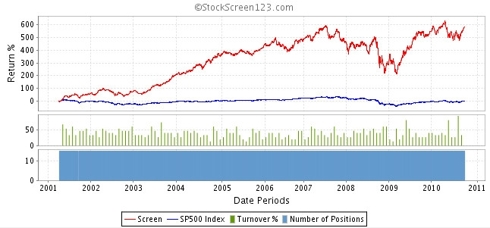 That's a lot better. It did badly in 2007-08, but so too did pretty much everything else except a "stuff it in the mattress" strategy. The last year was likewise challenging for this, and many other fundamental models. But the long-term record justifies some respect for this particular approach, assuming we don't want to completely give up on fundamentals.
Figure 3 is interesting. Here, I add to the basic model a rule requiring market capitalization to be at least $5 billion, thus limiting consideration to big caps.
Figure 3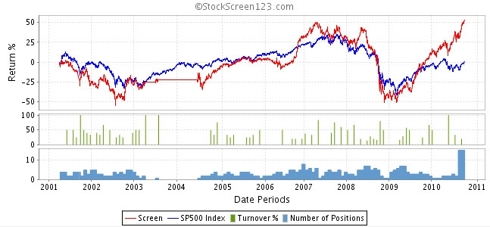 Insiders at large-cap companies look to have been on the money for much of the time since lat-2009. I'm not sure why that's been so and I'll probably look further into that later on. But for the most part, following the actions of large-cap insiders would have been a waste of time. And I'm not even sure how meaningful the data is since in most periods (even much of the pat year), I never even got to the QVG ranks because only one or two, and often zero, companies passed the screen. Perhaps insiders at big companies don't feel all that connected to or passionate about the firms at which they work.
Now look at Figure 4. This shows the results of a performance test of the model I'm using today, the one that includes the market cap less than $500 million filter.
Figure 4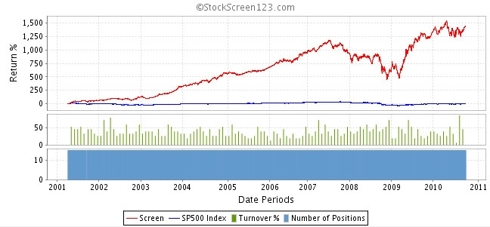 Now we're cooking. Again, 2007-08 was a mess. We understand that and if we're going to be doing any sort of fundamental investing, we'll have move on.
The latest year has been cold, as seen in Figure 5.
Figure 5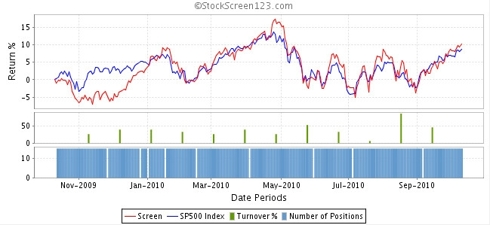 Here's what's interesting. These are micro-caps. They're supposed to be riskier than blue chips. Yet here, we see that over the course of what for this model has been a dud period, performance actually matched the S&P 500. If I can think in terms of super-sized performance when a model is clicking, and S&P 500-like performance in the off periods, that would be fine.
Disclosure: No positions in stocks mentioned