Two Harbors Investment Corp. (NYSE:TWO) is a mortgage REIT. Its objective is to provide attractive risk-adjusted returns to its stockholders over the long term, primarily through dividends and secondarily through capital appreciation. It invests in Agency RMBS, Non-Agency RMBS, prime nonconforming residential mortgage loans, credits sensitive mortgage loans, and mortgage servicing rights. Other financial assets comprise about 5%-10% of its portfolio. It is externally managed and advised by PRCM Advisers LLC, a wholly owned subsidiary of Pine River Capital Management LP. It currently pays a 9.92% dividend.
TWO's capital allocation was 58% to rates and 42% to credit as of March 31, 2014. Rates include Agency RMBS, Agency derivatives, and mortgage servicing rights (MSRs). MSRs as of March 31, 2014 had a capital allocation of 13%. Credit includes non-Agency RMBS, prime Jumbo residential mortgage loans, net economic interest in securitization trusts, and CSL (credit sensitive loans). TWO has not continued to buy residential real properties as it did in 2012 and 2013. These no longer are part of its portfolio after the Silver Bay Realty Trust Corp. (NYSE:SBY) IPO. During Q1 2014 TWO sold virtually all of its CSL portfolio. Hence things are changing at TWO; and generally the company seems to be weathering the changes well.
The hedging has also been a particular interest of TWO lately. In Q1 2014 TWO added cheap out of the money swaptions to its net notional swaption position. These increased to $9.5B as of March 31, 2014 compared to $5.1B as of December 31, 2013. TWO also has $14.625B in notional amount of swaps maturities of varying years. To put this in perspective TWO's investment portfolio was $13.6B as of March 31, 2014. The above hedges are now structured to support book value in both rising and falling interest rate scenarios. The chart below shows the expected effects of interest rate changes.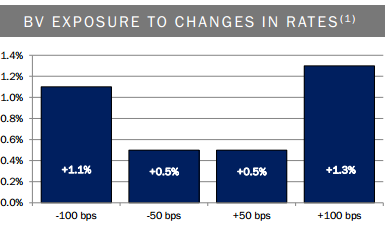 This hedging strategy should make TWO one of the safest mortgage REIT investments available. Further the MSRs have negative duration, hence TWO gets some free duration hedging through investing in MSRs. This effectively saves TWO money on hedges; and it makes the MSRs incrementally more valuable to TWO.
TWO still has a lot of fixed rate Agency RMBS. The table below shows this portfolio.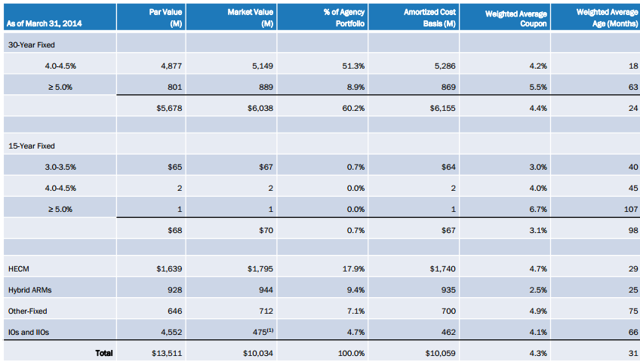 As investors can see, this part of TWO's portfolio amounts to about $10B in market value. The 30 year fixed rate Agency RMBS amount to almost $5.3B of this total. Interest rates fell in Q2 2014. The yield of the 10 year US Treasury Note fell from 2.72% on March 31, 2014 to 2.53% on June 30, 2014 (-19 bps). This virtually ensured that fixed rate Agency RMBS would go up in value. The following chart of the 30 year FNMA 4.5% coupon RMBS shows that it gained a bit less than 2% for Q2 2014.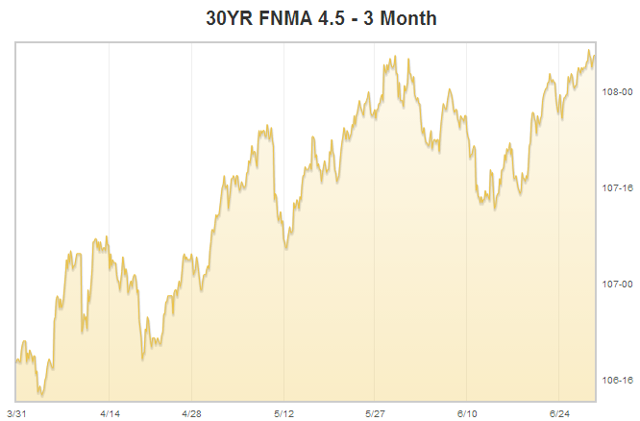 In other words, TWO's Agency RMBS gained value in Q2 2014. However, I am unsure this will gain TWO much book value given the large amount of hedging (see the interest rate hedging chart farther above in this article). Also the Agency RMBS net interest spread of 2.4% realized in Q1 2014 will likely be slightly less in Q2 2014 due to the fall in interest rates. Still TWO should be able to cover its dividend.
TWO should do well with its non-Agency portfolio. The following tables describe the non-agency part of TWO's portfolio.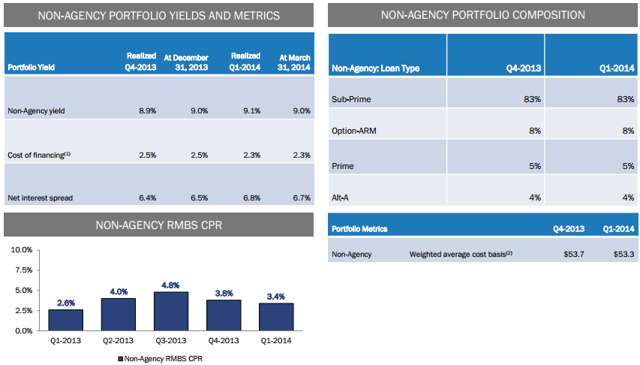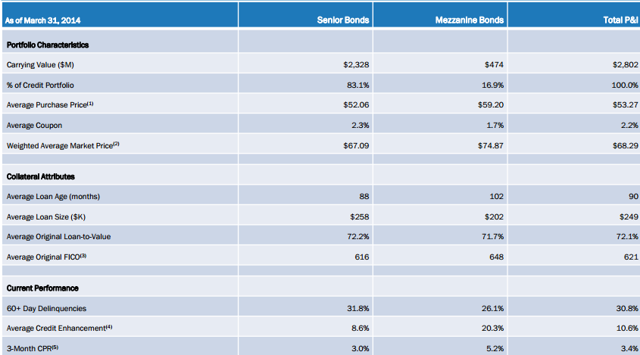 Even after looking at the data from March 31, 2014, it is a bit unclear exactly how much profit there will be in the non-Agency portfolio. However, it will probably be roughly comparable to the profits from Q1 2014. The latest CoreLogic Report from June 3, 2014 noted a 10.5% year over year increase in home prices in April 2014. This should see TWO log good interest income and book value gains from the non-Agency part of its business. Further the CoreLogic HPI Forecast indicates national home prices are expected to rise by a further +6.3% from April 2014 to April 2015. This forecast is positive for TWO's profits going forward.
In Q1 2014 TWO had a total economic return of 3.9% including the increase in book value (+$0.15 per common share) and the $0.26 per common share dividend. This left TWO with a book value of $10.71 per diluted common share as of March 31, 2014. TWO delivered $152.6 million in Comprehensive Income (or +$0.42 per diluted common share). It had Core Earnings of $88.2 million (or +$0.24 per diluted common share). It generated an aggregate portfolio yield of 4.6% for Q1 2014.
Roughly comparable results should be expected from Q2 2014. The 10 year US Treasury Note yield fell -19 bps in Q2 2014 compared to -31 bps in Q1 2014. Housing prices were up in Q2 as in Q1 2014. This should have added to the market value of TWO's non-Agency portfolio. Expecting a similar result from Q2 2014 as TWO turned in for Q1 2014 seems reasonable. Another approximate 3.9% total economic return would be another great result. It would raise TWO's book value to approximately $10.85 per common share; and it would allow TWO to pay its approximate 9.92% annual dividend. With the expectation of future health in the US housing market (+6.3% year over year home price growth from April 2014 to April 2015), TWO is a BUY, especially since its current stock price ($10.48 per common share as of the close June 30, 2014) is a significant discount to its likely roughly $10.86 book value as of June 30, 2014. Further TWO's hedging is expected to guard against major interest rate moves. This makes it more safe than most mortgage REITs.
The two year chart of TWO provides some technical direction for this trade.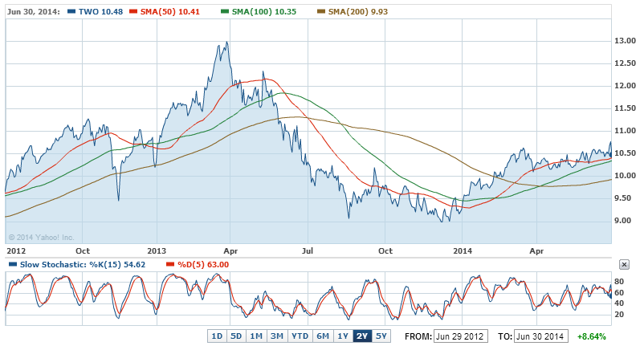 The slow stochastic sub chart shows that TWO is neither overbought nor oversold. The main chart shows that TWO is in a weak uptrend. The fundamentals imply that this uptrend should continue for the near future at least. The hedging adds to this implication. TWO is a buy. It $0.26 per common share dividend has already been declared for Q2 2014. This is payable on July 22, 2014 to shareholders of record on July 2, 2014. CAPS gives TWO five stars (a strong buy).
NOTE: Some of the fundamental fiscal data above is from Yahoo Finance.
Good Luck Trading.
Disclosure: The author has no positions in any stocks mentioned, but may initiate a long position in TWO over the next 72 hours. The author wrote this article themselves, and it expresses their own opinions. The author is not receiving compensation for it (other than from Seeking Alpha). The author has no business relationship with any company whose stock is mentioned in this article.