Sometimes bad things just happen. Last month PG&E (NYSE:PCG) got hit with a black swan when one of its natural gas pipelines exploded on the San Francisco peninsula and leveled a halfway decent neighborhood.
This accident will not sink the utility. PG&E has over $1B worth of insurance for catastrophes. The neighborhood damage claims are likely to come in far below that sum. The utility capitalized its initial claims fund with $100mm, but the company held over $800mm in cash and equivalents on June 30. Moody's (NYSE:MCO) hasn't downgraded the utility's credit rating, so it can continue to borrow at present rates with no material changes to its capital spending outlook other than replacing the destroyed section of pipeline. This is the good news.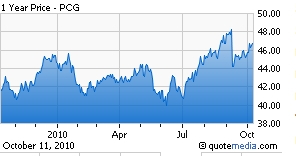 The bad news comes from the ongoing financial results. PG&E's five-year EPS growth rate is an atrocious -18.94%, far below the industry average of 14.15%. Negative EPS, folks. Ugh. Its five-year ROE growth is a respectable 12.25% but this falls short of the 14.83% industry average.
How can a local energy monopoly have such a hard time extracting excess economic profits? On second thought, PCG investors don't need to worry about another pipeline eruption damaging the company. The company's internal fundamentals are doing enough damage to shareholder value.
Preferred shares tell a different story. Observing one class of its preferred stock, specifically its non-redeemable Series A at 6%, shows us that its annual payout of $1.50 per share should give us a fair value (if we use the preferred's 6% coupon as the required rate of return) of $25 per share. Yesterday PCG-PA closed at $28.23. Utility investors may value the security of the preferred's dividend more than any growth they hope to obtain from common shares.
Disclosure: No position in PCG or any of its preferred shares.