The following is a list of the ten most and least volatile S&P 500 stocks over the last week. To create this list, we looked at dispersion of returns, as measured by the average daily high/low trading ranges.
Sector Overview: Average Volatility Over The Last Week
By averaging out the volatilities of the sector components, we can estimate the overall sector volatility. Based on our calculations, the tech sector has been the most volatile sector over the last week, followed by Basic Materials.
Basic Materials: 2.53% (based on 56 stocks)
Conglomerates: 1.67% (based on 7 stocks)
Consumer Goods: 1.88% (based on 59 stocks)
Financial: 2.12% (based on 80 stocks)
Healthcare: 1.68% (based on 43 stocks)
Industrial Goods: 1.94% (based on 41 stocks)
Services: 2.21% (based on 101 stocks)
Technology: 2.63% (based on 78 stocks)
Utilities: 1.20% (based on 35 stocks)
Top 10 Most Volatile Stocks Over The Last Week
Citrix Systems, Inc. (NASDAQ:CTXS): 7.38%
Salesforce.com (NYSE:CRM): 6.66%
J. C. Penney Company, Inc. (NYSE:JCP): 6.37%
Adobe Systems Inc. (NASDAQ:ADBE): 5.27%
Massey Energy Co. (NYSE:MEE): 5.07%
Akamai Technologies Inc. (NASDAQ:AKAM): 4.96%
The New York Times Company (NYSE:NYT): 4.83%
Eastman Kodak Co. (EK): 4.67%
Red Hat, Inc. (NYSE:RHT): 4.52%
Wynn Resorts Ltd. (NASDAQ:WYNN): 4.51%
click for exapanded images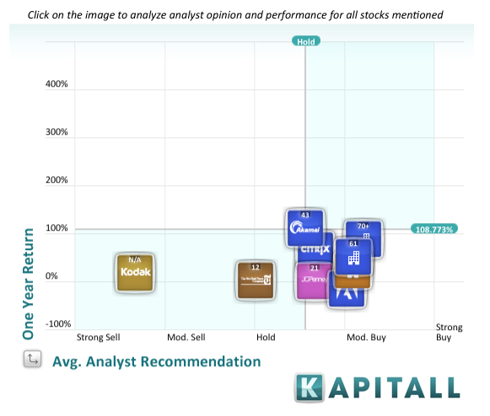 Top 10 Least Volatile Stocks Over The Last Week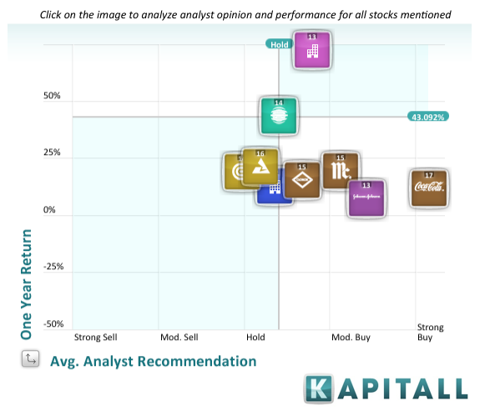 Disclosure: No positions