Historically, the big 5 Canadian banks - Canadian Imperial Bank of Commerce (NYSE:CM), Toronto-Dominion Bank (NYSE:TD), Royal Bank of Canada (NYSE:RY), Bank of Montreal (NYSE:BMO), and Bank of Nova Scotia (NYSE:BNS) - have been good holdings for investors. I believe that these banks are great investments, especially for retirees. They give retirement portfolios exposure to the financial sector, and offer good, solid dividends to create an income stream that retirees are looking for in their portfolios.
2008-2009 Stock Market Crash
I think it is important to look back at the financial crisis that occurred in 2008/09 to understand the impact that could occur if something to this magnitude occurs again. Heading into retirement, the two major goals of most portfolios is capital preservation and creating an income stream. Most retirees value heavily the security that comes with having a steady stream of money to meet their daily needs.
Income Stream
The below table shows dividend results and yields during the financial crisis. The Canadian banks did not cut or freeze their dividends, and yields reached double digits during that time period. Although they did not increase their dividends like other major blue chip holdings, they paid out an enormous amount of money in comparison to their prices. Retirees were able to hold their stocks of Canadian banks safely during one of the biggest stock crises. This should give today's investors the comfort that the income will be there even under very difficult conditions.
Stock

Dividend Result

Yield 08/09

RY

Maintained

3.63-9.7%

CM

Maintained

4.64-12.26%

BMO

Maintained

4.79-14.35%

TD

Maintained

3.27-9.31%

BNS

Maintained

3.75-10.14%

(NYSE:KO)

7.89%

2.07-4.33%

(NYSE:PEP)

20.00%

1.89-3.70%

(NYSE:K)

9.67%

2.32-3.78%

(NYSE:XOM)

14.29%

1.49-2.57%

(NYSE:T) (AT&T)

2.50%

3.86-7.55%

Data compiled from Dividend.com
Capital Preservation
The table below shows the significant drop that both bank stocks and blue chip companies suffered during the financial crisis of 2008/09.
Stock

High

Low

% Change from High to Low

RY

51.43

27.07

-47%

CM

76.3

37.5

-51%

BMO

58.07

24.66

-58%

TD

35.94

16.62

-54%

BNS

51.13

24.83

-51%

KO

31.88

19.55

-39%

PEP

77.78

47.1

-39%

K

57.21

36.43

-36%

XOM

95

62.36

-34%

T (AT&T)

42.44

22.42

-47%

Data compiled from Google Finance
I do not think most retirees could liquidate their portfolios at a 40% loss (which happened to many blue chip companies) and still be able to live their current lifestyle. Although the bank stocks dropped between 45-55% of their value during the most recent crisis, I think that it is important to see how quickly these same stocks were able to regain most of their value from pre-recession prices. This will give retirees reassurance that Canadian banks can go through a crisis and still manage to regain their value, similar to well-known blue chip companies. The graph below illustrates how banks and blue chip stocks listed in the above table performed throughout the period January 4th 2008-December 18th 2009.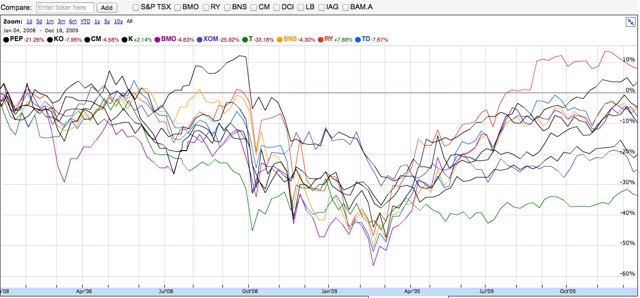 The Canadian bank stocks recuperated at a much faster pace than many core holdings in dividend portfolios, which demonstrates that investors can depend on the bank stocks. Overall, I think this illustrates that the Canadian banks preserve capital for investors over the long term and retirees can trust them in their portfolio. They can be assured that they are safe investments, and even during tough economic conditions, can recuperate to meet their needs.
2014 - Canadian Banks
The banking industry in Canada is more or less an oligopoly, with the 5 banks dominating the Canadian market. With the ability to offer full-banking services compared to foreign banks, the highly regulated industry puts the big 5 banks into favourable situations. As a Canadian consumer currently banking and trading with TD, there really is not much competition. Aside from the other major banks which all operate the same way, there really is not another place to take my money. The majority of residents rely on banks for everyday operations, such as holding money, taking out loans, financial advice, and paying bills. With the industry highly regulated, I do not foresee any major changes to the big 5 dominating the sector, making them a compelling play for retirement income.
Since the recession, the big 5 have shown significant yields, and a few of them have shown reasonable dividend growth. All 5 banks have solid payout ratios, and with a highly regulated business, there is minimal threat to their bottom lines. Canadian banks are capable of using invested capital to translate to the bottom line because of their strong return on equities, especially compared to their American counterparts.
Stock

Yield (%)

P/E

ROE (%)

Payout Ratio (%)

Recent Increase (%)

3-Yr. Dividend Growth

5-Yr. Dividend Growth

CM

4.09

12.49

19.4

48

*2.04

1.90

N/A

BMO

3.90

12.19

13.7

47

2.63

0.80

4.50

RY

3.64

13.28

19.2

47

5.97

11.60

9.60

BNS

3.53

13.24

16.4

47

7.81

5.10

6.80

TD

3.34

14.72

14.4

47

9.30

8.00

9.10

Data taken from Google Finance

Data taken from seekingalpha.com
*CM increased its dividend 4.17% this year (2 consecutive increases)
Currently, the bank stocks might be a little overpriced. I think that over the long run, it will not be detrimental to purchase them here. However, if the market has a little pullback (10-15%), I think they would be a glaring buy and would be a solid core position, particularly in a retirement portfolio.
Conclusion
The Canadian banks have demonstrated that they will continue to provide a reliable income stream for retirees. They do not cut dividends, and continue to pay even with extremely high yields. In addition, they showed that over a two-year span from pre-recession to post-recession, they were able to recover from previous levels at a similar, and often better, rate than other blue chip holdings. They have solid dividends to provide income for retirees, and they have dividend growth possibilities. The banks in Canada are highly regulated and largely considered an oligopoly, thereby reducing risk by competitors and drastic changes to the industry. Overall, the Canadian banks are solid investments, particularly as reliable income for retirees.
Disclosure: The author is long TD, BMO. The author wrote this article themselves, and it expresses their own opinions. The author is not receiving compensation for it (other than from Seeking Alpha). The author has no business relationship with any company whose stock is mentioned in this article.
Additional disclosure: The retirement portfolio that I manage for my parents owns shares in TD, RY, and CM.