By Sumit Roy
Big declines in commodity prices were tough to find during the first half of the year.
Unlike in 2013, it is much harder to find big losses in the commodity markets this year. One regional commodity performed particularly poorly, but other than that, losses were primarily in the single-digit percentage range.
7. Cotton -6.01%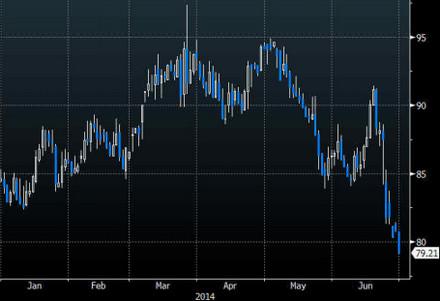 Expectations of a bumper cotton crop in the U.S. this year sent prices to a 1 1/2-year low this week. The USDA estimates that cotton plantings are up 9 percent from a year ago, easing worries about tight inventories that sent prices higher earlier in the year.
6. Copper -6.11%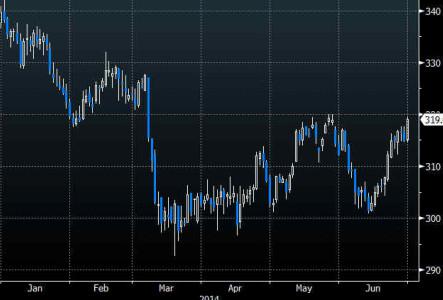 Perhaps the most noteworthy commodity on the losers list is copper. Concerns related to copper-backed financing deals in China led to a sharp sell-off in the red metal early in the year. However, those concerns began to abate over the past few months, and copper has staged a rebound, thought it still remains down 6 percent since year-to-date.
5. Rice -6.32%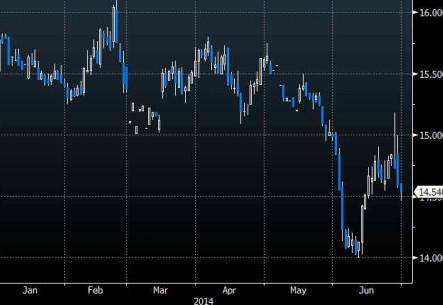 Rice has struggled so far this year as exports from Thailand jumped, making the country the world's largest shipper, ahead of India.
4. Wheat -6.53%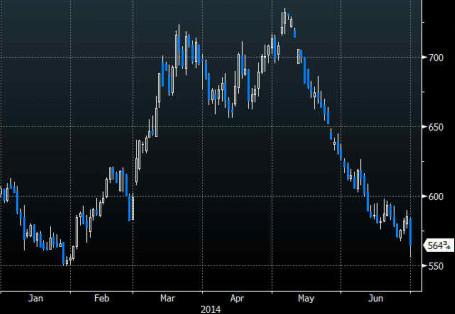 Wheat's decline this year has largely been a supply story. The USDA is forecasting global inventories of the grain to hit a three-year high ahead of this year's harvest; overall grain inventories (excluding rice) may hit a 15-year high, according to Bloomberg and the International Grains Council.
3. Lumber -6.55%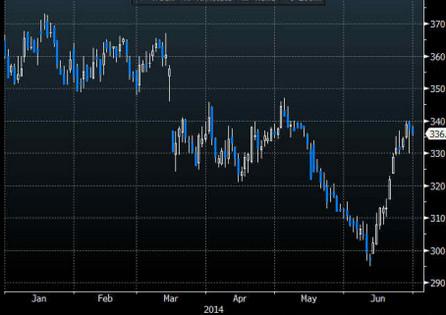 China's slowdown, particularly in the housing sector, put pressure on lumber prices this year. However, some analysts believe that prices are ripe for a rebound as the U.S. housing recovery accelerates.
2. Rubber -28.2%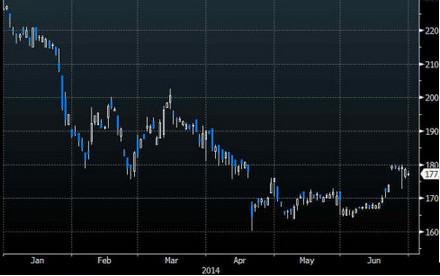 Weak demand and ample stockpiles have kept rubber prices depressed this year. The threat of a 200,000 metric ton sale of rubber stocks by the Thai government has also kept prices in check. The Rubber Study Group estimates that rubber supply may exceed demand by 241,000 metric tons this year-the fourth-straight annual surplus.
1. U.K. Natural Gas -42.5%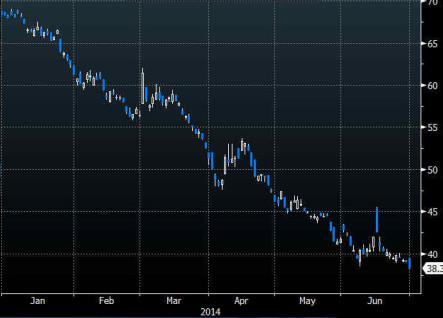 Natural gas prices in the U.K. tumbled this year after a mild winter left inventories at elevated levels. According to Platts, storage levels are about three-quarters full compared with 35 percent a year ago. Rising LNG supplies have also weighed on U.K. prices, which have sharply underperformed U.S. natural gas prices, which rose 5.4 percent in the first half of the year. As the U.S. is currently an isolated market, there is little correlation between natural gas prices in the two countries.