As the global tablet wars continue to be the most keenly waited tussle of the technology and the business world, personal computer major Dell Inc. (DELL) has added a new dimension in the tablet war story by announcing the launch of its 5-inch tablet, Streak, in the Indian market last week setting up the ground for a tablet war in the India which is one of the largest growing smart phone market of the world simply because of its sheer population and an impressive mobile density. With Apple Inc. (NASDAQ:AAPL), Samsung (OTC:SSNLF), Research in Motion (RIMM) of Blackberry and others yet to enter the Indian market, experts says Dell will get the early mover advantage by becoming the first major player to release its tablet in India.
Why Is India Important?
India's Large Subscriber Base: Why Indian Markets: India has a lot more mobile phone subscribers with total connections, estimated at 652.42 million as of Aug 1, than those using PCs. According to data released by the telecom regulator, the wireless subscriber base increased from 635.51 million in June to 652.42 million by the end of July 2010, registering a growth of 2.66 per cent. However, the total number of telephone subscribers (both mobile and landline) in India increased to 688.38 million by the end of July from 671.69 million in June.
India Braces Itself for 3G Services: The telecommunications market in India has tremendous potential, and there is no communications equipment maker in the world that is not increasing its presence there at this time, ahead of the era of 3G cellular communications.
According to recent news, the first phase of 3G networks deployment in India is likely to start from December 2010 and will provide a business opportunity of approximately $3 billion for these network gear makers. If this actually happens, then India will generate the largest global telecom contract in 2010.
Besides the state run Bharat Sanchar Nigam Ltd. and Mahanagar Telephone Nigam Ltd. (NYSE:MTE), other private players who own spectrum are Vodafone Essar; a joint venture between Vodafone Group Plc. (NASDAQ:VOD) and Essar telecom, Bharti Airtel, Idea Cellular, Aircel, Tata Teleservices, and Reliance Communications.
The two major beneficiaries of the first phase of 3G rollouts will be L.M. Ericsson AB (NASDAQ:ERIC) and Nokia Siemens Networks, a joint venture between Nokia Corp. (NYSE:NOK) and Siemens AG (SI). While Ericsson is the existing vendor for Vodafone Essar, BhartiAirtel, and Idea Cellular for 2G networks, Nokia Siemens Networks has already established a strong 2G foothold in Vodafone Essar, BhartiAirtel, Tata Telecomservices and Idea Cellular.
With The Tablet war going international, it's not just about the superior product technically but a barometer of the success would be how the new tablets are marketed against Apple Inc and Google Inc (NASDAQ:GOOG). Dell's strategy to enter the large Indian markets before anyone else is a step in the same direction.
Dell Streak: Dell's Streak is somewhere between a smartphone and a tablet, which will address both enterprise and consumer markets. Streak's 7-inch and 10-inch models, which are yet to be released internationally, are likely to be placed in the Indian market depending on how 5-inch model fared.
Tablet Technical Aspects: iPad rivals will struggle to equal its slick user experience (familiar interface, iBooks, iTunes, and the App Store), but Apple alternatives do offer a broad range of choices related to shape, size, and screen--not to mention Webcams, USB slots, and HDMI ports. Many tablets pair Windows 7 with an Intel Atom processor, or combine nVidia's Tegra 2 chip with Android, Chrome OS, or Linux.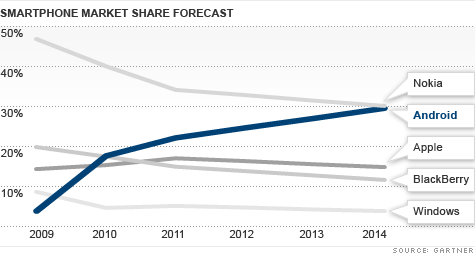 Research in Motion: With the growing competition from Google's Android based phones and Apple's iPhone, Research In Motion introduced its version of the Tablet PC named 'the PlayBook' at its annual developers' conference.
The BlackBerry PlayBook with its 7-inch display touch screen is smaller than its rival Apple's iPad and aimed at business and corporate users, which have been RIM's core customers for its e-mail and messaging phones.
Although the announcement of the new device was well timed which came close to the news of Apple i-4 phone's euphoric sales in China, the world's largest communication device market, the one thing that the company would have least expected is the negative stock trends after the announcement instead of any substantial buying interest. If Research In Motion had announced the release of the Tablet before Christmas this year, the news could have triggered off an interesting market trend and could have also countered the rising Apple euphoria in Asian nations but with its late release, the company is bound to play catch up in the competitive segment.
Google: Google is now one of the world's biggest players in smart phones. Android will command 17.7% of the global mobile device market by year's end, according to a Gartner forecast, making it the second best-selling smart phone operating system, behind Nokia's Symbian OS. IDC released a very similar forecast, though it expects Android to come up just short of Research in Motion's BlackBerry OS this year -- but still ahead of Apple's iOS.
By 2014, both Gartner and IDC expect Google to be neck-and-neck with Nokia in smartphone OS market share. And by 2015, Android will take the lead, attracting more than half billion users, according to Informa Telecoms & Media.
Microsoft Corporation (NASDAQ:MSFT): In its last attempt to bring in some good news after the recent downgrade by Goldman Sachs (NYSE:GS), Microsoft Corporation's attempt to make an impact on the fast-growing market for multi-featured smart phones won favorable early reviews on Monday, but success will hinge on how well the phones are marketed against Apple Inc and Google Inc. Microsoft launched the group's Windows Phone 7, a handset the company expects to rival Apple's iPhone. In an attempt to compete against Apple and Google (which makes the Android phone), Microsoft has unveiled nine new Windows Phone 7 smartphones that will be available this winter.
Microsoft has however already got a headache to deal with as it has filed a suit against Motorola (MOT) for patent infringement related to Motorola's Android smart phones. Microsoft has a market share of only 5 percent in the global smart phone market; according to research firm Gartner, compared with 9 percent a year ago. Google's Android system has a 17 percent market share, jumping from only 2 percent a year ago. Microsoft shares closed up 2 cents at $ 24.59 on Nasdaq. AT&T (NYSE:T) shares rose 10 cents to $ 28.32 on the New York Stock Exchange.
Disclosure: No positions