The US dollar appears to have carved out a head and shoulders pattern against the Mexican peso over the month of June. We discussed the risk that it would fall through the neckline, to confirm the pattern, in our weekly technical note.
This Great Graphic shows the pattern. The neckline was broken on July 1. The initial target of the matter is near MXN12.80.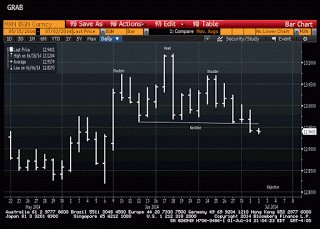 Usually, the head and shoulders pattern is understood as a reversal formation. Ideally, it would come after a large move. The US dollar did rally from MXN12.80 to MXN13.12, which in this low vol environment is not insignificant and it more or less captures the range over the past three months. Frequently, after the neckline is penetrated, it is retested. The neckline is seen near MXN12.96.
Although the Mexican economy has generally disappointed, the rebound of the US economy in Q2 may lend support to it. The US manufacturing sector, especially autos, continues to be an important catalyst. US auto sales were stronger than expected in June. At 16.92 million units, at an annualized pace, it was the best since mid-2006.
Disclosure: The author has no positions in any stocks mentioned, and no plans to initiate any positions within the next 72 hours. The author wrote this article themselves, and it expresses their own opinions. The author is not receiving compensation for it. The author has no business relationship with any company whose stock is mentioned in this article.