AMD (NASDAQ:AMD) has quite a few strengths going for the company during 2014. However, either recently launched products from Nvidia (NASDAQ:NVDA) or rumored specifications for Intel's (NASDAQ:INTC) upcoming Broadwell and Braswell chips could be a thorn in AMD's side.
In this article, I would like to look at available information that's either based on shipping products or rumored products to see how these products could impact AMD. Note that some of the information is rumored, but I have used what I feel are reputable sources, so in this capacity I feel these developments are very much worth watching into 2015. I will also keep this article shorter than my typical pieces, but will provide source links for those that want more information.
Nvidia's Maxwell Architecture
Nvidia's Maxwell architecture is hyper efficient. Joel Hruska of ExtremeTech has two separate write-ups on both the desktop and mobile variants of Maxwell.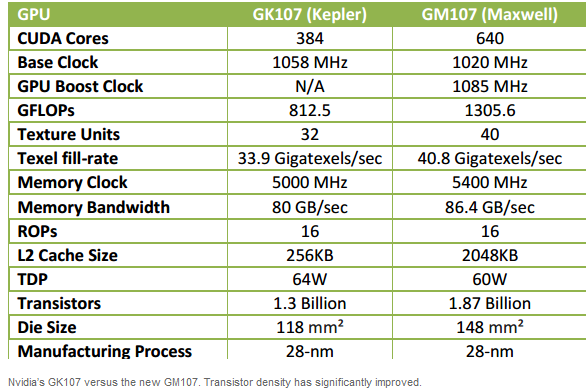 One detail above I would like to draw attention to is the increased transistor density. Nvidia drastically grew L2 cache size and core count, but only increased die area by around 25%. By breaking up the number of CUDA cores for each GPU cluster, Nvidia states the company is squeezing about 90% of the performance of each 192 core cluster in Kepler compared to each 128 cluster in Maxwell. Maxwell is doing most of the work with fewer resources than Kepler, even on the same process node.
Nvidia typically has a lead over AMD in regards to efficiency, whereas AMD was really able to trump Nvidia at the high end by releasing a smaller GPU chip than Nvidia could produce, and was able to come away with a large price advantage over the competition. If Maxwell improves transistor density and efficiency, Nvidia will negate part of AMD's advantage, as well as extend the current advantage Nvidia holds over AMD. By breaking up the GPU clusters into smaller chunks, increasing cache size, and some of the other redesigns from Kepler to Maxwell, Nvidia has also closed the performance gap that AMD had in regards to overall compute in areas such as OpenCL and coin mining. Maxwell notebook GPUs could trump some of the attempts AMD is making at increasing notebook marketshare.
Intel's Broadwell and Braswell CPUs
Author's note: Much of the information in this section is based on speculation at this point, so it may change.
If you dig through benchmarks of AMD's APUs, you'll notice they're very good at graphics when compared against similar offerings from Intel. You'll also notice that AMD's APUs are severely bandwidth limited.
Most available leaked information points to AMD keeping DDR3 support for the upcoming Carrizo APUs.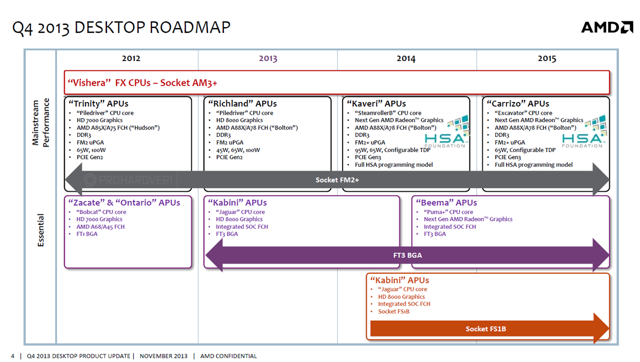 Compare this against information regarding Intel's upcoming Broadwell and Braswell products, in which it is believed that Intel will be devoting more resources to both the relative size of the GPU, as well as making the graphics caches used in the company's higher end Iris Pro GPUs more common.
Regarding Broadwell, this effect is two fold. First, increasing bandwidth is how Intel managed to beat AMD in terms of integrated graphics performance in Iris Pro.
By adding this graphics cache to more chips, Intel can effectively decide, at will, the competitive standing of its products.
Second, and less importantly in my mind, simply the move to 14nm will give the integrated GPUs from Intel more headroom for performance. There are also supposed to be some minor tweaks to the GPU architecture itself, but I have no way of gauging how important these tweaks will be.
Braswell is purportedly targeted at the lower performance segment of the market. The chip is also rumored to feature a GPU based on the newer architecture with the tweaks mentioned above, but will feature four times the number of graphics clusters when compared against Bay Trail.
Bay Trail already utilizes dual channel memory, whereas Puma and Jaguar from AMD only support single channel. AMD currently enjoys a massive graphics lead over Intel in the low end, but this lead could quickly be turned into a lead for Intel if the company utilizes the 14 nm shrink to quadruple the resources spent on graphics.
Conclusion
The best investment decisions are made, in my opinion, when there is a well rounded view of a company. Only focusing on the positives and not looking at competitive concerns does not form a well-rounded opinion.
AMD has phenomenal graphics IP, and the company's low power APU line is extremely competitive. AMD could divert more resources to the integrated GPU at 20nm and keep its lead over Intel in the low power APU line, for example. Consoles are selling well, and management has spoken repeatedly of the strong potential for one to two semi-custom wins to be announced this year.
But right now, there is more technical information available regarding upcoming competitor's products than the future AMD products. Based on the available information, I wanted to share what I feel are valid concerns for AMD during 2015. The concerns are that:
Nvidia's Maxwell GPU could negate some of the improvements AMD has been shooting for, and make it much harder for AMD to drive notebook market share.
Stronger integrated graphics performance could negate the one area where AMD has an unquestionable advantage over Intel. Intel has already demonstrated it can do this, the question will be to what extent will the company utilize a large graphics cache with Broadwell to boost performance, and how much will these chips cost.
Disclosure: The author is long AMD. The author wrote this article themselves, and it expresses their own opinions. The author is not receiving compensation for it (other than from Seeking Alpha). The author has no business relationship with any company whose stock is mentioned in this article.
Additional disclosure: I own both shares and options in AMD, and may add or liquidate shares or options at anytime. I also trade short term options in AMD, and may trade either short term calls or puts at anytime.